What does it mean to have scientists of diverse identities represented in the largest, most-accessed encyclopedia worldwide?
It means…
scientists besides white men are historically recognized for their role in the advancement of STEM fields.
correcting the stereotype of "what a scientist looks like" (did you think man with a lab coat when I said that?).
road maps are made visible for youth who want to pursue STEM careers and yet often don't see themselves represented in those fields.
increasing the public's trust in scientists (a study this year has shown that putting a face to science garners more public trust).
Visibility is a powerful tool for good. So in honor of this year's Ada Lovelace Day, we're recognizing the ways in which our community has helped advance the visibility of women, women of color, and people of color in STEM fields by writing them into Wikipedia.
Students doing this work
Women have made valuable contributions to science and mathematics throughout the ages, but aren't remembered in history as often or as accurately as their male colleagues. Students in Dr. Alexandra Edwards' course at Georgia Tech wrote them back into the telling of that history this spring.
Dr. Rebecca Barnes' students are also chipping away at the gender disparity on Wikipedia by creating new biographies for living women scientists. They've created almost 90 so far and the number continues to grow each term. In a world where so many women in STEM don't have a Wikipedia biography until they've been recognized in a huge way (Dr. Donna Strickland lacked one until she won the Nobel Prize), it was thrilling to see one of Dr. Barnes' students had already created Dr. Andrea Dutton's biography before she was named a MacArthur "Genius" grantee.
When students write biographies for underrepresented people in STEM, they affirm that diversity and inclusion in STEM matters. They're also exposed to a variety of career paths that they could pursue.
Scientists and professionals doing this work
Wikipedia's systemic gender gap problem isn't simply a matter of missing biographies of women – it also shows up in the way that women are "contextualized" by presenting them in relation to the men in their personal and professional lives. In our professional development courses for scientists, participants are well equipped to make these nuanced corrections to existing biographies. Take Dr. Laura Hoopes, for example. In one of our Wikipedia writing courses, she made sure the biography for Dr. Jennifer Doudna noted her scientific contributions (specifically her work around the CRISPR/Cas9 gene editing system) without contextualizing her accomplishments in relation to men.
Another one of our Wiki Scientists improved the biography for Marie Tharp, which previously showed an image of Tharp with a male colleague who appeared to be showing her something on a map. While it appeared that the colleague was explaining something to her, in reality that map was of her own creation. The image reflected some other much needed changes in the article, primarily the fact that it focused on her career and early life, but not much about her scientific contributions. Now it's better.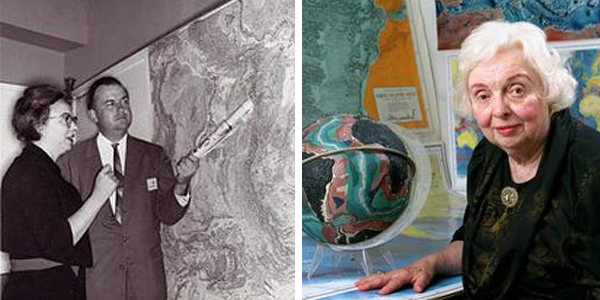 When scientists participate in our Wikipedia writing courses to create and improve these biographies, they understand how others in their field should be portrayed. Some participants have noted that participating in this work is like being a "counterbalancing force" against the inequities they face in their own career. Another noted that practicing Wikipedia's philosophy of "being bold" and changing things that aren't correct is great practice in fighting imposter syndrome. The act of editing Wikipedia builds confidence in one's voice, while at the same time sets the record straight that these influential women in STEM belong in our cultural lexicon.
---
To access our support for instructors teaching Wikipedia writing assignments, visit teach.wikiedu.org. To learn Wikipedia editing yourself in one of our virtual courses, visit learn.wikiedu.org.
---
Header image in the public domain via Wikimedia Commons.