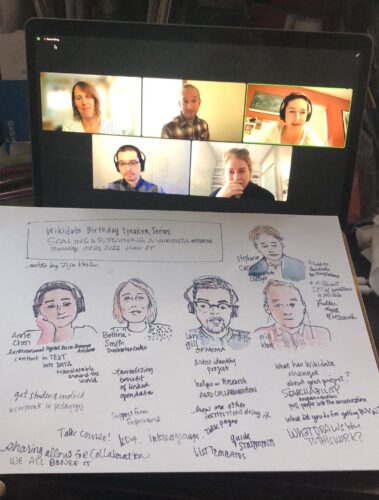 Join Wiki Education as we bring together experts in Wikimedia and open knowledge for lively discussions of topics relevant to our communities. Wiki Education hosts regular, Zoom-based conversations, and you're encouraged to take part! Sign up for any topics that are of interest to you, and join as our panelists share their thoughts, moderated by a Wiki Education staff member.
Next event
How cultural institutions use Wikidata to share their data with the world
Monday, October 23, 2023, from 11 am Pacific time
To celebrate Wikidata's Birthday, join us for a panel conversation about cultural heritage institutions sharing their collection data. Watch and listen to Jackie Rubashkin, Metadata Technician, Barack Obama Presidential Library; Michelle van Lanschot, Project Coordinator at Wikimedia-Netherlands; and William Blueher, Associate Museum Librarian at the Metropolitan Museum of Art cover several topics including implementing Wikidata projects, batch uploading datasets to Wikidata, and how to share successes to a broader audience. This event will be moderated by Wiki Education's Will Kent.
Register
Past events
Speaker Series events are recorded and available on our YouTube channel.