Johnathon Neist is an instructional designer at the Medical College of Wisconsin who incorporated Wiki Education assignment templates and tools into a recent course. Here, he shares why he thinks others should get their students involved in the Wikipedia movement.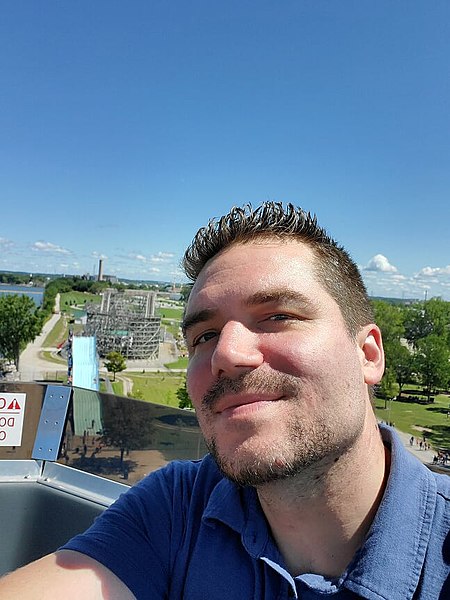 I recently co-directed a Wiki Education-supported class with Dr. Amin Azzam aimed at getting medical students to edit medical articles on Wikipedia. This is my story of how we got students from different countries to participate in a fully online course and made Wikipedia more reliable for people around the world seeking reliable medical information.  
When I saw an e-mail from Osmosis, a popular online platform for medical students that incorporates both open educational resources and proprietary videos, promising a free online course for medical students interested in editing Wikipedia my interest was piqued. But I'm not a medical student! I am an instructional designer for the Medical College of Wisconsin, looking to explore how the students at our 3 campuses leverage anything that is not a part of the formal curriculum. Nevertheless, I sent in an email to the director of the course, Dr. Azzam, asking how I could help him run the course anyway. He was very receptive, as he typically has a librarian partner with him to deliver the traditional course and did not have one for this experiment. I hold a Masters in Library and Information Science and help faculty deliver online education as an instructional designer. Dr. Azzam and I brainstormed about all the great things we would have available for students. But would any students show up? We didn't know.
Part of my approach to instructional design is looking and testing tools beyond the lecture and textbook; if I can understand how students use tools to further their own learning, then I can help medical educators in their delivery and approach to teaching. Classroom participation in the first years of medical school have precipitously declined¹, as students are self-directing their own learning with the hopes of passing their licensure boards, starting with the high-stakes high-stress USMLE STEP 1 exam that students typically need to pass after their first or second year of medical school but before beginning their participation in clinics. This exam contains hundreds of difficult science questions, and Wikipedia is one of many tools that students use to study for it.
We had 11 students sign up for the course. They attended live web chat sessions from the UK, Mexico, India, and the United States. Some had taken Step 1 already, and attended before or after their clinical hours, while others have yet to take the test but use Wikipedia in their studying.  After viewing Wiki Education training modules and working collaboratively to create a peer review system for each other's' articles, the group made 294 edits to 28 Wikipedia pages, adding 7,620 words, 1 image, and 71 references.  Not bad for an entirely self-selecting group of students! I helped answer questions about reliable resources and offered some suggestions for different research databases, but this group was a highly self-directed cohort, looking to make a difference in the rare moments that they had spare time. For me, the Wiki Education tools were crucial in easing their fears of making a mistake, and I know that the same modules will be valuable in easing faculty members' fears of incorporating Wikipedia into their own lesson plans.
Wikipedia is a highly studied platform nowadays in education literature. Over the past decade I've seen its educational reputation evolve from an afterthought (or outright classroom ban²) to a recommended tool³ for short-term knowledge acquisition over more expensive digital platforms. Professionally, I evolved from citing directly as an undergraduate student from it and being admonished for doing so, to copy-editing articles, to wanting to incorporate it into the curriculum somewhere, anywhere within my health sciences university. 
Due to high-stakes tests such as the Step 1 and other exams delivered within courses, medical school is incredibly stressful. The first medical educators conference I attended featured a plenary speaker that said we are making our students sicker in the first two years of the curriculum. And while a majority of medical schools now institute wellness programs for their students⁴, I often think about how I can make a positive impact on these students' lives. I want no part of building curriculum projects that they perceive as busy work, or as additional stressors. Medical school does loads of high-stakes testing, but compared to their undergraduate experiences, students receive far less formative learning experiences. This is where I felt that editing Wikipedia could come into play. I feel that it can give students agency, by turning them from an inactive "sponge" of information to a contributor to the world's most visited health resource. I feel that it can help them study for their boards, by providing them access to a lot of the scientific factoids their faculty members talk about, but without the hassle of paying for expensive software licenses or using less-preferred tools provided by their school administration. I feel that Wikipedia can be a gateway to future medical professionals that want to practice global medicine⁵, because one can make a world-class article that is directly accessible by patients across the globe. Wikipedia can be all these things, and it felt really good to be apart of a class that proved that over the summer.
---
https://www.ama-assn.org/residents-students/medical-school-life/why-some-medical-students-are-cutting-class-get-ahead

https://en.wikipedia.org/wiki/Wikipedia:Schools_and_colleges_banned_WP_in_2007-2008

Scaffidi MA, Khan R, Wang C, Keren D, Tsui C, Garg A, Brar S, Valoo K, Bonert M, de Wolff JF, Heilman J, Grover SC. Comparison of the Impact of Wikipedia, UpToDate, and a Digital Textbook on Short-Term Knowledge Acquisition Among Medical Students: Randomized Controlled Trial of Three Web-Based Resources. JMIR Med Educ, 2017;3(2):e20

Dyrbye, L. N., Sciolla, A. F., Dekhtyar, M., Rajasekaran, S., Allgood, J. A., Rea, M., … & Stephens, M. B. (2019). Medical School Strategies to Address Student Well-Being: A National Survey.

Academic Medicine

,

94

(6), 861-868.

Heilman JM, Kemmann E, Bonert M, Chatterjee A, Ragar B, Beards GM, Iberri DJ, Harvey M, Thomas B, Stomp W, Martone MF, Lodge DJ, Vondracek A, de Wolff JF, Liber C, Grover SC, Vickers TJ, Meskó B, Laurent MR. Wikipedia: A Key Tool for Global Public Health Promotion.

J Med Internet Res,

2011;13(1):e14
---
Interested in incorporating a Wikipedia writing assignment into a future course? Visit teach.wikiedu.org to access our free assignment templates and resources.