Adriana Bankston is a Principal Legislative Analyst at University of California. She recently took the 500 Women Scientists Wiki Scholars course and reflects on her experience in this guest blog post. This post represents the writer's personal views and not the views of their employer, University of California.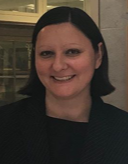 I'm a former bench scientist who transitioned into science policy, and consequently operates at the intersection between academia and policy. As an academic, I was really interested in the environments in which researchers work. To this end, I advocated for women in science by various means, including by organizing professional development activities with a local affiliate group of Association for Women in Science (AWIS), and participating in local outreach activities locally through 500 Women Scientists and others. In doing these activities, I realized how important it is for girls to have role models in science, and looked for ways in which I could show girls of different ages what a scientist looks like. 
My own PhD advisor was also one of two female faculty in the department. She has since moved on from academia, but she inspired me to be bold and stand out despite the circumstances. She also taught me that it's really important to give back to the community, and I think that drove a lot of my advocacy for women in science. In my transition from science to policy, I maintained an interest in diversifying the research enterprise, particularly after experiencing first hand how the gender gap in science is greater at higher levels on the career ladder. 
During COVID-19, I sought ways to enrich my own professional development, and happened to see a call for applications for the 500 Women Scientists Wiki Scholars course on social media. I had never edited Wikipedia before, but I was eager to make an impact for women in science. I was really excited when I was accepted into the course. My motivation for enrolling was to learn a new skill, but also through editing pages of women in science, I could make a difference in increasing the visibility of women in science. 
The first Wikipedia article I worked on was Sandra Schmid, whom I had previously met in person and long admired from my days in the laboratory as someone who had made a significant impact in her field. She was also an advocate for improving the research system by changing mentoring and hiring practices, as well as by changing the system through improving postdoc training. In short, she was another role model for me both scientifically and professionally in research, and someone whom I felt more people should know about through Wikipedia.
Sandy's article was an easy one to start with given I was already familiar with the topic, and I considered it notable. During the course, however, I also challenged myself to learn Wikipedia by picking another kind of article which required a lot of improvements initially (Brooke Borel), so that I would learn multiple editing skills by correcting different types of information that was either wrong or missing. 
Notably, while taking the course, I was able to engage in the #editWikipedia4BlackLives #HackForBlackLives event on June 10, in observance of the #Strike4BlackLives and #ShutDownAcademia #ShutDownSTEM as part of a group of 200 people. Altogether, this group created over 50 articles, edited over 480, added over 100,000 words—and in just a few days, those articles had been collectively viewed over 500,000 times. 
By this point, I had been a few weeks into the course, and felt more confident in my edits. Inspired by this event, I was excited to try my hand at editing articles that I felt could have an impact in the community by elevating voices of People of Color in science. I chose to edit articles on Shirley Malcom, Melina Abdullah and Lori White, which taught me a lot. It was a really powerful experience to participate in this collective day of action, and I was glad to utilize Wikipedia editing skills for this purpose. 
As a scientist, I know that we always look for reputable sources, and in the past I might not have considered Wikipedia as such, partly because academics are mostly trained to use peer-reviewed journal articles of high impact as sources to cite for our work. This course gave me a new appreciation for the power of Wikipedia, ways in which it can impact different cross-cutting communities and identities around the world, as well as how we can leverage its accessibility to increase diversity, equity and inclusion in science and beyond.
In closing, I'm glad I took the course and I appreciate the chance to make a difference for women in STEM through the WikiProject Women Scientists, in particular as it relates to diversifying the research pipeline. To this end, I wanted to point out two pages, one is the WikiProject Women in Red looking to create pages for women in science that don't yet exist, and the second is the List of African American Women in STEM Fields, both of which are useful tools to utilize for making a powerful impact in science. 
Since the course ended, I have sought to utilize these skills in my current field by editing relevant pages such as a science policy page, in order to educate the community on important issues in this area and how they can contribute. 
Interested in taking a course like the one Adriana took? Visit learn.wikiedu.org to see current course offerings. Another 500 Women Scientists Wiki Scientists course is now enrolling!