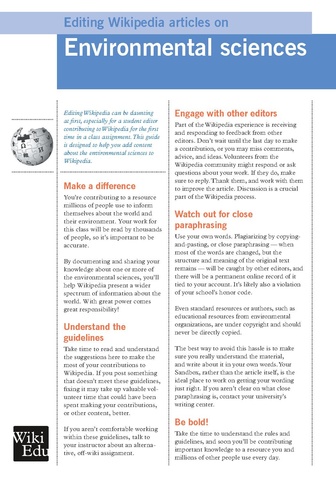 The Gulf of Maine has been a major fishing area in the Northeast Atlantic region of the US since the 1700s. It's also warming faster than almost any other ocean on Earth. That's having significant impacts on wildlife and New England's fishing industry.
Decreasing stocks of Atlantic cod, pollock, and haddock led to the creation of the Western Gulf of Maine Closure Area in 1998.
Students in Cecelia Musselman's "Advanced Writing in the Sciences" class at Northeastern University created the Wikipedia article for Gulf of Maine Closed Areas. It's now the #3 search result for that term on Google, second only to the National Oceanic and Atmospheric Association's reports on the region. The article offers maps and context for each section of the closed area.
This is just one of the articles from a course participating in the Wikipedia Year of Science that tackles an important environmental science issue. Other great articles from students at other universities include articles on integrated urban water management, California's Sustainable Groundwater Management Act (and Water reuse in California), and the UW Bothell Wetland Restoration Project.
There have also been articles about conservation concerns, such as ex situ conservation, and rainwater harvesting in Canada.
With so much great work on conservation contributing so much to the public's knowledge of their environment (and how to protect it), we decided to create a guide for students editing in this area.
We're pleased to announce our new guide, "Editing Wikipedia articles on environmental sciences." Inside, we offer students guidance for creating new articles about groups, organizations, and programs, as well as environmental concerns. We guide students through the process of carefully evaluating sources. We guide students through some of the challenges of writing about a topic they may be passionate about, while letting facts speak for themselves.
The guide was written with assistance from instructors who have experience working in these topics. Dr. Becky Carmichael, at Louisiana State University, and Dr. Rosemary J. Redfield, at the University of British Columbia, contributed their expert oversight from an instructor's perspective. Wikipedia User:DASonnenfeld and our Content Expert in the Sciences, Ian Ramjohn, offered crucial advice from the perspective of experienced Wikipedia editors who frequently work with environmental science topics.
We hope this guide inspires more instructors in environmental sciences to consider a Wikipedia assignment for their students. It's a way to spread awareness of important concerns, but also to think critically about where information comes from.
Of course, instructors who already teach with us are welcome to use the guide, too. It's offered free of charge to courses participating in our Classroom Program as part of a suite of resources offered to help students contribute to Wikipedia. Want to get involved? Send an email to: contact@wikiedu.org.
---
Photo: Ghost Boat 2: Showdown at Seagull Mountain by E. Salvaggio, CC-BY-SA via Flickr.