Alex Kendall completed Dr. Cecelia Musselman's Science Writing course this Spring at Northeastern University, where students had the opportunity to participate in the global dissemination of scientific knowledge and knowledge creation through a Wikipedia writing assignment. Here, Alex reflects on the experience after adding 39 references and thousands of words to the Wikipedia article about axial spondyloarthritis.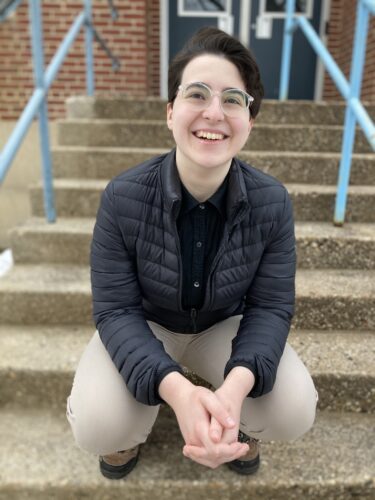 This past spring, like most college seniors, I was preparing to say farewell to education as I knew it, at least for the time being. To be clear, I wasn't planning to simply stop learning after graduation. I only knew that I wasn't going to have the same formalized structure that I've been privileged enough to have for practically my entire life up until now. What I didn't know was that my approach to being a student would begin to change while I was still in classes.
That process was set in motion because I chose to take Dr. Cecelia Musselman's science writing course as one of my final electives. As a Music and Writing combined major, I thought it'd be good to incorporate a bit more STEM into my schedule for once. Dr. Musselman's exploration of science writing as a literary genre provided me with the perfect opportunity to broaden my horizons.
I became even more excited when I found out that Dr. Musselman's course would entail participation in Wiki Education. While I'd been acquainted with Wikipedia in the past as a reader and had even contributed a couple of minor edits here and there, I'd never thought I'd be qualified enough to add more than a sentence or so to any particular page. Despite having been advised by teachers in the past not to trust information found on Wikipedia, I was really intimidated by the editing community. I could recall many occasions shortly after a breaking news event where I'd been amazed to find that the corresponding Wikipedia page had already been (accurately!) updated. I'd always been astonished at how Wikipedia has managed to maintain the level of order and quality it's appeared to, especially with today's volatile social media climate. I assumed that a crack team of expert ninja editors were responsible for ensuring this feat. I didn't know who they were or what methods they used. It all felt a bit clandestine to me. So, naturally curious person that I am, I was thrilled to get to learn about the inner workings of it all, if a bit nervous to join the ranks of proper Wikipedians.
This same curious nature of mine was what had led me to take an interest in journalism during my time at Northeastern. Alongside Science Writing, I'd also enrolled in a reporting course for which I'd opted to interview a distinguished alumnus as part of my final project. More specifically, I had arranged to interview David S. Ferriero, former Archivist of the United States. Though I'd expected that his long and storied career would contain multitudes, I never imagined that Wikipedia would come up in our conversation.
I would come to learn that Ferriero has been enamored with the concept of a worldwide encyclopedia since the 1990s, years before Wikipedia was officially launched. While working in the libraries of the Massachusetts Institute of Technology, he encountered World Wide Web Consortium director Tim Berners-Lee's idea for a similar project. At the time, Berners-Lee's blueprint lacked a key element that would be crucial to Ferriero's ultimate engagement with Wikipedia: the democratization of the ability to contribute.
Ferriero would become acquainted with this component of Wikipedia during his subsequent tenure in the libraries of Duke University when he discovered that a Wikipedia page had been made about him. He was impressed to find that some initial infelicities regarding his life and career were quickly rooted out by Wikipedia's editors. The incident inspired him to direct his staff to place links to materials from library collections into relevant Wikipedia pages, allowing for broader access to quality sources. He would also implement this procedure at the New York Public Library, where he served as the Andrew W. Mellon Director and Chief Executive of The Research Libraries prior to his appointment to the federal government.
Ferriero was nominated to lead the National Archives and Records Administration by President Obama in 2009. The Obama administration had recently made a commitment to transparency by way of an executive order. What became known as the Open Government Initiative encouraged government officials to let the public into their work—in more ways than one.
"The message was, there's a lot of expertise out there that isn't being tapped, and how can we take advantage of that?" Ferriero said.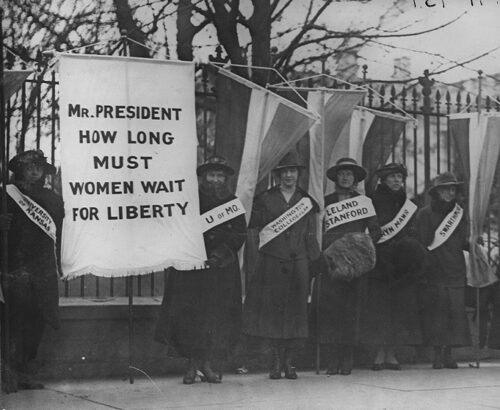 The approach essentially created a two-way street in which citizens would receive further insight into the operations of their government as well as additional opportunities to get involved themselves. In service of this mission, Ferriero continued on with his linking endeavors as Archivist while also hosting events such as edit-a-thons to incentivize citizens to create Wikipedia pages based on National Archives resources. He appointed the first NARA Wikipedian-in-Residence to promote further collaboration between the Archives and Wikipedia. And he even worked with Wiki Education as they trained a wider group of scholars in the art of Wikipedia editing.
His vibrant and well-demonstrated passion helped to further revolutionize my perspective on Wikipedia, as well as how I thought about the way we communicate knowledge in general. Ferriero is highly educated—he has not one, but two master's degrees to his name. Even more notably, he's proven himself to be quite a forward-thinking individual. Beyond being able to recognize the potential value of a worldwide encyclopedia as early as the 1990s, throughout his career, he has consistently placed a priority on staying ahead of the curve.
"My direction to the staff always has been: figure out where the people are and get our material in front of them," he said. "Don't expect them to find us. You need to be aggressive in determining where they are and what we can learn from them in terms of how they're discovering information—using information—and how we can then incorporate those kinds of things into our core business."
This philosophy explains why Ferriero became, for instance, the first Archivist to post on Facebook and Twitter and run a blog, as well as the first to oversee the creation of a completely digitized presidential library. Given how his projections about the lasting relevance of cloud computing and social media have shaken out (Ferriero also oversaw NARA's transition to remote work during the onset of the COVID-19 pandemic), it seems it would be wise to take his fervent support of Wikipedia as a reliable indicator of how we will record and convey knowledge in the future. That's why I'm all the more grateful for Dr. Musselman's efforts to provide my classmates and me with a crash course in Wikipedia.
In the short term, my Wiki Education participation brought a number of subjects to my attention that I'd previously had no concept of whatsoever. I had the opportunity to peer review my classmates' work on fascinating pages about marine biogenic calcification and coral dermatitis. Likewise, I was able to inform them about axial spondyloarthritis, an autoimmune disease I have whose page I'd chosen to expand. In addition to allowing me to exercise my growing passion for health communication, this experience drove home the message that everybody has unique areas of interest that are ripe for the sharing. Everyone has something they can teach, or at the very least, something they care about enough to research and ultimately share with others. This realization precipitated my broader takeaway that Wikipedia is a microcosm of the larger movement to rethink the role of gatekeepers in our society. Wikipedia has empowered anyone with an internet connection to disseminate (and acquire) knowledge about almost anything under the sun. Instead of requiring them to go through an agent or publisher to broadcast their knowledge on a given topic, Wikipedia grants its editors the opportunity to create and improve articles immediately. There's no question that there are still inequities that need to be addressed, particularly in regard to what's deemed a sufficiently notable article topic. But the tools to address these areas are built into Wikipedia's infrastructure.
In fact, programs such as Wiki Education are working to make the Wikipedia community and its work more representative of the human story. For example, whereas Wikipedia editors are predominantly male, Wiki Education participants are overwhelmingly female and nonbinary. When students are given the necessary tools, they can translate their passions into articles which can, in turn, inspire others to take an interest in the subject matter at hand. The greater the number and diversity of Wikipedians, the greater the variety of knowledge that can be passed on through this wonderful collaborative project. The richer the knowledge base of Wikipedia's contributors, the closer Wikipedia comes to achieving its goal of being the most comprehensive encyclopedia ever written.
Knowing what I know now, I would encourage newcomers—whether Wiki Education students or aspiring Wiki Scholars—who feel the way I once did not to let themselves be so intimidated by the top flight editors who keep Wikipedia running. Rather, I would advise them to find solace in their support. If you keep the information that matters to you to yourself, it may very well be lost to time someday. That is in part why archivists such as Ferriero are so keen on Wikipedia. If you choose to record what you know, however, you stand to educate and captivate an unlimited number of people. (Intrinsic learning has been found to be a top motivation for Wikipedia visitors!) Worst case scenario, you'll receive a correction and wind up learning even more about a topic close to your heart.