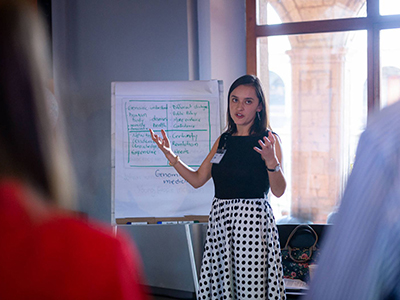 Sofía Flores Fuentes is a science communicator. She's been a university professor, a civil servant, and an independent public engagement person. Currently, she's working as a communicator at the Physics Institute of the National Autonomous University of Mexico (UNAM). Her most recent medium of science communication? Wikipedia.
"Wikipedia is a great platform, if not the best platform, to freely communicate science and information based on evidence," Sofía says. "It reaches any corner of the world (that has internet access) so anyone can exploit the information located here. I think as science communicators we have the responsibility of knowing how to use Wikipedia."
Sofía learned to edit Wikipedia through a recent Wiki Scientists course run by Wiki Education and sponsored by the American Physical Society (APS). A colleague had recommended the course, and she knew it was the help she needed to jumpstart her work on Wikipedia. The course focused on improving biographies of underrepresented physicists on Wikipedia, a cause near and dear to Sofía's heart.
While the course was taught in English and focused on the English Wikipedia, Sofía took the opportunity to use her bilingualism to improve Spanish Wikipedia articles too. She expanded the article on María Ester Brandan and created the article on Myriam Mondragón Ceballos.
"The Wiki Scientists course gave me the tools to write an article. Even though the Spanish version changes a bit, I had the chance to go into the platform, learn the process and how it works in general terms," Sofía says. "However, the most important thing I got from the course was the confidence to do it. Wikipedia seemed like a dark universe to me, that couldn't be penetrated that easily. After this course I now feel like it is a fascinating world created and nourished by a vibrant community, and all the respect and values involved."
Sofía found the differences in processes between the Spanish and English Wikipedia interesting, as well as the differences in discussions. She's inspired to keep editing articles about Mexican physicists, especially women. And she hopes to have events at her institution to support others to edit as well.
"I am a science communicator who loves writing articles. But I also stand for the access to information, so I try to dedicate my professional work so people can have the possibility of learning and being informed. I also think that humanity can do great things that can benefit other people, so I believe Wikipedia is a great effort for humans to reach this goal," Sofía says. "I'm just grateful for APS giving me the opportunity to learn. I think that a lot of people like me can make the most from your work so we can also help others."