Cynthia Orozco is currently pursuing her PhD in Information Studies at UCLA and is a librarian at East Los Angeles College. As a PhD student, she researches the role of archives in California community college libraries in relation to the communities in which they are situated. She recently completed a Wiki Scholars course we ran to improve Wikipedia's coverage of open educational resources (OER). Thanks to generous funding from the William and Flora Hewlett Foundation, we partnered with the Global OER Graduate Network (GO-GN Network) to support their network through the process of learning how to edit Wikipedia, specifically as they added research about OER to Wikipedia. Orzoco participated in the OER Wiki Scholars course, after taking a similar course about Wikidata.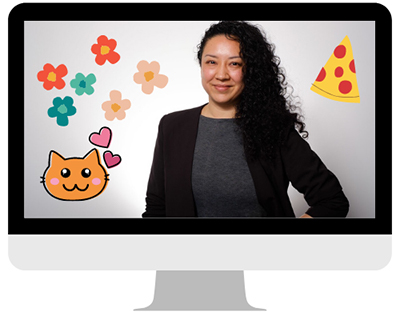 Orozco dedicated her time creating a new article for the Community College Consortium for Open Educational Resources (CCCOER). Although there was already a Wikidata item, Orozco's role as a librarian urged her to contribute to the information regarding community college resources on Wikipedia.
"As a community college educator, CCCOER is such a vital organization in open education, and it was shocking to see that there wasn't already a Wikipedia article for it," Orozco says. "I find community colleges to be underrepresented in scholarly and popular literature, so this was just one way that I could elevate the important work being done in and with community colleges."
Orozco also updated information about Martha Kanter, who was the Secretary of Education in the Obama Administration, to add her work in CCCOER.
While editing Wikipedia, Orozco appreciated how Wikipedia articles provide transparency on what edits or changes are done by others. 
"I really like that you can do little edits or work on really big projects, like creating new, robust articles or complete overhauls of existing articles. I also like that these articles are always changing and growing. When you write a traditional encyclopedia article, you don't have the privilege of knowing that others will add on to your work or update things as needed," Orozco says.
With Wiki Education's excellent guidance throughout the Wiki Scholars course, Orozco was assured she could successfully edit a Wikipedia article. She notes that the "comfortable and safe environment" allowed her to grow as a Wikipedian because of the "space to make mistakes."
"This course really broke down the various concepts needed to do successful Wikipedia edits and understand the Wikipedia community better, as well," Orozco says. "It was a great way to chunk lots of material and slowly work toward completing Wikipedia edits or a whole article, the latter being something I really didn't think I'd ever attempt to do on my own again. The VisualEditor certainly makes editing much easier than my first attempts at editing Wikipedia." 
By creating an article on Wikipedia, Orozco felt more at ease with Wikipedia and its reliability on information. In fact, she plans on incorporating Wikipedia into her own classroom. 
"I am planning to assign some Wikipedia articles to my students and explain to them that rating. For example, in my introduction to library research methods course, we discuss open access and OER. I plan to assign parts of the Open access article to them and discuss both the concept of open access as well as what it means to have an article rated B-class in Wikipedia," Orozco says.
In addition, the Wiki Scholars course also allowed Orozco as a librarian to open up a conversation with students about the importance of reading Spanish language articles corresponding to the English language articles when researching.
"We have discussions on why the English language article is more robust than the Spanish language article or vice versa, and we've talked about the idea of having Spanish language Wikipedia edit-a-thons to create more robust Spanish language Wikipedia articles," Orozco says.
By learning about how Wikipedia articles carefully come into creation with the course, Orozco uses her knowledge to address any hesitancy students and other colleagues have about using Wikipedia as an Open Educational Resource. 
"As a librarian, I still hear other faculty tell their students that Wikipedia isn't a good source of information. If I were to go into any classroom to facilitate a library orientation and ask students if they use Wikipedia, very few, if any, students will raise their hands," Orozco says. "Teaching information literacy involves open discussion on the nuances of information. I typically lead students in discussions on how they can use Wikipedia effectively to get started with their research by evaluating each article, looking at the references, and so on."
Because of the Wiki Scholars course and the opportunities it has provided Orozco, she plans on continuing to edit articles on Wikipedia regarding open education. In addition, she feels more confident hosting future Wikipedia edit-a-thons.
"I hope that I can take this increase in confidence and continue to contribute in meaningful ways to Wikipedia. I hope that I can help make knowledge accessible to those who seek it, as I often find the Wikipedia content I edit is the content that I would have liked to have been able to find myself," Orozco says.
To take a course similar to Cynthia's, please visit learn.wikiedu.org.