Alicia Robang is a Ph.D. student in Chemical and Biomolecular Engineering at the Georgia Institute of Technology. As a participant of the 500 Women Wiki Scientists program, she was able to contribute biographies of Filipina scientists and reflect on the power of Wikipedia to tell stories of and for more communities.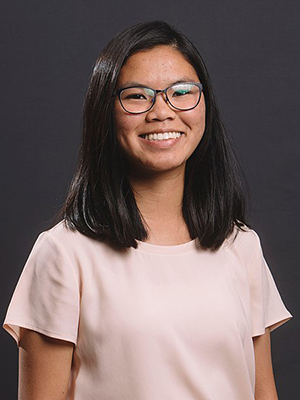 As a young girl, I remember diving into a series of blue books called the "Childhood of Famous Americans" by Augusta Stevenson. Despite being in the Philippines, it amazed me that famous figures like Hellen Keller, Amelia Earhart, and Walt Disney had such humble beginnings and were once silly kids like me. Through their childhood stories, I was inspired to dream big and think that I could possibly make an impact when I got older too.
However, one thing I didn't really think about back then was why I couldn't find many sources to read about pioneers and inventors from close to home. As an aspiring scientist today, I feel the need for figures to look up to. I am always curious to learn about how others from the Philippines and Asia manage to make it big in research. During the sluggishness of the pandemic, I was able to help address that through Wikipedia. In a unique and modern way, Wikipedia has given me the chance to carefully look at, and shift the spotlight to, notable Filipina scientists on a massive, collaborative online platform. 
I recently finished a Wiki Education course called "500 Women Wiki Scientists". The course taught me how to use Wikipedia's tools to create two articles (Mercedes Concepcion and Clara Lim-Sylianco) about women with roots close to mine. By reading and writing about these amazing women, I was able to deeply reflect on my own scientific journey and appreciate where I came from and where I want to be. Their journeys were filled with huge contributions to science, outreach, and education — all areas I hope to contribute to as well. Although the course was only six weeks long, I was amazed at how a small group of 20 participants were able to create and edit 39 articles, racking up 133,000 article views. My own articles have had close to 300 views so far! In addition, the conversations we had through the course made me excited to think about the possible impact readers might have from seeing accomplished women scientists. I hope more people, especially women, realize they can do cool science too.
Nevertheless, there is still much work to be done. As of November 2020, only about 19% of Wikipedia biographies are about women, and most of the biographies are about women based in North America and Europe. Women and people of color from underrepresented regions like Africa, the Middle East, Latin America, and Asia have also achieved great things, yet the current cyberspace has not fully been able to tell their stories. Most of the world's population aren't in North America or Europe, but a lot of the content that we see online are controlled and created in these continents. So what can we do about this lack of representation and perspectives? How do we get to the point where people from different corners of the world are given equal footing in telling their stories? These are tough questions to answer and, unfortunately, the online landscape could take several years to change. However, as part of the community that curates content for the 5th most visited website in the world, Wikipedians are wonderfully positioned to use the platform for elevating what should be visible.
Thankfully, there are initiatives like 500 Women Scientists that seek to confront these imbalances, and people like you and me can help feature talented people around the world. Additionally, Wiki Education continues to engage scientists, students, and teachers to fill in content gaps. Many Wikipedia communities also engage users to write articles about different cultures and areas. During the Wiki Scientists course, I found several other initiatives that increase visibility of underrepresented groups on Wikipedia: Wikipedia Asian Month, Wikiproject African diaspora, Art+Feminism, Wikimujeres, and one of the largest projects for women, Women in Red, are all projects anyone can join. 
I also think it's important to shine light on other ways to expand world knowledge and make content accessible to as many audiences as possible. As we create content that is of all people, we should also think of sharing knowledge for all people. Wikipedia has some interesting avenues for that too. One example is Simple Wikipedia, a version of Wikipedia where only the 1,000 most common words in English are used to create articles. Another version is SpokenWikipedia which produces recordings of Wiki articles for auditory learners, visually-impaired users, and those who cannot read English.
Overall, my time in the Wiki Scientists course has shown me a more nuanced view of women's visibility in the sciences and accessibility online. While editing Wikipedia articles can still be scary at times, I will still find ways to keep editing and creating content to address these issues. In a way, this is how I am making an impact in today's modern, digital world.
Interested in taking a course like the one Alicia took? Visit learn.wikiedu.org to see current course offerings.