Dr. Anna Lappala is an Instructor at Harvard University and Dr. Julia Dshemuchadse is an Assistant Professor at Cornell University. They recently took part in the APS Wiki Scientists Course—a partnership between the American Physical Society and Wiki Education. A second edition of this course is now accepting applications.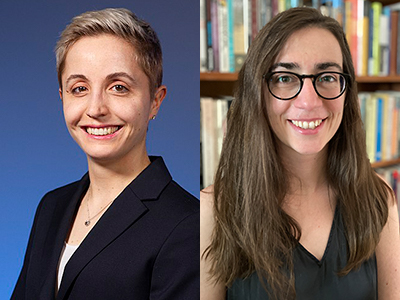 Women are still wildly outnumbered in physics and, similarly, physics fares even worse than other sciences in breaking down barriers for underrepresented minorities to enter the field.
We are both physicists, both with interdisciplinary profiles. Julia went from studying physics to doing research in—and teaching—materials science. Anna moved into physics as a PhD student, from an undergraduate degree in chemistry. We both attended the Wikipedia Edit-a-thon at the 2019 APS March Meeting, hosted by Wiki Education and the APS Committees on the Status of Women in Physics, on Minorities in Physics, and on Informing the Public (pictured above). For Anna, the edit-a-thon was not something she had planned to attend during the APS Meeting, but she was curious and decided to find out about what was going on 'behind the scenes' of Wikipedia editing, and whether it could be something that she could do and contribute to. Julia came with a little experience: she had started editing in 2016 when—after discussing US politics with her parents in Germany—she realized that "Black Lives Matter" didn't have a German-language page and went ahead to translate part of the English-language version to get the German page started. We both were immediately drawn in by Jess Wade, who spoke at the APS edit-a-thon about her continuous Wikipedia advocacy and endless enthusiasm.
In the beginning, the skill to edit Wikipedia articles effectively and efficiently can seem impenetrable. Many of us think that writing a Wikipedia article is just like writing an essay, and not many would volunteer to write essays regularly. Interestingly enough, writing for Wikipedia is nothing like writing boring essays: you get to choose the topic or the person of interest and get a chance to do exciting investigative work in an attempt to find out more about something (or someone) that inspires you, finding even more interesting information than you could imagine. The process is not always straightforward and comfortable. After all, the goal is to publish on a topic or a biography that the world has not seen before, which can seem intimidating. Both of Julia's initial articles about scientists of color—created at the hackathon—were nominated for deletion. Ultimately, one was deleted and the other one persisted, but the opaque discussion among editors and Wikipedia's intricate notability criteria proved to be an effective deterrent. Anna's hackathon article about a scientist was vandalized early on and she was relieved to be able to rely on Jess Wade's support when resolving the issue. While the act of editing a page was not too hard to master, the layers of decision making and organization within Wikipedia proved to be aspects about which we could both learn a lot more.
The APS Wiki Scientist Course "Biographies of Women and Minority Physicists" held online this spring, facilitated by Wiki Education, addressed exactly the challenges that we faced when starting our "careers" as Wikipedians. We both highly valued the structure and support of the course and are deeply grateful to Elysia, who led the course, as well as our resident Wikipedia experts Ian and Ryan. Personally, we also consider ourselves extremely lucky that we had met each other—albeit briefly—prior to the course. Diving into Wikipedia editing together throughout these 12 weeks enabled us to experience the added benefits of competition and accountability. We could help each other by finding resources, exploring missing biographies, and just serving as sounding boards for text and ideas along the way.
Another component that we truly valued were the discussions about structural inequities that lead to the underrepresentation of women and minority scientists among biographical articles on Wikipedia. We found that a particularly striking aspect is how social inequities due to gender, class, racial and ethnic marginalization are aggravated in the representation of minorities among Wikipedia editors, featured scientists in the media, as well as in perceptions prevalent in society of which accomplishments are worth revering. Media coverage predominantly concentrates on straight, cis, white, male, able-bodied, "Western" scientists and simultaneously dismisses topics that are typically covered by researchers that do not fit this description (as do some members of the academic community). This skewed focus on what constitutes valuable and significant research in turn perpetuates an underrepresentation of other voices and reliable sources that report on them. While many outlets have begun to consciously counteract this bias, it is by no means a thing of the past, and it will take continued effort to remedy.
The structure of Wikipedia itself can also lead to erasure or harassment of gender and sexual minorities, creating additional barriers to enter the ranks of Wikipedia editors and therefore the opportunity to shape the content and tone of the encyclopedia. Wikipedians, however, are actively working on making Wikipedia—and its community of editors—a better place. Wiki Education and entities like the American Physical Society are joining in this effort by actively engaging with The Free Encyclopedia and training and empowering a growing set of editors that strive to contribute to a more complete and balanced resource for us all. We both are hoping to keep promoting the opportunities that lie in contributing to Wikipedia within our communities and on an institutional level, as well as—thanks to the opportunities of the Internet and the constraints forced upon us all by the COVID-19 pandemic—internationally through virtual edit-a-thons and online collaborations just like ours. (And hopefully at some point in the future also again in person …)
Interested in taking a course like the one Anna and Julia took? The American Physical Society is now accepting applications from members for the second edition of the course.