We're all quickly learning that in a global pandemic, non-COVID-related healthcare looks very different from what we were accustomed to. This is a new age of telehealth, where people access health services through communication technologies rather than in-person visits. As we hear from our Society of Family Planning (SFP) Wiki Scholars, a group of reproductive health experts, their patients often already come to them with a self-diagnosis they've made through Googling or searching Wikipedia. As individuals have less access to in-person visits, they're likely looking to online resources like these more than ever.
That's why Wiki Scholars in our current Wikipedia training course sponsored by the Society of Family Planning are rising to the challenge of keeping Wikipedia information on family planning up-to-date.
Urgency has always driven this group to edit Wikipedia, one of the leading sources of health information in the world. When one considers Wikipedia's daily traffic of hundreds of thousands, the question "What do I want my patients to know right now?" becomes "What do I want the world to know right now?" So one Wiki Scholar went straight to Wikipedia's page about telehealth and added a new section about what abortioncare looks like and how laws have changed in our new health landscape. They also updated the medical abortion page to include informaton about telehealth access.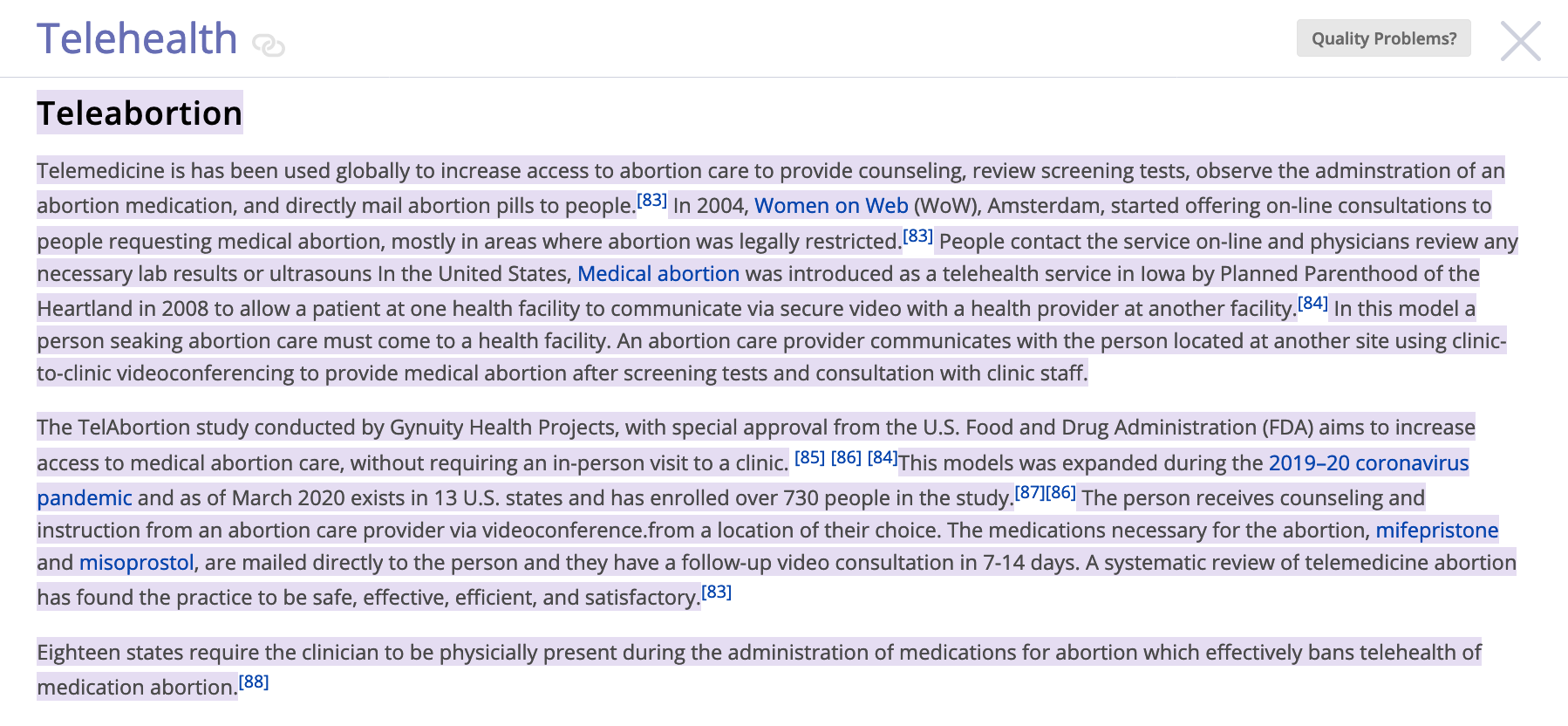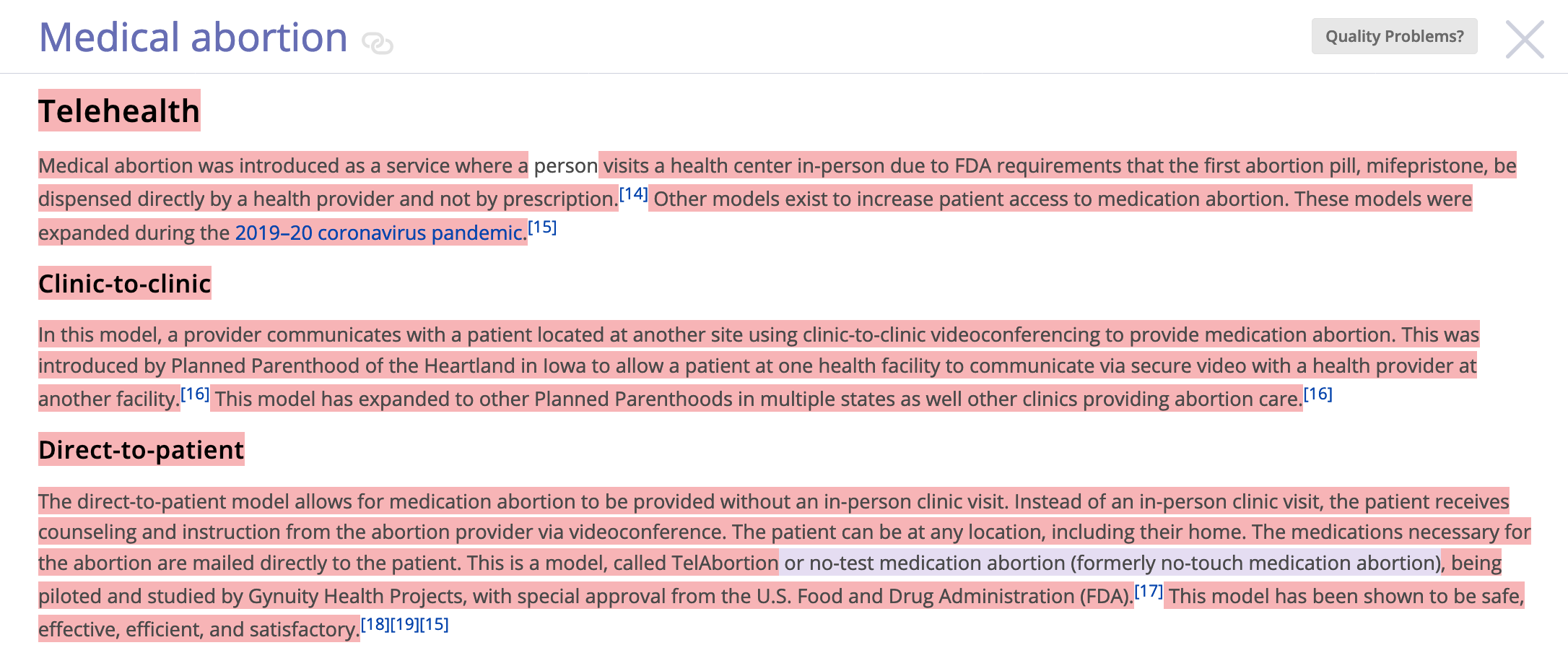 Why does this matter?
Globally, medical information on Wikipedia earned a staggering 4.8 billion page views in 2013.¹  In 2014, Wikipedia was found to be a more popular source of health content than the NIH, WebMD, Mayo Clinic, and others.² And not only do patients use Wikipedia, so do doctors.³
So now, as the world goes to Wikipedia to stay up-to-date about the global pandemic, readers are inevitably turning to the more than 155,000 health-related Wikipedia pages to make decisions about their healthcare in uncertain times. Wikipedia, perhaps now more than ever, is important to keep verifiable, representative, and complete.
As the U.S. Department of Health and Human Services' Office on Women's Health urges women to make their health a priority during women's health week, we'd like to commend the physicians, professors, researchers, and other family planning experts and advocates who can dedicate time to making health information more available to the public.
Who's doing this work?
We often hear from SFP Wiki Scholars that our course to learn how to improve Wikipedia felt like a natural fit for their personal and professional goals. Patients are already relying on Wikipedia as a supplemental resource and they remark that they also use it in their own lives. They tell us, Wikipedia has the power to:
Simplify contraception,
Provide the public with up-to-date information on family planning (especially as realities change so quickly with shelter-in-place orders),
Connect healthcare providers with their community using language their community uses,
Help researchers become better communicators of their expertise using "layman's" terms.
Through Wikipedia, practitioners can suddenly take part in healthcare conversations happening in public spheres outside the hospital or clinic. "Why make more of our own closed information systems when people already use Dr. Wikipedia?" one Wiki Scholar pointed out. The importance of non-technical, easy-to-understand information cannot be overstated.
So far, SFP has sponsored three courses, training 64 scholars to do this work. These scholars have added almost 60,000 words to high-impact Wikipedia pages about abortion and contraception, reaching 11 million readers. The latest cohort has continued to add well-researched information to a variety of topics, including about the insertion of intrauterine devices (950 daily pageviews) and the procedure of an anomaly scan in pregnancy (750 daily pageviews). One person added an image of a contraceptive diaphragm to the corresponding page, which receives about 250 pageviews every day.
How to get involved
SFP's Executive Director Dr. Amanda Dennis was already searching for a way to bring more information to Wikipedia when she attended a conference presentation by our Director of Partnerships Jami Mathewson at the American Sociological Society's 2018 conference. From there, a flourishing partnership between our organizations was born. As conferences and working environments go virtual, fostering these kinds of connections is more important than ever.
If your institution or organization is passionate about equipping the public with information about a particular topic, get in touch. We can help expand your reach through Wikipedia. Jami works personally with organizations to set up Wikipedia training courses that align with their mission. Our partners recognize the value of giving experts the dedicated time and support to do public engagement work, which is why many of them sponsor seats for their members or staff in our courses. To discuss partnering with Wiki Education, contact Jami at jami@wikiedu.org or visit partner.wikiedu.org for more information.
---
Thumbnail/header icon by Timofey Rostilov from the Noun Project.