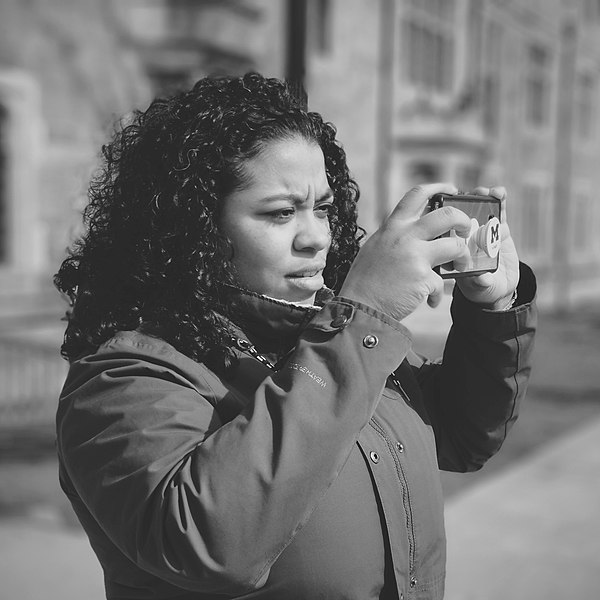 I never thought I could use my travel photos for an encyclopedia. Whenever I travel for a conference or vacations, I snap a picture or two from the scenery, architecture, food. To my surprise, this is something that Wikipedians also do, not for the gram, but for Wikimedia Commons, an online repository of copyright free images!
A picture is worth a thousand words. It has the power to convey meaning and sometimes trustworthiness in some Wikipedia articles. A single picture uploaded to the Wikimedia Commons repository can be viewed by thousands of people around the world. This repository, fueled by the community, is used by news, media, artists, students, teachers, and others as a common resource. Sometimes images are not available and the community, me or you could jump to fill up the gap.
During the past couple of months, with the generosity of the National Science Policy Network (NSPN), I was able to take a Wiki Scientists course focused on science and policy. My main objective for this course was to develop and improve Wikipedia pages for women in STEM. Depending on the article, this could take me a couple of hours to days. However, I also found an alternative low-effort route to still contribute to Wikipedia with the resources I already have.
As a graduate student, I have to go to seminars now and then and listen to cutting-edge research. During these, I snap a picture of the speaker and share the highlights on social media. As I wander around campus, I take pictures of buildings. During Wiki Education's course, I learned how to leverage these pictures for the greater good.
You see, some of these speakers or buildings have missing pictures on Wikipedia and some Wikipedians cannot travel there and take a picture themselves, but in some instances, I was at the same place they wanted to go, so I could take the pictures instead. Suddenly, the world became a living scavenger hunt, one you can also be part of! Currently, the pictures I have uploaded have a total of 6,000 views, according to GLAMorgan tool (Figure 1)! To put it in perspective, my first author scientific paper has a little over 1,000 views and my most viewed Instagram has reached 800 accounts.

I might have convinced you to join the scavenger hunt club, but how do you go about and upload the pictures to Wikimedia Commons? More importantly, how do you know what is missing? Currently, for Android users, there is an app called "Wikimedia Commons" where using your location you can identify Wikipedia articles with missing pictures around you. Using this app, you can directly upload pictures taken from your phone to Wikimedia. If you are an iOS user, you can use WikiShootMe a tool and get the same information as the "Wikimedia Commons" app.
Now, you have uploaded your picture. What else can you do? You can (1) update the Wikipedia article with the newly acquired photo and or (2) Nominate your photo as a "Featured Wikipedia Picture (FP)". I am a very competitive person so I like to do (2) whenever possible. The process to nominate your picture is very straight forward. You have to ensure that your picture follows the Featured Picture Criteria. Among these criteria, is that the picture is among the best that Wikipedia has to offer and is high resolution. If you are taking pictures from an article that has no pictures of it, then it might already be the best thing Wikipedia has to offer. Ensure that it follows the rest of the criteria and you would be ready to submit.
My most recent submission was a picture of the University of Michigan law school building. I routinely stroll by this building but recently noticed it needed a picture. Now, it has about 3,700 views. Since it met the FP criteria, I submitted it for featured picture, but did not get enough traction. But resilience is key and I look forward to submitting another picture soon!  However, this can be a bit hard during COVID-19 times so what option do you have while remaining indoors you ask?
You can search the web for pictures that are not protected by copyright. For example, I recently updated Adriana Ocampo's page with a higher resolution picture from NASA. NASA copyright policy states that "NASA material is not protected by copyright unless noted". Moreover, you can use pictures that are in the public domain. I found the page of the chemist Elizabeth MacGregor Hardy, with a little bit of research, I found her 1938s yearbook online, now in the public domain, and uploaded her picture to the Wikipedia page, now it has a little over 60 views with less than a week.
These are some of the ways you can contribute your pictures—or the ones you find with no copyright protection—for the worldwide scavenger hunt and the greater good.  I hope you join us in the search!
---
Attabey Rodríguez Benítez is currently a Ph.D. candidate at the University of Michigan in the Chemical Biology program where she leverages nature's power, enzymes, to pave new ways to make life-saving therapeutics. She is a proud first-generation student and received a Bachelor of Science in Chemistry at the University of Puerto Rico, Río Piedras. In addition to research, she is passionate about science communication and is currently a 2020 AAAS Mass Media, Yale Ciencia Fellow, and communicate all things science in Instagram and Twitter as @ScienceBey.