If you teach with Wikipedia once, you'll want to do it again.
At least, that's the case for respondents of our Spring 2016 end-of-term survey. We ask instructors in our programs for feedback at the end of every term. Every time, we hear that the majority want to teach with us again, and this term was no different. In spring 2016, 98% of instructors said they would teach with Wikipedia again.
That's astounding. Our survey also asked instructors: Why?
"I believe it challenges students to think about writing from a new perspective," one instructor wrote. "It also encourages them to identify themselves as scholars and understand how much they have learned during their studies."
The impact on students was a common theme. The enthusiasm the assignment cultivates in students seems to have a real impact on achieving the outcomes instructors want for their courses.
Instructors also reflected on the idea that writing for an audience of real readers was a motivator.
"The students enjoyed it and found it rewarding," another instructor wrote. "They got to make their work public in a way that they don't usually when doing class assignments."
"It gives the students an audience for their work that raises its importance for them," another wrote.
But the Wikipedia assignment has benefits outside of the novelty of an audience.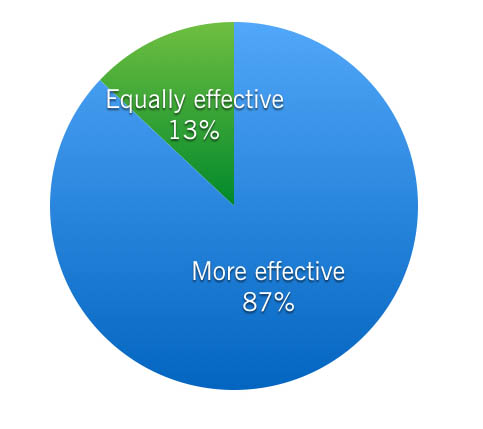 The assignment was considered equally or more effective than a term paper when it came to critical thinking (92% of instructors said so) and writing skills (81%). However, majorities saw the Wikipedia assignment as even more effective than a traditional assignment when it came to developing media and information literacy (87% said it was more effective), collaboration skills (72%), and online communication skills (87%).
"Students tell me in course evaluations that they value the experience," another instructor wrote. "I see students clearly achieving our program course learning goals in their Wikipedia work."
The student experience
Some instructors shared (anonymized) student feedback with us, too. Some examples:
At first I was afraid I would not be able to, but after doing a little research I found it was quite simple and I actually enjoyed doing it.
Not only will I use and edit Wikipedia articles more myself, but I will share with others how easy and simple it is to take advantage of all Wikipedia has to offer.
The information I have gained in this class will be very helpful in the future and I would recommend it to anyone who would be interested.
I did not expect to enjoy the course as much as I did, but the assignments and discussions kept me interested the entire time while teaching me skills and knowledge I can and will use again in the future.
A term paper, with benefits.
In a recent blog post for us, Timothy Henningson described the assignment as "a term paper, with benefits":
"If one of the main motives of assigning a research paper is to have students engage a discourse and speak to an audience," Henningson wrote, "then unless that audience is real and tangible, the activity is inherently counterfeit. It might be good practice, but it's nothing like playing a real game. Which is where Wikipedia comes in."
Our survey told us that he wasn't alone in that assessment. Here's how one instructor put it:
"I honestly think that the Wikipedia assignment was THE most effective teaching tool I have ever used. The fact that the students' writing was immediately visible by millions of people worldwide really gave them an incentive to produce excellent writing. Also, they gained a critical eye towards the sources they were using and the places these sources were coming from."
We're delighted to know that the Wikipedia assignment has helped instructors cultivate excitement for learning among their students. We're also pleased that so many of them found our tools and support helpful along the way.
Join us!
If you aren't already leading a Wikipedia in your own classroom, we'd be delighted to help you get started. Our staff can offer expert guidance in instructional design and on the fine points of Wikipedia. We provide online orientations and training for you and your students. We have tools to help follow student work.
Want to transform your term papers into an exciting writing assignment for a real audience? Start the conversation with us by e-mailing contact@wikiedu.org.