Marina Corrales's career goal is to become a university librarian. She was excited when she took Dr. La'Tonya Rease Miles's Social Innovation for Social Impact Leaders class at Santa Clara University this spring and discovered she'd be writing a Wikipedia article as part of the course.
"I've referenced Wikipedia extensively throughout my academic career and enjoyed the idea of contributing to it," says Marina, who just wrapped up her first year of the Social Justice Leadership EdD program.
Her course was participating in an initiative funded by the Broadcom Foundation to create diverse biographies of people in STEM on Wikipedia, so Marina set out to create the biography of Arnaldo Díaz Vázquez. As a self-identified Latina, Marina says she wanted to increase the presence of Latinx scholars on Wikipedia.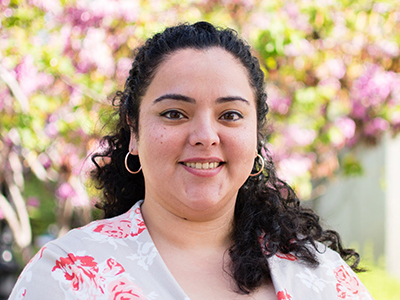 But she didn't stop there. A guest lecture by Dr. Daniel Solórzano in another class she was taking inspired Marina to learn more about his work. She found that many of the scholars whose work she looked up to were connected to him.
"I became curious about what his Wikipedia page might say and how extensive it might be. I was shocked that Dr. Solórzano didn't have a page despite having hundreds of people study under him for several decades, many of whom have been successful in their own right," she says. "After my shock subsided, I thought about our assignment and why we were creating the pages in the first place; because of an underrepresentation of people of color on Wikipedia in STEM fields. I realized that underrepresentation might also be the case for scholars of color in Education on Wikipedia."
Armed with her research mindset and newfound knowledge of how Wikipedia worked, Marina dug deeper. She searched for academics that inspire and inform her work, such as Dr. Angela Valenzuela (aesthetic vs. authentic caring), Dr. William G. Tierney (cultural integrity vs. cultural suicide), Dr. Ricardo D. Stanton-Salazar (school and kin support networks), and Dr. Mark Granovetter (social network theory), among others.
"I was disheartened to find that those who identify as people of color, Dr. Valenzuela and Dr. Stanton-Salazar, did not have Wikipedia pages. Yet those who identify as white, Dr. Tierney and Dr. Granovetter, both did," Marina says. "I wasn't surprised, and yet I still felt disappointed. This frustration, added to the disappointment of Dr. Solórzano not having a page, caused me to want to do something beyond simply being upset; I wanted to take action. Creating a Wikipedia article for Dr. Solórzano allows me to expand on whose knowledge we value and whom we consider important enough to have a Wikipedia page."
Marina says she felt compelled  to start a page for Dr. Solórzano after learning how to create and edit Wikipedia articles and is now confident that she can. Given Wikipedia's neutrality and conflict of interest rules, it's better for someone like her — who has no personal connection to the subject — to create the article. So she is working on it.
She credits Wiki Education's staff (with special thanks to Wikipedia Expert Brianda Felix) for  helping her learn the ropes of Wikipedia. Marina says her favorite part of the assignment was sharing her course output  with friends and family instead of a dense, jargon-heavy academic paper.
As a scholar of education and information science, Marina sees the value of the assignment in developing  open educational resources (OERs) like Wikipedia as a way  to support students of color as a future university librarian.
"Most people assume that information literacy is intuitive, but it's not, particularly when finding and utilizing academic resources such as library search engines," Marina says. "At the beginning of the quarter, we discussed OERs and how people access information. This conversation, combined with my developing interest in the field of library sciences and  supporting students of color in expanding their information literacy skills, made this assignment particularly impactful. I considered how many people without access to academic resources such as scholarly journals and peer-reviewed articles use OERs such as Wikipedia. I also thought about the frustration that comes with being a student, trying to complete an assignment, and hitting a wall because the institution you belong to doesn't have access to a particular journal. Despite my extensive experience searching for academic resources, this continues to happen to me. Now, more than ever, I realize the value of OERs and am excited about contributing to one through Wikipedia."
And she's grateful for the skills she gained. She hopes the articles she's adding to Wikipedia will help raise the profile of other scholars of color.
"Without this assignment, I don't think I would have thought twice about not finding a Wikipedia page for scholars of color that I admire," she says. "The skills I learned through the experience of completing this assignment will benefit me long after this class ends. I now know more about OERs, adding to them, and will encourage others to do the same. I look forward to completing an initial draft of Dr. Solórzano's Wikipedia page so that more people learn about his extensive and powerful work. I hope that creating Dr. Solórzano's page supports communities  of color by amplifying our voices and lived experiences so that the lenses applied to research on our communities aren't all deficit-based and instead, highlight our strengths."