Dr. Kathryn Jasper began implementing Wikipedia assignments at Illinois State University in Fall 2022. Here, she reflects on the experience.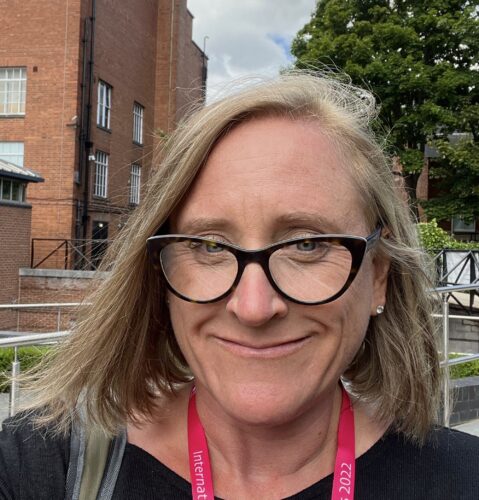 Where do people get their history? The American Historical Association conducted a study in recent years on that very question and the results, reported in a table, show that most people get their history from social media, films, and television, and that a very small percentage learns about history in a formal course. My students weren't exactly shocked to learn that, but it did give them pause. Although I don't believe history education has to be entertaining, it should be engaging, and it obviously is not since the university is quite literally the last place the public will go for historical information. As I always tell the students, I can reach more people through Wikipedia than I will with my scholarship. So, the project matters to me, and I hope the students might adopt the same attitude. Possibly the fact that they took the content gap problem seriously (e.g., many students wrote about women) this past spring is evidence that they did.
My course focuses on the medieval Mediterranean from roughly AD 200 to 1100. The themes and goals include to describe change over time (Periodization/Global Middle Ages); to understand processes of intercultural contact and exchange (Christianization and Islamicization); to explain the shift in global influence from East to West; and to demonstrate the diversity of the medieval world. But the structure resembles less a narrative and more a thematic series of discussions, but these are built around a single specific object, person, text, or site – just like a Wikipedia entry. I devote one class day a week to working on skills; basically, on Monday I present a sample Wikipedia entry, and on Wednesday we discuss research strategies and methods to formulate an argument. Every day starts with two threads, one related to a particular aspect of writing a Wikipedia entry and the other about a potential Wikipedia topic. I gradually tie the two together by contextualizing the topic and situating its study in medieval historiography.
In practice last semester I delivered content on Monday, and we worked on method every Wednesday. Monday's class started with an artifact followed by its context, which I unpacked gradually. For example, I showed the students a strange multi-purpose tool dating to the late Roman period. It has been called the Roman "Swiss Army Knife" in popular articles. It looks like a pocketknife with several retractable tools including a fork. Although two reputable museums with similar (allegedly) Roman multitools, one in Italy and one in England, claim the items are authentic, there is no way that could be true, because of the presence of a fork. We have only recovered one fork from the confines of the Roman Empire, and it dates to the sixth century, centuries before the multitool was made. The dates ascribed to the objects in both museums have to be at least a few centuries too early. My point here was twofold. First, you can't simply trust everything you read; and second, the knife didn't exist in a vacuum (i.e., if you were writing the Wikipedia article for the multitool, what would you need to know?). I emphasized that even trustworthy sources should not be read uncritically; perhaps a source lacks corroborating evidence or requires additional sources, or different sources, to be convincing. I also wanted them to appreciate that we could only know the museums were mistaken if we were aware of the wider context.
Rather than incorporating method and approach into lectures, every week I devoted Wednesday's class entirely to building skills, from how to find sources to checking personal bias, and every few weeks I deliberately scheduled an in-class workday. Putting aside time for developing their research and writing skills was a game-changing decision. The students who regularly attended class understood concepts that the students in upper-division courses struggled to grasp. Indeed, several students told me that the course gave them skills valuable in our more advanced courses.
I'd like to share an anecdote about a particularly wonderful student project. One student, who took my suggestion to select a topic that addressed a "content gap," chose to revise the article on the sixth-century Empress Theodora. It was a bold decision, to say the least. I warned this student that the historiography on her reign is vast and that the primary sources are dense. She was not deterred. It speaks to how much work this student had put into the project that her entry raised so many fascinating questions. I mentioned to her that the Roman historian Tacitus described the third wife of Claudius, Messalina, in a specifically sexualized way as a proxy for the Empire itself, which might also be the case with Theodora. I gave her quite a few articles to read, none of which was required, of course, but she read them anyway. She took my idea and ran with it. Her entry highlighted that the sixth-century author Procopius deliberately styles Theodora as feminine because she's been elevated to a traditionally masculine position and operated in a masculine world. However, the palace was a unique space, at once the state and a private household, and Roman women ran the Roman household, so the empress occupied a unique position. The substance of her article was fabulous, but in my critique, I wrote that it could be improved with some discussion of how historians have understood Theodora. I could tell she took that lesson to heart. In her reflective essay, she wrote, "It is impossible to determine how we should analyze a figure or event in the modern day if we do not initially consider how it has been previously understood historically speaking." How many students over the years internalized that message in my courses? Very few. I was so appreciative of her entry because Theodora is one of the most maligned figures in history, and her good work corrects that perspective.
The Wikipedia assignment has proved an effective means to weave together important conversations in the field with the practice of actual historical research. I am proud of what my students have contributed to the discussion and look forward to continuing this work in the future.