These students made Wikipedia's information about fertility care and family planning more inclusive of the LGBTQ community. Their work continues to be read 1,500 views every day, well beyond the conclusion of their course. What other assignment can say the same?
Dr. Cynthia Gabriel's course about LGBTQ Reproductive Health invites students at the University of Michigan to explore the biological, social, cultural, and legal experiences of LGBTQ+ family-making. Aurora Rynda and Airy Garcia both found themselves in the course last fall as they pursued degrees in biology with focuses on gender, health, and society.
Aurora and Airy worked in a group with six other students to improve Wikipedia's article about in vitro fertilization (IVF). The article was already fairly comprehensive, but given the lens of their course, some gaps stood out to the students right away.
Noticing gaps in Wikipedia through a course lens
"The main gaps our group noticed in the IVF article were the overall lack of gender inclusive language and representation of the LGBTQ+ community," Airy explained.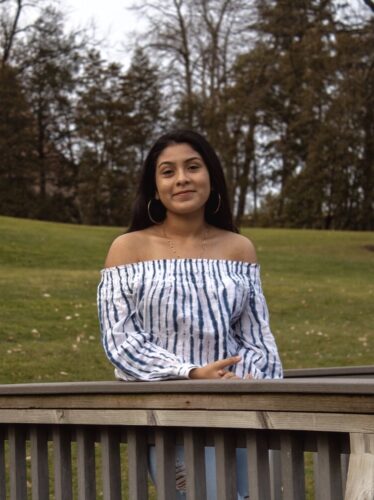 "The way the article only uses infertility as a reason to undergo IVF or other assisted reproductive technologies (ARTs) came as a shock to me," Aurora added.
"We were not too surprised that these gaps existed given the general lack of awareness about LGBTQ+ reproductive health and the fact that the media tends to overrepresent cis and heteronormative individuals as the recipients of IVF," said Airy.
"While editing this article we wanted to create a more inclusive page where individuals can acquire up to date and informative knowledge," noted Aurora.
So the students got to work.
Taking initiative to correct self-identified gaps
After learning how to edit through Wiki Education's resources, the group went about making changes. First, they added gender inclusive language throughout the article to better represent all parents. They showed the different forms that fertility care may take for same-sex couples and transgender parents. And they wrote of the unique challenges facing transgender expectant parents as they navigate insurance coverage. The students also changed the article's main image (the one that appears on Google search results) to be more inclusive, having found a scientific image in the public domain to replace it with.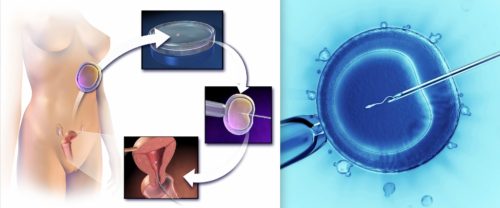 "Given the fact that we were taking a class on LGBTQ+ reproductive health at the time, we wanted to increase awareness of LGBTQ+ individuals accessing assisted reproductive technologies, especially IVF," Airy continued. "This included changing gendered language to be more inclusive, adding information from emerging research, and dispelling commonly held misconceptions about LGBTQ+ reproductive health."
"The main point I wanted readers to take away from the article was the future for assisted reproductive technologies and how ART is used not just for infertility, but it's widely used for same-sex parents and other LGBTQ partners to create a family," said Aurora. "It is so important to provide information regarding assisted reproductive technologies because we're in a society where heterosexual reproduction is the large majority and there is a lack of representation for the LGBTQ community. I find it very frustrating when the LGBTQ community in particular gets marginalized and excluded from the reproductive conversation and the technologies aren't as accessible. I believe that anyone who wants to have children should be able to, regardless of their identity."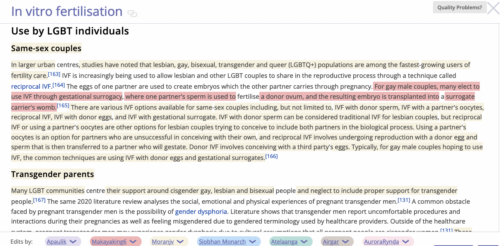 Because of the public-facing nature of the assignment, students feel a responsibility to get it right, no matter the topic. They also tend to feel empowered by the act of correcting information that will be consulted by so many. The IVF article gets 1,500 views every day. Since December when the students stopped editing, 233K readers have viewed their contributions. That's an incredible impact.
Depending on how the instructor structures the assignment, students often have autonomy over what topic they'll improve on Wikipedia. This allows them to bring their interests, career aspirations, and identity to their work, as well as connect it to their other studies.
"As a woman of color, I understand what it feels like to feel under and misrepresented, especially in the health field and in research," Airy shared. "Since I personally do not identify with the LGBTQ+ community, I wanted to ensure that my contributions to the IVF page were as accurate as possible and worked to uplift instead of exclude or misinform."
Learning research skills along the way
Information on Wikipedia related to health is subject to additional checks and balances when it comes to sourcing. Aurora, Airy, and their group were especially intentional about the research that they cited, making sure it was peer-reviewed and up-to-date.
"Writing for Wikipedia showed me how important it is to be an expert in the topic you are writing about. You have to not only source all your edits, but you also need to comb through the article and find what parts of the article you find incorrect and need to be changed," Aurora said. "It also taught me the importance of looking at the sources and not believing everything you read. When you question information you read, you enable yourself to learn more about the topic. I've learned to question literature and research on my own before agreeing with the opinions of others. I will take this into my field of study by educating others on the inclusivity of ART and the high demand to discover new technologies."
Plus, it's rewarding to write for a resource we all use. "This was my first time making significant changes to a Wikipedia page," said Airy. "It felt nice to be able to expand representation on such an important topic!"
Interested in incorporating a Wikipedia assignment into your course? Visit teach.wikiedu.org to learn more about the free assignment templates and resources that Wiki Education offers to instructors in the United States and Canada.