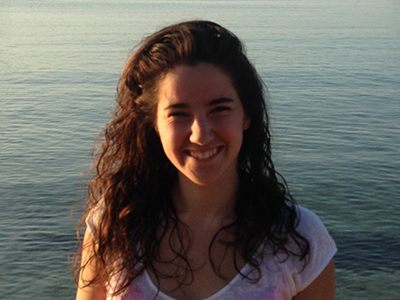 Carmen Fernández Fisac had long wanted to start contributing content to Wikipedia.
"It's a resource I've used countless times and I was excited to give back by adding content that could help others as well, but I always felt like I lacked the tools to do it properly," she says. "What if instead of helping I ended up making it worse?"
Enter Wiki Education's Wiki Scientist training course, hosted by the National Science Policy Network (NSPN). A Ph.D. student, Carmen studies biomedical engineering and neuroscience. She's researching how the brain balances sensory information and intention during voluntary movement, using brain-computer interfaces.
"I am also at my core a science communicator: as fulfilling as conducting research is, nothing makes me as happy as writing about science for different audiences and teaching students what I know," she says. "This course was the push I needed, not just because it made navigating the editing process easier, but because it was a confirmation that Wikipedia wanted people like me to contribute. The course offering through NSPN was an explicit invitation for scholars to dive in and have a tangible impact on knowledge accessibility, and I was thrilled for the possibility."
Carmen says the NSPN Wiki Scientists course gave her the skills to navigate Wikipedia's rules and guidelines in a way that wasn't overwhelming. She also learned about the community of Wikipedia editors, something she'd never before considered.
"The thing that completely blew me away was the powerful sense of community among Wikipedians," she says. "I knew the premise of Wikipedia and had heard the classic 'it works, despite all odds', but I had never really dived deep into discussions in Talk pages or the internal initiatives bringing editors together to push through more meaningful improvements. I don't think I understood the extent of it until the course dropped me right in the middle of it and encouraged me to engage in those conversations. Watching people collaborate selflessly like that was inspiring and heartwarming, and it only made me want to do more in Wikipedia."
Carmen tackled Wikipedia's article on neurotechnology, which averages thousands of page views each month.
"Like with other transformative technologies, I think it is incredibly important to stay ahead of scientific advances in neurotechnology and consider their potential ethical and social repercussions, not only for policy makers but also for those conducting the research," she says. "Because it is something that has been present in science fiction for a long time, I especially wanted to work on the definition and the ethical considerations of neurotechnology to help separate the fantasy elements from the reality so that the concerns that do exist can be identified and put in context. A lot of the work I did ended up focusing on restructuring content in addition to writing to make sure sections were balanced and written in a neutral tone."
Although the course wrapped up, Carmen has continued editing the article, making gradual improvement. She's excited to keep editing Wikipedia — both the English and Spanish language versions.
"I have noticed that many science-related Wikipedia articles are less detailed in Spanish than they are in English, possibly due to the majority of international research being published in English," she says. "As a bilingual speaker with a scientific background, I feel this is somewhere I can make impactful contributions to make Spanish articles more complete. I think multilingual science communication is absolutely critical if we want to reach local communities everywhere, and I am excited to help reduce language barriers if I can by making more information available in Spanish."
Carmen hopes more experts like her are able to contribute — in any language. And she sees courses like the Wiki Education one she took that brings experts to Wikipedia as being key for the future.
"You don't have to be an expert to add accurate information, but the unique value that an expert brings to an initiative like Wikipedia, I think, is not given by the wealth of detail they could go into on a certain subject — which would likely overwhelm the non-expert reader — but rather by their insight into the building blocks of the subject, allowing them to identify which are the critical details that need to be included to capture the essence of a concept and making a complex field of study penetrable to its outsiders," she says.
She found the immediate impact personally rewarding as well.
"It's so rare in life to be able to identify an issue that you would like to correct for those coming after you and in the same second be able to fix it, then and there," Carmen says. "Getting a closer look at Wikipedia and the community behind it has restored a bit of my faith in humanity. Sometimes the world seems a little bleak, but I see Wikipedia continuing to work despite all odds and I think 'you know, we might just make it as a species'."
Interested in hosting a course like the NSPN course Carmen took? Visit partner.wikiedu.org.
Image credit: Illustrated by Jasmina El Bouamraoui and Karabo Poppy Moletsane, CC0, via Wikimedia Commons.