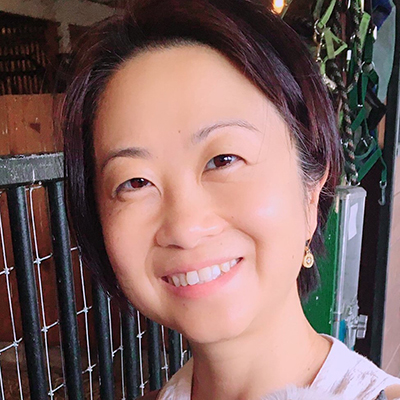 Chemist Maggie Tam had never edited Wikipedia before taking one of our recent 500 Wiki Women Scientists courses — in fact, she didn't even know you could.
"I used to think that each Wikipedia article was written by a single author," Maggie admits. "I didn't realize that anyone can edit and make changes to articles. Before the class, I never clicked on the History page, or the Talk page of articles. It is very heartwarming to find out the extent of community collaborative involvement in the articles."
Maggie is now part of that community. As a volunteer, she's the Communications Committee Co-Chair for Females in Mass Spectrometry, a nonprofit community that supports women in the field of mass spectrometry. In an effort to help improve Wikipedia's coverage of the topic, she connected with 500 Women Scientists, an organization that partnered with Wiki Education to offer this course, led by Wiki Education's Will Kent and Ian Ramjohn. Maggie signed up.
"I imagined the class to be similar to learning to drive, that there would be studying about rules, a road experience in a car with an instructor and dual brakes, and finally a road test," Maggie explains. "I was skeptical to hear that we could begin to edit in the real Wikipedia (not just the sandbox) after the first week of training, which would be equivalent to driving on the road! As a matter of fact, it is astonishingly easy to start editing and creating an article, especially with visual editing. The course covered a good number of Wikipedia policies and resources to give us confidence. In the driving analogy, Will Kent and Ian Ramjohn are the dual brakes, who helped troubleshoot issues. There is a continuous road test in the form of reviews and edits from the Wikipedia community."
She started by creating an article on chemist Hilary R. Bollan. Next, using Professor Hannes Röst's list of mass spectrometrists, she created the articles for two "red links", or missing articles, Catherine E. Costello and Jennifer Van Eyk. Then she made edits to the existing articles on Ying Ge and Vicki Wysocki.
The outcomes were great for representation of women chemists on Wikipedia — and for Maggie, who says she liked the class setting.
"I enjoyed the comradeship," she says. "Once a week, I get to spend my lunch hour with other women scientists from different parts of the world, all working towards creating biographies to improve representation on Wikipedia."
Now that the class is over, Maggie intends to keep working on adding more women scientists to Wikipedia, and engaging others in the Females in Mass Spectrometry group with an edit-a-thon using the 500 Women Scientists and Wiki Education resources. She wants Wikipedia's coverage of women scientists to reflect the reality of the women already in the field — and inspire the next generation of scientists.
"There is a song in Girl Guides called 'Yes She Can'," Maggie says. "When I ask girls in my Girl Guides Brownies unit to research on women role models, they often start with online resources — Wikipedia being one of them. These little girls will learn more about the amazing pioneering work of women scientists when more articles exist in Wikipedia."
Interested in hosting a course like the 500 Women Scientists course Maggie took? Visit partner.wikiedu.org.