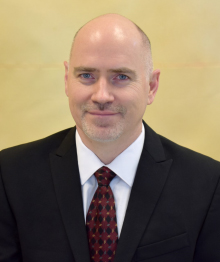 In spring 2018, Mike Benjamin was in his third year of graduate school for Occupational Hygiene at the University of Cincinnati. As an assignment for one of his classes, Mike was asked to edit Wikipedia through Wiki Education's Wikipedia Student Program. Mike enjoyed the experience so much that he knew he wanted to stay engaged with Wikipedia.
Today, Mike teaches his own classes at the University of North Carolina at Charlotte — and for the last three terms, he's been assigning his own students to edit Wikipedia through our Wikipedia Student Program.
"I think the main difference as an instructor is seeing some of the same reservations and mistakes I made as a student, but now I am able to see that article edits won't stop after publishing each contribution in order to continually improve each article," he says. "I was a little afraid to make my first edit as a student, in case I messed up the article. Now I hear that same hesitancy from a good portion of my students (and they sometimes make the first sentence edit with me watching via Zoom). After they submit the edit, they realize that it didn't crash Wikipedia, so they feel more confident with the next one."
Both the course he took as a student and now the courses he teaches are supported by both Wiki Education and the National Institute for Occupational Safety and Health (NIOSH), which has a long-standing effort to support content development on occupational safety and health-related topics on Wikipedia. As a student, Mike edited two articles: National Occupational Research Agenda (NORA) and Workplace Health Surveillance.
"I chose NORA as a topic because in my graduate program, we took a lot of Industrial Hygiene coursework, and we were focused on so many topics that we sometimes lost sight of the bigger picture — namely, the focus areas that NIOSH had identified as priority areas for occupational health research (industries and their related health outcomes). It's important for people to see that such a strategy is needed when limited resources are available, and NIOSH tries to direct those resources responsibly," he says. "The other topic, Workplace Health Surveillance, seemed to combine multiple topics together, and editing was needed. I'm not sure how much improvement I provided on that one, but it was still a good learning experience."
Mike kept editing after the end of his coursework, adding information about safety to several articles throughout 2019. When he started teaching at UNC Charlotte in 2020, his courses were cross-listed as both undergraduate and graduate courses, so Mike immediately thought that adding the Wikipedia assignment as the additional work needed for the graduate level was a perfect fit. The NIOSH community, including longtime NIOSH-Wikipedia advocate Thais Morata and NIOSH Wikimedian in Residence John Sadowski, offered support. And Wiki Education's framework and training have also been helpful, as well as the course Dashboard, which shows page views.
"It's easy to get a sense of satisfaction when you know that people are reading the information you provided in your article," he says.
Mike's program attracts many international students. To make the assignment more meaningful to them, he's opened the possibility of translating course-related Good Articles from Wikipedia into their native languages, including Arabic and Spanish.
"I believe this has increased the motivation of many of our international students, since the students demonstrate the value of their language in a translation, learn how to write formally in their language, and provide service to their home communities, where occupational health and safety information may be lacking," he says. "After their page is published, they can look at their article 'statistics', like page views, which provides positive feedback for them. In short, I think that this effort is a respectful effort for inclusion and sharing of ideas in our program, which sometimes gets overlooked in the engineering disciplines."
And his students and Wikipedia's readers aren't the only ones getting something out of writing for or translating Wikipedia articles.
"I learn new things as part of the assignment, too," he says. "The translations are pretty cool actually. For example, what do you do when there's not a direct translation for an English word? I had a few students argue in class about whether a translated word was correct or not, but nobody knew the 'correct' answer. I usually have to ask for assistance — a contact at NIOSH for Arabic translations and a colleague in my department who is fluent in Spanish. English speakers can learn more than they expect about translations (and how dialects create a challenge) and appreciate some of the language differences."
This engagement with students is part of what Mike values most about running a Wikipedia assignment, and why he keeps doing it every term. He's already signed up to teach with Wikipedia again in spring 2022.
To teach with Wikipedia, visit teach.wikiedu.org.
Image credit: Bz3rk, CC BY-SA 3.0, via Wikimedia Commons