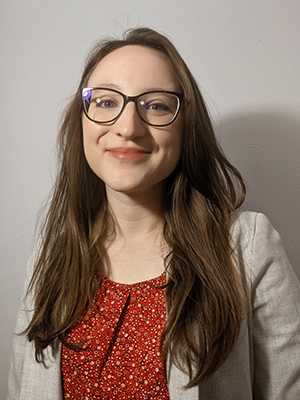 Kiley Jolicoeur is a graduate student at the Syracuse University School of Information Studies currently doing an internship with the Syracuse University Libraries' (SUL) Digital Library Program (DLP), where she evaluates possible linked data solutions to implement for the digital collections metadata. A major highlight in her everyday life with the DLP is the application of Wikidata to clean and disambiguate names that appear in the digital collections metadata, especially those that may not appear in other authority files. She recently participated in our Wikidata Institute, a course where we help participants further explore and establish a foundation with Wikidata as a linked data solution.
Much of Jolicoeur's work during the Wikidata course was in relation to her library's digital collections metadata. With every item she encounters, she aggregates information from multiple sources and adds a few statements with references. Before diving into the course, Jolicoeur struggled which avenues to take within Wikidata. However, Wiki Education course instructor Will Kent's guidance throughout the course immensely helped her make edits with ease.
"Having Will introduce concepts and walk us through different methods, operations, and tools really made the learning curve much less steep. I was able to start making edits after the first week and, as we progressed, really developed a feel for the Wikidata community and how the project is evolving, as well as ideas for how SUL might be able to employ Wikidata," Jolicoeur says.
Jolicoeur attests to Wikidata's service in catalyzing the impact of the collection with linked data. She urges librarians, students, and her colleagues to learn the benefits of linked data.
"Wikidata really has so much to offer. It's a great way for librarians and other information professionals to learn about linked data in a live environment, it helps to disseminate information, including by exposing information that might otherwise be siloed in local collections, and it can be a very useful tool to teach students and colleagues about data," Jolicoeur says.
Another major factor that helped Jolicoeur navigate through Wikidata smoothly was the active community who were in similar situations.
"I've discovered that there are great features in place that allow the community to help each other out in situations like this. The talk feature, history logs, and pages that allow for communal evaluation of requests, like notability deletions, are so helpful," Jolicoeur says.
In Jolicoeur's future, because of the handful of skills the Wikidata course provided her, she is able to open many doors of opportunity to apply her knowledge. 
"Wikidata is relevant to me in a lot of ways. It's a great way to see and use linked data in action, and it's really given me an opportunity to take classroom understanding and develop skills that build upon that. Linked data is such an important undertaking for GLAM institutions and I'm excited to be able to take the knowledge that I've gained here to benefit SUL as part of my internship, as well as contribute it to my future employers after I graduate," Jolicoeur says.
To take a course similar to the one Kiley took, please visit wikiedu.org/wikidata.
Image credit: rachaelvoorhees, CC BY-SA 2.0, via Wikimedia Commons