Daniel A. Reboussin is a cultural anthropologist who serves as the African Studies Collections Curator of the University of Florida George A. Smathers Libraries. With his interest in open access digital resources and gaining a new perspective on expanding his own collections, he felt prompted to enroll in Wiki Education's Wikidata Institute with 10 other colleagues after attending a Michigan State University event featuring the Wikidata Institute instructor, Will Kent, as a speaker.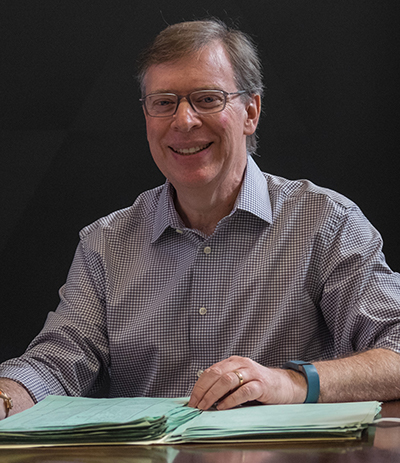 "I learned about Search Engine Optimization from a colleague and started working to use those principles to enhance access for the collections that I curate ten years ago," Reboussin says. "Last October, I came across MSU Graphics Possibilities' Virtual Wikidata Edit-a-thon: The Golden Age while I was processing a manuscript collection of popular street comics from Kinshasa, DRC (the Papa Mfumu'Eto 1er Papers)."
Fascinated by the wonders of African Street Literature, Reboussin dedicated his time towards editing Wiki entries for Congolese street comics as a User:Danrebo.
"I focused on the Congolese street comics collection because I'm confident that it's the only publicly accessible collection of its kind. There are no other collections like it except in private hands. I want to help people interested in African street literature and comics find these fascinating graphic materials," Reboussin says.
Throughout the course, Reboussin felt it was his responsibility as a librarian to utilize his time in Wikidata to make sure the public can get their hands on unique accessible resources.
"Librarians, especially those of us who use metadata to improve access to unique materials online or who catalog book materials, are often interested in improving access to them," Reboussin says. "We want people to find and use our stuff because it's often more reliable and better than other websites (which are often far easier to discover online)."
From Reboussin's experience, he believes that Wikidata can enhance any library collection because of the vast amount of information offered to individuals. In collaboration with his colleagues who took the course with him, he plans to continue connecting the University of Florida's collections to Wikidata.
"Discovering a web of connections among materials or discovering a path through multiple trusted resources related to their interests is what many of our patrons thrive on, thus leading them to more high-quality information," Reboussin says. "Wikidata provides a practical, often transparent, solution to an immediate problem, pursuit of a broader interest, or it may just feed their curiosity."
As curiosity plays a substantial role in finding valuable information, Reboussin explains how individuals will also stumble upon source connections while researching.
"The factual substance and rich connections in well curated collections is far more interesting to many than the commercialized flow of ephemeral information online about popular entertainment, celebrities, and other topics," Reboussin says. "Connecting good information sources together offers something substantial to people."
With the ever-evolving expansion of tools and technology on the internet, Reboussin encourages other museum and library professionals to take advantage of Wikidata's tools and upload their collections.
"Bringing interested users to the materials requires good metadata and relevant connections to online resources that support search results and offer users additional context for interpretation (biography, history, related tools or techniques). Many users want to dig deeper, so providing them with good related resources is a real service," Reboussin says.
Although understanding Wikidata was a challenge for Reboussin, he knew that learning these tools would help him immensely in his professional development and work.
"It was and still is a challenge to understand what it does best and how to tap into those things for best impact. But it's a big and powerful set of tools that connect people to their interests and I find it very satisfying when I can do that reasonably well," Reboussin says, "and the Wiki community also offers tremendous support."
Because Wikidata impacted Reboussin's career and work, he wants to continue exploring query tools such as SPARQL and its potential.
To enroll in a Wikidata course like the one Daniel took, visit wikiedu.org/wikidata.
Hero Image Credit: William M, CC BY-SA 3.0, via Wikimedia Commons