Art Blaser a  Professor of Peace Studies and Political Science at Chapman University.  He co-directs Chapman's Disability Studies minor.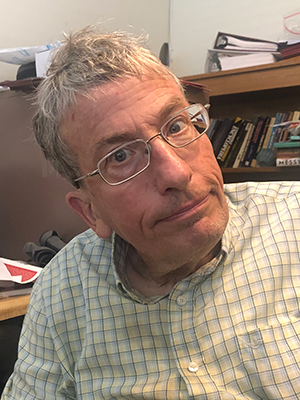 My main goal in teaching, inside and outside of the classroom, has always been to enable access to knowledge, my own as well as my students'. Other goals include making the world a better place, and having fun while doing it (again for both me and my students). In this blog entry, I hope to convey that these goals are modest and feasible, although often subject to reformulation. I also hope to explain what I initially used as a subtitle, "Why Wikipedia Has a Great Future (and Probably Always Will)."
A year ago, I was a member of a summer Wiki Education Scholars & Scientists class learning about Wikipedia and disability-related healthcare (one of the parts of life during the COVID pandemic to which I looked forward). During the 2020-2021 academic year, I incorporated Wikipedia assignments  in two classes. I was co-instructor of a fall 2020 course at Chapman, Introduction to Disability Studies (crosslisted as Integrated Educational Studies, Peace Studies, and Political Science) with Dr. LouAnne Boyd from Chapman's Fowler School of Engineering. In spring, I taught an upper-division course on Disability, Policy, and Law (crosslisted between Peace Studies and Political Science). 
I was, and remain, attracted to Wikipedia because it encourages examination of the unfamiliar, learning from mistakes.  It's a welcome contrast to the norm in education, where common assumptions remain unexamined. That's particularly a problem in the fields in which I study and teach. Some of those unexamined assumptions can reinforce patterns of disability injustice and structural violence from healthcare, housing, and educational policies (through which people are excluded where they can and should be included).
Partly because of myriad other expectations of my courses, other courses, and the rest of their lives, even simple student tasks like registering with Wikipedia, sometimes were not easy. Meeting over Zoom and sharing screens allowed making tasks like registering doable. 
Topic selection was also more difficult for some students than for others. One of the nice aspects of the assignment in the co-taught course was the opportunity to learn from others. For instance, I had no idea what "cognitive ergonomics" was; my colleague and my students filled me in somewhat, and other Wikipedians have taken it from there. Although I was initially reluctant to limit options, students appreciated this. I expect to nudge more next time. After registration and topic selection, my expectations were minimal. I expect that the greatest contributions will come after the course, not motivated by the grade. (In my courses, the Wikipedia assignment was worth 20% and 10% of the course grade; some students gravitated toward assignments that were structured in more familiar ways: read the texts, take an exam.)
Anything unfamiliar brings some resistance. In each class, one student simply did not do the Wikipedia assignment. I saw the benefit from having the same students in a second class: three of the 17 students in the spring class had also been in the fall class. One of the three hadn't done the assignment in the earlier course. Several students showed some familiarity with writing for Wikipedia, from friends or from prior classes. Many students found that they knew more than they thought they knew.
Students and instructors greatly appreciate some "bright line" principles on Wikipedia like "neutral point of view" (NPOV). Wikipedia and other academic efforts to make the world a better place reinforce rather than undermine the Wikipedian search for a NPOV. Both Peace Studies and Disability Studies expose the efforts of people who champion neutrality while serving narrow interests. Upon close examination, students and scholars in all fields aspire to make the world better, although too often fall short.
One writing that  attracted me to Peace Studies was Richard Falk's "Code of Honor for World Order Activists" in which Falk suggests that world order activists must "totally lack humility." Although some critics equate this with bias and being "political" (as though it is possible not to be) they are mistaken. 
The site of the Peace and Justice Studies Association includes an "about" section with  values and beliefs shared by many members. Three of them: "Critical analysis of institutions and social structures"; "Societal transformation toward justice"; and "Liberatory use of technology and media research in support of community needs."  Wikipedia assignments exemplify "liberatory use."
Similarly, the Society for Disability Studies notes on its website that Disability Studies is about "Challenging the view of disability as an individual deficit or defect that can be remedied solely through medical intervention or rehabilitation by 'experts' and other service providers." Through Wikipedia topics and through disability studies teaching, we can talk about exemplars of that challenge, such as Australian activist Stella Young's  2014 TED Talk,  about "Inspiration Porn": "I'm not your inspiration, thank you very much." 
Adopting a neutral point of view involves questioning authority, rather than accepting a single (not always neutral) point of view. Thinking about how to describe peace and disability issues involves identification of alternatives. Too often, students and instructors just extrapolate from the present. We will often have evidence to question assessments of the present and the past (beyond "I've got a feeling"). 
Why did I initially insert "probably" in my blog entry's subtitle? Wikipedia is emblematic of an  unended quest for knowledge. Ideas and organizations evolve and occasionally devolve. It's possible that open source thinking (promoted through Wikipedia) won't be part of the future. 
Though I'm a fan of Wikipedia education, I'm not using a Wikipedia assignment in Fall 2021. However, I will be thinking a lot about it, including how to use it in the classroom in Spring 2022. I won't do a perfect job then, but expect that users of Wikipedia, my students, and I will find improving Wikipedia insightful, while also enjoyable and making the world a better place.
Image credits: Bobak Ha'Eri, CC BY 3.0, via Wikimedia Commons; XFLQR, CC BY-SA 4.0, via Wikimedia Commons