María-Ester Brandan is a Physics professor at the National Autonomous University of Mexico (Universidad Nacional Autónoma de México) and an American Physical Society Fellow. When approached by the American Physical Society about a new opportunity to promote equity on Wikipedia, Brandan eagerly signed up.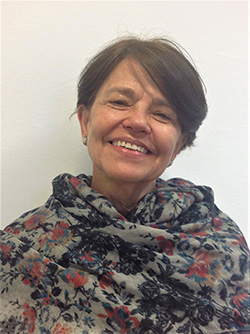 "In July 2020, the American Physical Society (APS), where I am a Fellow, sent an invitation to apply for a scholarship for a project called Elevating the Visibility of Minority and Women Physicists on Wikipedia. I applied immediately, thinking that I could contribute to Wikipedia by writing the profile of a scientist who should be there but it isn't," Brandan says. 
Brandan's background in experimental physics came in handy as she began editing Wikipedia. Spending most of her time during the course updating the Wikipedia page for one of her colleagues, Brandan immersed herself in a variety of documents and references on her accomplished contemporary. 
"I am an experimental physicist and it was interesting to apply my abilities to understand a human subject. I learned about her life and now I feel proud of helping to increase the visibility of a colleague I admire," Brandan says. 
Brandan also spoke broadly about the importance of Wikipedia, and the mission of APS to elevate visibility on the platform by sponsoring instructional courses. 
"We live in a time when human society is destroying some of the dogmas we have created/accepted for millennia, and it is happening very fast. Given the role that Wikipedia has gained in today's world, opening Wikipedia to inclusion seems essential," Brandan says. 
Considering the societal importance of Wikipedia, Brandan recommended that her colleagues engage more actively with the platform. To Brandan, openness and curiosity seem to be missing from some of her colleagues' imagination when it comes to Wikipedia. 
"My colleagues use Wikipedia but few understand how it works," Brandan says. "Very few understand that they could be the authors of an item, but also, the concept of open editing and that anyone can change what the original editor has written, is difficult to understand and accept for many."
Brandan's positive course experience with Wiki Education gave her the fundamental skills to contribute first hand to the open knowledge movement. The collaborative work environment, as well as the supportive instructor relationship, helped Brandan put her ideas into practice. 
"It was a great course. The instructor and the rest of the team led us to the many aspects of Wikipedia philosophy and editing. For me, it was interesting to learn about the rest of the participants' goals and strategies to attain them," Brandan says. 
The sentiments shared by Brandan are similar to those shared by other Wiki Scholars across disciplines. However, one commonality between these groups remains – with openness and curiosity, real-world impacts are made on Wikipedia that advance visibility and promote accessibility.
"Wikipedia is universal and should offer a fair coverage of all aspects of human culture," Brandan says.
To take a course like the one María-Ester took, visit learn.wikiedu.org. 
Hero Image Credit: Armineaghayan, CC BY-SA 4.0, via Wikimedia Commons