Dr. Jason Todd's students at Xavier University of Louisiana dramatically improved the Wikipedia article of their local town, saving the area from erasure in cultural memory. This is Dr. Todd on the impact of such an assignment.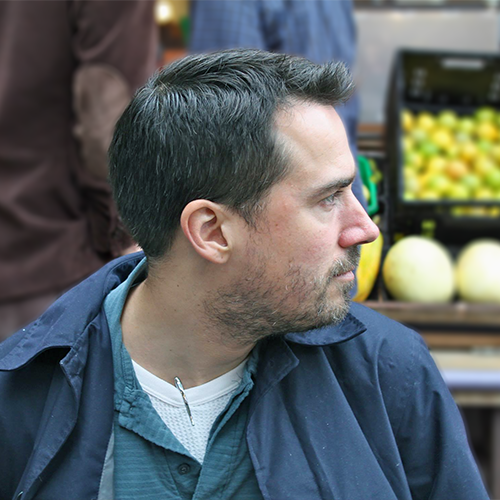 I tried incorporating Wikipedia into a writing class back in the spring of 2008, during my first year at Xavier University of Louisiana, a couple of years before Wiki Education came into being. This was a class called Advanced Writing, required for English majors, and intended to help them improve their writing and editing skills. So I made one of their assignments to improve and expand upon an existing article to help them think about audience and research. To be blunt, it didn't go well. The students complained about having to learn all the formatting codes for Wikipedia (this was also before the WYSIWYG editing) and several had trouble with editing wars (this was also before the sandboxes). We stumbled through the assignment and although I knew it could have been a good learning experience, I set it aside as an option because it seemed to be more trouble than it was worth.
In May 2017, as the Associate Director of Xavier's Center for the Advancement of Teaching and Faculty Development, I participated in our Faculty Communities of Teaching Scholars (FaCTS) program, which was focused on Making Knowledge Public. During that week-long seminar, Samantha Weald and Jami Mathewson trained us in using the Wiki Education Dashboard. I was impressed that this system seemed to address the main problems my Advanced Writing students and I had run into, but I was still skeptical, worried that despite the Dashboard, my students would still have problems working with Wikipedia, problems that would prevent them from seeing the benefits of such an assignment.
About a year later, I agreed to teach a new class being offered at Xavier. As a part of a major overhaul of our Core Curriculum, first-year students would be required to take during the spring semester a class called XCOR 1011 or 1012. These 3-hour classes were meant to be academically rigorous courses that would help students improve their written and oral communication skills, as well as their critical thinking skills, while focusing on interesting and engaging topics. The unique nature of the classes was that each faculty member could develop their own topic and that each student would select the class based on their interest (and not their major).
I'd decided to call my class The City as Text, using that model to help students "read" New Orleans more deeply. I also decided to focus the first half of the semester on one particular neighborhood in the city, and I chose the neighborhood next to Xavier, the Gert Town neighborhood, not just because of its proximity to Xavier, but also because in a city of well-known neighborhoods (for example, the French Quarter and Treme), Gert Town is one of the least well-known neighborhoods. This was confirmed when, while planning the class, I pulled up the Wikipedia article on Gert Town. There wasn't much there. It had been designated a Start-Class article, and what information was there wasn't always accurate.
It didn't take me long to decide that the class should work to improve the article. I saw this not only as a learning experience but also as an opportunity to fulfill Xavier's mission of social justice by providing the world with an accurate and thorough article about Gert Town. I'd already planned on incorporating information about erasure and gentrification into the class, two of the many challenges being faced by this poor and predominantly African American neighborhood. I saw the Wikipedia project as a chance for the class to help unerase a neighborhood that even life-long New Orleanians often don't think about.
My biggest challenge was that I was planning on making this a class project — twenty-five students all working on the same article. This doesn't quite fit with the standard Wiki Education assignment in which students either work alone or in very small groups on an article. However, the staff at Wiki Education were very supportive of the idea and helped me adjust my timeline and assignments to fit my unique needs.
I'll be honest: I went into class on the first day of the spring semester uncertain about this assignment, but two things quickly changed my mind:
1. The students were excited to be able to think about Wikipedia in a positive way. This was a class of all first-year students, and almost all of them said that first day that they had been told by their high school teachers that they were to never use Wikipedia for school. Of course, we talked about when Wikipedia is an appropriate research tool and when it is not, but we also talked about the value of having a free and easy-to-use reference work always at our fingertips. But I think the idea appealed to their rebellious teen-aged natures.
2. The students were intrigued by the possibility of using Wikipedia as a tool for ensuring knowledge equity. This was the main selling point, for me, definitely, but also, I think, for many of the students. On that first day, we talked about how few of them, even the locals, knew anything at all about Gert Town, and we talked about what people normally think of when they think of New Orleans. I pulled up the Wikipedia articles on other, more well-known New Orleans neighborhoods, and then some about neighborhoods in other cities. Then I pulled up the article on Gert Town. The difference was drastic. While every other article, even the not very good ones, talked about the people and the unique characteristics of the neighborhoods, the Gert Town article did little more than describe the physical boundaries of the neighborhood. 
This is what sold the students on the project, I think. We were going to use Wikipedia to change the way the world thinks about our neglected neighbors.
As I said earlier, I went about this project differently than many teachers. I had twenty-five students working on the same article. As the students were working through the training modules provided through the Wiki Education Dashboard, they were also developing a plan for the article. We looked at the kinds of topics other neighborhood articles included (and we did some learning on how subheadings work). Ultimately, we developed an ideal table of contents for our article, what we thought should be included. 
Using that list as our plan, each student self-selected the area of research they were most interested in pursuing. In hindsight, I should have been more involved in this process. By far, the largest group was of students wanting to contributed to the Demographics section of the article. I thought at first this was because New Orleans has a robust online data center with all sorts of interesting information (https://www.datacenterresearch.org). As I later found out in the reflective essays the students had to write at the end of the project, the students were most interested in this area because they thought writing about demographics would be easy. (As they discovered, writing about demographics is, in fact, very difficult.)
The ultimate task each student was assigned was to write one to two paragraphs on their selected topic. Within each broad group, the students had to identify their own sub-topic. For example, within the Culture group, one student chose to write about the pioneering jazz clarinetist Buddy Bolden, while another investigated Lincoln and Johnson Parks, popular amusement parks for African Americans in the early part of the 20th century. Likewise, the students who thought demographics would be an easy task identified sub-topics like the population shift following Hurricane Katrina and the levy failures and the changing household structures of the neighborhood.
Some might think having students write only one to two paragraphs isn't much of a challenge, but I have found over the years that for students learning to write, smaller assignments are better. For one thing, it takes away some of the fear. Students who have made it through high school without doing much writing can become paralyzed when asked to write a ten-page paper right off the bat. For another thing, it forces the students to focus on their writing. By repeatedly working over a couple of paragraphs, students can see the benefit of constant revision and editing. 
In the end, this did make for something of a Frankenstein's Monster of an article when we put it all together. Next time, I will need to leave more time for the students to work within their topical groups to work together on transitions and flow, so that each section becomes something more fluid, less choppy.
By midterms, the article went live, and I and the students were pretty pleased with the results. It was a massive improvement over the article that we looked at the first day of class. Printed out, it was fifteen pages. My original plan was to have the students move on to a different project for the rest of the semester, something that would allow them to use the research and writing skills they'd honed through the Wikipedia project by writing articles for a local virtual tour site called New Orleans Historical. However, two students asked if instead they could continue to work on the Wikipedia article. These two became the primary editors of the article, reorganizing the sections, eliminating a good deal of redundancy, smoothing out the writing, and adding some great images.
This is what the article looked like before the students began improvements. And this is the article as it exists currently.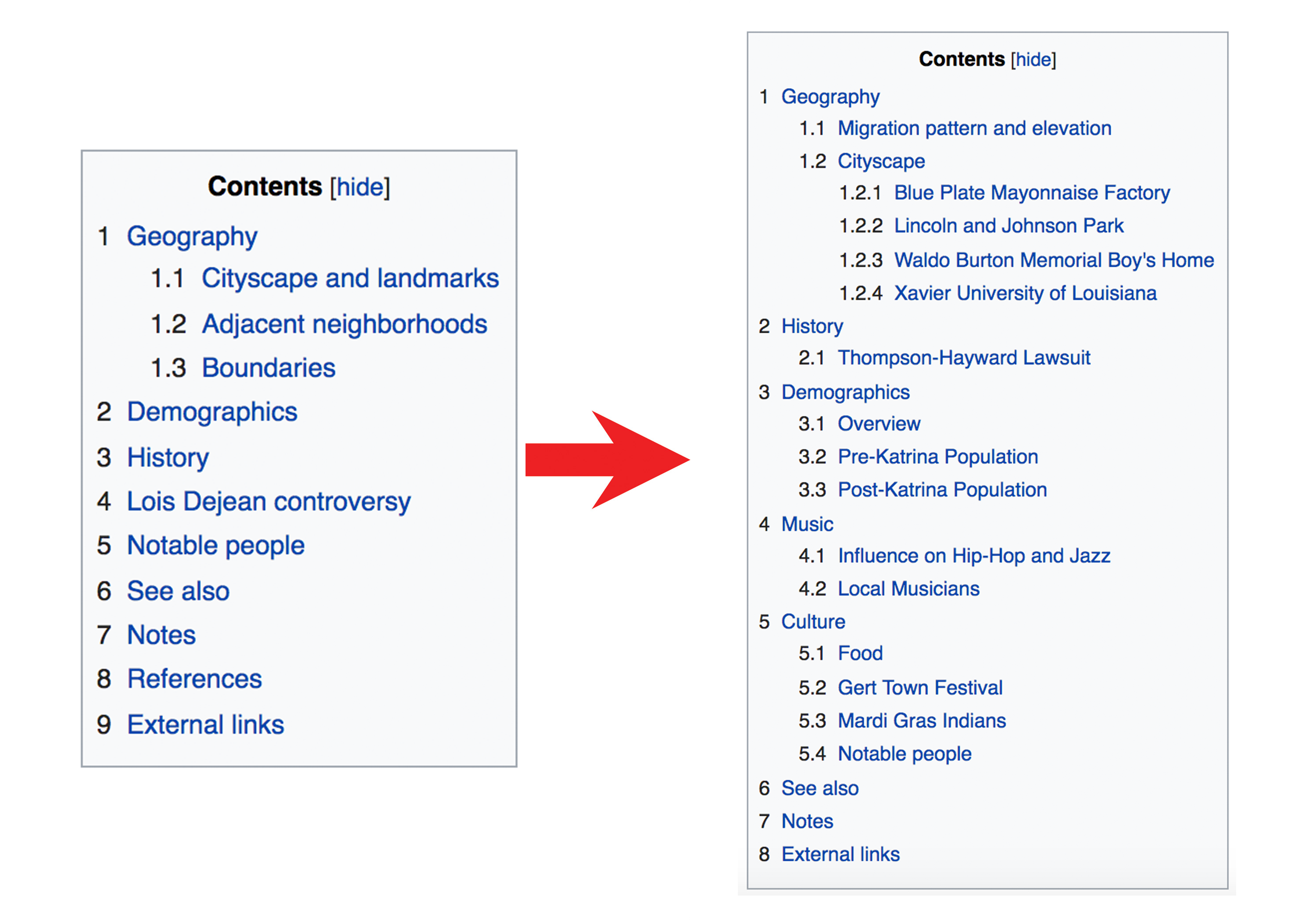 I've nominated the article for Good Article status (the second highest quality designation on Wikipedia), which would make it one of the only articles about a neighborhood in New Orleans to have achieved that level (most of them are either Start-Class or Stub-Class). Whether it receives that certification or not, I believe the project accomplished what I wanted it to accomplish: my students improved their research and writing skills, as well as their own digital literacy, while addressing a small but significant injustice by unerasing the history of the Gert Town neighborhood. 
---
Interested in adapting a Wikipedia writing assignment for your own course? Visit teach.wikiedu.org for all the info you need to get started with our free tools and assignment templates.