Sometimes making an improvement to a Wikipedia article isn't about words added. Sometimes a seemingly simple addition to a biography article, like the uploading of a new photo, can make a world of difference.
That's what Cassius Adair of the National Women's Studies Association found since he's learned how to edit Wikipedia in our professional development course. When he came across the article about trans author Daniel Mallory Ortberg, he noticed that the biography was missing an up-to-date photo. He soon discovered that the only photos of Ortberg available to other Wikipedia volunteers were ones from before his transition. He set off to make it right.
As Cassius learned in our course, Wikipedia is an encyclopedia built by volunteers. Volunteers collaborate according to Wikipedia's norms and policies, utilizing article "talk" pages to reach consensus about proposed changes. Cassius found that there had been much on-wiki discussion about finding a new image for Ortberg's biography, but volunteers hadn't been able to obtain one that adhered to Wikipedia's free licensing requirements.
The previous image of Ortberg was from a university talk he gave in 2015. Since coming out publicly earlier this year, the image no longer accurately reflected his identity. Volunteers proposed two options given the limitations they'd come up against: either they'd remove the photo and the biography would have no image or it would have one that was outdated.
"Which basically meant that, whereas Ortberg would have had a recognizable photo if he were cis (and did before he was trans), as a trans writer he didn't get to be visually represented," Cassius tells Wiki Education.
Luckily, with his personal connections in the field of trans literature, Cassius was able to connect with Ortberg and obtain a more recent and representative image.
"The world of trans literature is relatively small, and there's a lot of overlap between working writers and the scholars who study them," says Cassius. "I was able to shoot Daniel a text message, and he was really interested in making sure that the image on the screen represented him correctly."
Other volunteers had made attempts to contact Ortberg directly to obtain a new photo, but had been unsuccessful. Cassius says that was understandable, as Ortberg is relatively in demand right now for his work.
"But being embedded in the community, and being able to leverage my expertise, it was easy for me to just reach out and say, 'Hey, I'm a trans lit scholar, I'm improving pages to make them better represent trans authors, want to connect me with a good headshot?' and he responded immediately."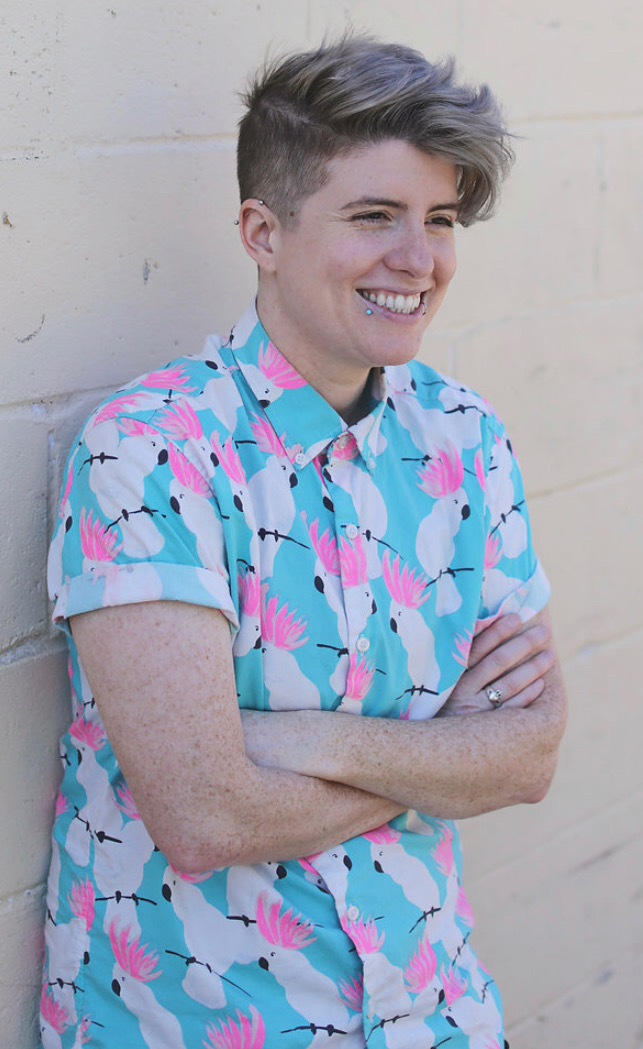 "Daniel was also able to put me in touch with his photographer, who of course owned the rights to the image, and I was able to connect with her directly by saying, look, I've already reached out to Danny and he's cleared it, I'm a scholar in the field and I'm doing this in order to make sure that there's trans-inclusive public information about Ortberg. She was more than happy to transfer the image under a Creative Commons license. That's a big deal for a professional photographer, because transacting in images and rights to them is part of her job! So it was a gift, on her part."
Cassius' solution was received with warmth and enthusiasm by the Wikipedia editing community.
"I've been really surprised and happy by how many people in the Wikipedia community have reached out to thank me for my work on this. It feels really validating that people care about trans representation on the site, and understand the importance of updating images to reflect people's identities."
Cassius has since updated another article with a new, up-to-date photo that adheres to Wikipedia's free licensing requirements. Keep up the great work!
---
To read more about our professional development courses, click here. For more information about our offerings, reach out to scholars@wikiedu.org.