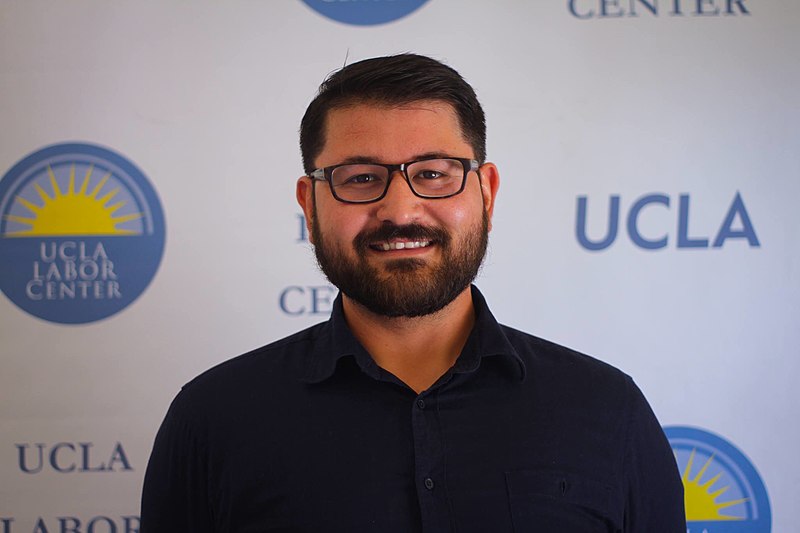 Lalo Mendez is a student at the University of California, Santa Cruz who learned how to expand Wikipedia articles as a class assignment. When he first heard that he'd learn such a skill as part of Elizabeth Beaumont's Constitutional Meanings and Movements course, he was excited.
"I use Wikipedia extensively to learn about topics and issues from all over the world. The opportunity to help expand an article and body of knowledge to help educate others was both exciting and a challenge."
Lalo tackled the article about the 2001 California Assembly Bill 540, which reduces barriers that many young people face in accessing higher education. Particularly, the bill allows undocumented and other eligible students to claim in-state tuition rates at California's public colleges and universities. It greatly benefits undocumented students, as they face additional obstacles such as higher rates of poverty, lack of government-sponsored financial assistance, and social marginalization.
"I chose to improve the article as the former one was outdated and missing recent amendments. As an undocumented student who has learned to be resourceful, I know that having updated information on such an article would help another student or ally learn about the requirements to ensure college access for DREAMers."
Lalo expanded the article to include the eligibility requirements that students must meet to be considered. He also included more information about the history of anti-undocumented legislation in education (which the existence of California's AB 540 law fights against), as well as states with similar legislature. To see his authorship highlighted on the current article, click here.
"This assignment was like nothing I've ever done," Lalo tells Wiki Education in an interview. "The fact that my work was out on the web for millions to access and use made it a great challenge. I worked thoroughly with my research, coupled with my life experience as an undocumented youth, and created a comprehensive article on the strength of my own experiences. This article was different in the sense I could choose and expand it from my own body of knowledge. Additionally, I'm proud of the information I gathered and presented for other folks to easily access and see."
The article was first created in 2010 and left a stub article, no more than a few sentences long, for 6 years. That's when a student in a Wiki Education-supported course at the University of California, Berkeley first came in to improve it. The article's Talk page, where editors discuss improvements they want to make, shows Lalo responding to this previous student, proposing changes, and then making them. One way a Wikipedia assignment is so unique is this opportunity for collaboration across institutions and across time.
"My favorite part about writing for Wikipedia was knowing that my knowledge and experiences would transcend outside of the classroom," says Lalo. "Knowing that such information could be used by other folks on their journey towards higher education made me focused and driven to find the best resources I could. Prior to this writing assignment I believed I knew a lot about AB 540, but dwelling into the history, policy, statistics, and recent developments made me much more knowledgeable on such topic. Writing for Wikipedia has been a great positive challenge which has helped me expand my own body of knowledge. I'm very proud to look back and say I contributed to the article, helping other undocumented youth find information as they seek answers on college accessibility."
---
Interested in teaching with Wikipedia? Visit teach.wikiedu.org to get started or reach out to contact@wikiedu.org with questions.
---