Dr. Jenn Brandt is the Director of the Women's and Gender Studies Program and an Assistant Professor of English at High Point University. As a member of the National Women's Studies Association, she participated in our Wikipedia Fellows pilot, in which she significantly expanded and reorganized the article about award-winning author Margaret Atwood. The article has since been awarded Good Article status, thanks to her hard work. Here, she reflects on the pilot experience and what she has accomplished.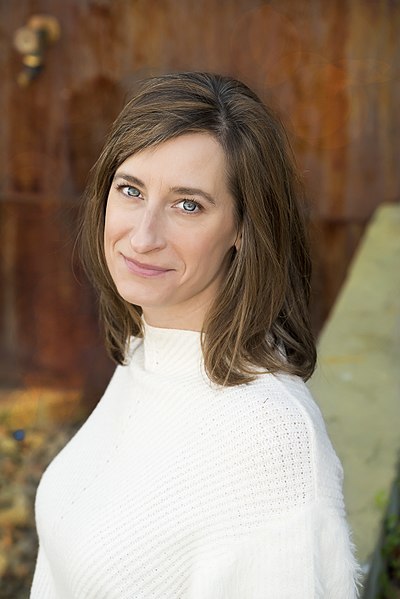 Let's be honest; who hasn't wasted a couple of minutes (or hours) falling down the Wikipedia rabbit hole, following links to varied and/or obscure topics one never intended to consider or even knew existed? Unlike some of my peers in the Fellows cohort, I've always been a fan of Wikipedia. It's not something I cite in my scholarly work or encourage students to use for research in the conventional sense per se, but as a quick point of reference, I find it useful. More than anything, I thought of Wikipedia as something fun, an easy way to access information at your fingertips. So, when I first learned of Wiki Education's partnership with the National Women's Studies Association at our annual conference, I was intrigued.
This was a year before the Wikipedia Fellows pilot was announced, and in that time, I learned more about Wiki Education's support for classroom instruction while designing an upper-level course that considers the intersections of identity with professional and public writing in online spaces. As a hands-on teacher, it's important to me to never expect something from my students that I haven't done myself. In teaching my first course with Wikipedia, my plan was to take the training modules alongside my students, choosing articles to improve as well. As luck would have it, the Fellows program came along, giving me the opportunity to deepen my training and engagement with Wikipedia as a scholar, while also using it as a pedagogical tool in the classroom.
"Being bold is important on Wikipedia" are the first words typed in the training module, and this became a mantra I repeated to myself and my students throughout the process. In the classroom, this meant encouraging students to take risks in choosing articles to edit and to feel confident engaging with other Wikipedians. Emboldening my students came easily, as did the copy editing and minor additions I began to make. Choosing articles to substantially edit, however, was more of a challenge. At first, I was overwhelmed by the possibilities. Since I'm currently engaged in research on contemporary women writers, I decided to take a closer look at the Wikipedia articles related to some of the authors I study and those about their works. Thanks to the partnership between the National Women's Studies Association and Wiki Education, I was aware of the gender gaps that exist on Wikipedia, including the estimate that only 17% of biographies on the site are of women. The writers in my study are all represented, but the depth, detail, and number of citations on their articles are often lacking in comparison to the Wikipedia articles of their male peers.
Ultimately, I decided to use my knowledge to improve the article on Margaret Atwood. While my original intention was to add a section on feminist themes in Atwood's works and their influence on contemporary activism, I soon found myself overhauling, reorganizing, and adding to the entire article page, a task I did not realize the enormity of until I really dove into the editing process. Wikipedia articles should not contain original research, and ideally, every fact and piece of information included should be referenced with an accurate and credible citation. This meant that even though I have taught Atwood and her texts numerous times, it wasn't enough for me to just write what I know. I had to prove what I know. Pausing to take stock of how knowledge is created and disseminated was not only a valuable exercise for me as a scholar, but also became crucial in my defense of the article as it successfully went through the nomination and review process for "Good Article" designation. I was fortunate to have a very thorough and kind Wikipedia editor guide me through the process, checking every sentence, citation, and source to make sure the article is well written, factually accurate and verifiable, and maintains a neutral point of view. Although the article was in pretty good shape after my original edits, in order to achieve "Good Article" status, it went through another overhaul, with more reorganization and additional citations added.
In the classroom, it was great to be able to share with students my own editing experiences, modeling the ways in which writing is a collaborative process and pointing to the importance of verifiable sources. Although some were nervous, at first, about putting their work out there, ultimately, they were excited to see that others were reading their contributions, and they've taken pride in the impact their edits are making.
As I began to work on my second article, the Women's Studies article, I was also able to further reflect on the gendered implications of this project with respect to some of the more theoretical concepts we had been discussing. It's one thing to talk with students about online sexism and Internet trolling, it's another thing entirely to bring in examples of it from my own work. I was originally drawn to the Women's Studies article due to a comment on its Talk page referring to the field as full of "charlatans," and as I looked through the article's edit history, I was saddened by the sexist and racist vandalism it routinely experiences. The article also lacked information on a number of critical theories and methodologies, and my edits were designed to provide a stronger and more accurate representation of the field of study.
While I had been enjoying the Fellows program throughout the process, the importance of it really hit home for me when I received a routine notification that changes had been made to the Women's Studies article. Fortunately, the edit was almost immediately reverted by another editor, but I was still taken aback going through the article's history and seeing the anti-Semitic remarks that had ever so briefly appeared. Although I continue to see my engagement with Wikipedia as something fun, I've come to more deeply appreciate the ways in which academics can, and should, more seriously engage with the site.
In the classroom, encouraging students to understand how Wikipedia actually works fosters deeper reflection on authorship, authority, and media literacy more broadly. As a scholar, particularly in the field of women's studies, I see my contributions to Wikipedia as a form of academic activism. At a time when the academy, institutions, and the very nature of "fact" are being challenged more than ever, knowledge, in itself, may not be enough. Rather, it's what we do with our knowledge, the ways in which we continue to seek it out while encouraging others to do the same, that has the potential for transformative action. And if we can have fun and learn some interesting facts along the way, all the better!
---
To read more reflections written by Wikipedia Fellows, click here. To see the Wikipedia articles this cohort improved, click here. To learn more about how you can get involved as a Wikipedia Fellow, click here.
---