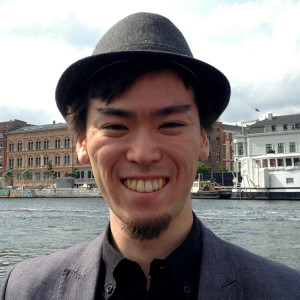 Wikipedia is the encyclopedia anyone can edit, and thousands of people around the world do just that. But all too often, cultural knowledge is locked behind a language barrier. Haruki Ikeda is an example of a student working to break down that wall, and he's opening up knowledge about a rich cultural tradition in the process.
Haruki (User:Decafespresso) is a student in Dr. Amy Hughes' two-term theater history course at Brooklyn College. While he was interested enough to create an account on Wikipedia in 2009, he hadn't made an edit until he started the course. Since then, he worked on two articles over two terms, contributing to the article on Noh, a traditional Japanese theater form that was rated a Good Article. Then, he began working on the article for the Broadway League.
In his first round, the Noh article, Haruki drew from Japanese sources that weren't available in English. He was born in Tokyo, and Japanese is his first language.
"It has really helped in my coursework because I was able to use Japanese sources for the Noh article, in addition to English sources," he said. "I think it was a very meaningful contribution that I was able to make to the Wikipedia community."
For Noh, Haruki helped edit as the article expanded from 8 sources to 41, with at least three Japanese-only texts. The article was named a Good Article three months after Haruki helped expand it (with very few additional edits in between).
"The reviews were very constructive, and I think going beyond expectations of the class assignment really helped me in solidifying my knowledge of Noh. It is very gratifying to know that others care about what I've done and the subject I care about."
His second article required a completely different approach.
"It was interesting to edit two articles," Haruki said. "Noh is a very traditional, historic genre with many reliable sources in the form of books and journal articles, but I had to work mostly with newspaper articles for the Broadway League article."
For that article, Haruki added over 20 sources about the Broadway League, a trade association for theater actors on Broadway. Haruki added information about strikes and the political activity of the organization dating back to the 1940s.
Haruki said he hopes to spend more time translating Japanese articles and sources for the English Wikipedia. After all, that's in line with his long-term goals: He wants to bring more awareness of contemporary Japanese performances to the West.
"Traditional Japanese theatre forms such as Noh and Kabuki have become known in the Western world, but there are so many talented Japanese contemporary artists and plays that are completely unknown in the rest of the world. Japanese works haven't been able to reach audiences abroad partly because of the language barrier," he said. "I think I can change that situation with my English and knowledge of the American theatre industry."
Haruki's work is an example of what's possible when a bilingual student, already fluent in English and another language, tackles a classroom assignment. Students who are still mastering a language, however, can also make meaningful contributions to Wikipedia through translation assignments. By working with articles in their target language and translating it into their native language, students can unlock knowledge from other language Wikipedias and share it with the English-speaking world. (You can read more about translation assignments here).
Thanks to Haruki Ikeda for his wonderful contributions to Wikipedia.
Photo of Haruki Ikeda By Decafespresso (Own work) [CC BY-SA 4.0], via Wikimedia Commons. Mask photo, "Three pictures of the same noh 'hawk mask' showing how the expression changes with a tilting of the head" by Wmpearl – Own work. Licensed under Public Domain via Wikimedia Commons.