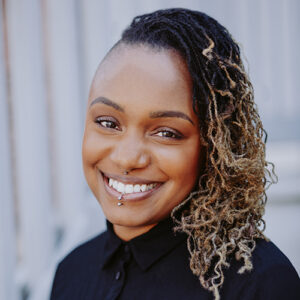 "Most stories about LGBTQ+ pioneers are white, cisgender men with access to certain forms of economic and cultural capital," Dr. Christina Carney says in this summer's issue of the Black EOE Journal. "Unfortunately, queer folx such as Marsha P. Johnson and William Dorsey Swann are often elided in the LGBTQ+ archives."
William Dorsey Swann, the first recorded drag performer in the U.S, was one of numerous Wikipedia articles improved by Dr. Carney's class at the University of Missouri in Columbia. She was featured in the Black EOE Journal for her work in teaching with Wikipedia. The Black EOE Journal is a leading African-American business publication, and they featured Dr. Carney's work as part of a feature on "The Importance of Telling LGBTQ+ Stories".
Dr. Carney has been teaching with Wikipedia for several years. In the interview, she highlights the outcomes of her most recent spring 2022 course: students added one new article, edited 22 articles, added more than 18,000 words and 195 references — all while accumulating more than 1.25 million page views. Another of her students created the new article on Rogers v. American Airlines.
"Rogers v. American Airlines was a 1981 legal case decided by the United States District Court for the Southern District of New York involving plaintiff Renee Rogers, a Black woman who brought charges against her employer, American Airlines, for both sex and race discrimination after she was dissuaded from wearing her hair in cornrows due to the airline's employee grooming policy," Dr. Carney explained in the piece. "The students not only cited sources detailing the politics of Black hair, but also how Black women are unfairly burdened with the responsibility of looking and dressing appropriately for the 'Black race.'"
Dr. Carney credits Wiki Education for our support of her class, as well as the librarian from her campus who helped students find appropriate references for their articles.
"My biggest takeaway is the realization that high-impact research and knowledge can be accessible to a wider community — and not just limited to the 'Ivory Tower,'" she says in the piece. "This is intersectionality in practice! Students are creating access for those who might not otherwise have the resources to find reliable information. Student creators become the conduits for linking reliably sourced material to a global audience for free."
To participate in the Wikipedia Student Program, visit teach.wikiedu.org.