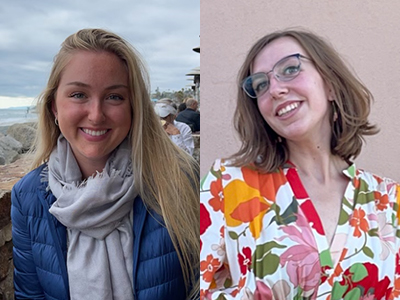 If you read Wikipedia's article on an alcázar, a type of Islamic castle or palace in the Iberian peninsula, you'll get a detailed description of the history of alcázars and a description of their common features. That's all thanks to two University of San Diego students, who recently improved the article as part of a class assignment in Kate Dimitrova's The Year 1500 – A Global History of Art and Architecture course.
"I think we both saw how much potential the article had since it lacked organization and overall didn't do justice to the complexity of alcázars as a topic," says Kaitlin Falk, one of the students who improved the article. "In that way, it really introduced a challenge to us as students to help refine the article."
Kaitlin and her classmate, Zoe Kobs, started by creating a list of what was missing from the article. They each worked on different sections, collaborating together to significantly expand the article. In doing so, they drew knowledge from training materials provided by Wiki Education's Dashboard in how to edit Wikipedia.
"All of the Wiki Education training modules provided me with the tools to contribute to the site," Zoe says. "I had to alter the way I research to pull facts from multiple sources to create a neutral, reliable, statement. By the end of the project, I became confident in both my ability to research and participate in Wikipedia."
Both Kaitlin and Zoe expressed initial surprise that they were being assigned to edit Wikipedia as a class assignment. Neither knew Wikipedia could be edited by students. Now, both are converts to the idea.
"My perspective on Wikipedia has changed through this process," Zoe says. "Wikipedia has always been something I have used for learning something new, but once I was in school there was a negative connotation with using it for research. Until now, I hadn't realized the value Wikipedia has. The site is actively serving information to millions of people every second by thousands of passionate, hard-working, editors. I am happy to be a part of that."
Kaitlin agrees.
"I actually think I would prefer to do a Wikipedia assignment over a general academic paper," she says. "Editing a Wikipedia article feels more important and exciting since your work will be made public and you're adding to an academic dialogue. You're not only learning, you're also educating whoever will read your edits. On the other hand, a paper is only seen by your professor. "
Both expressed willingness to continue editing after the conclusion of their class. As Zoe notes, even small changes helped her feel connected to the world.
"The fact that my work will be revised and transformed by other Wikipedians benefitted me in my research process. When writing formal papers, I always get stuck in making sure I cover everything extensively. In Wikipedia, I know my research will be continued by other editors so I can take the time to convey the right information," Zoe says. "Working on Wikipedia is very rewarding. The project gave me the ability to make an impact on my education. Not only am I fulfilling my class material, but also am sharing what I have learned with millions of others!"
Interested in learning more about teaching with Wikipedia? Visit teach.wikiedu.org.
Image credit: Rafa Esteve, CC BY-SA 4.0, via Wikimedia Commons