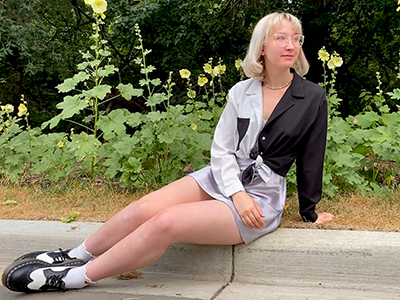 When Sara Sierko started working on the Wikipedia article for Margaret Crang, the University of Alberta student thought she was just sharing a story that had been forgotten by her local community. She did do that — but she also gained skills that gave her a place in that community.
Crang didn't have a Wikipedia page, even though she was an important figure in local history. That may be because sources weren't easy to find on Google. To find enough information to write Crang's biography, Sara had to dig up information in the City of Edmonton archives and the Bruce Peel archives, including old newspaper clippings. In the process of doing her research, she spoke with Senator Paula Simons and local historian Tom Monto. The former happened to mention that the Edmonton Naming Committee, which is responsible for naming new roads, parks, and buildings after Edmonton community members, had a vacant seat.
"I applied to this position and utilized the Wikipedia project to demonstrate my archival research skills, my interest  for local history, and my passion for community engagement," Sara says. "And I am pleased to say that I am now the newest member of the Edmonton Naming Committee!"
She also landed a job thanks to her Wikipedia assignment: Sara serves as a costumed interpreter at Fort Edmonton Park, teaching guests the history of Edmonton in the 1920s.
"My Wikipedia submission gave me the opportunity to learn archival research skills, critically engage with my community's history, and explore my passion for local history. I am very grateful for this project because it opened the door for multiple job opportunities focused on my interest in local history. I also gained new friendships and working relationships with other like-minded people," Sara says. "After this experience, I now consider myself to be another local Edmonton historian!"
Sara — who's from Edmonton — says she was particularly inspired to write about Margaret Crang because she admired her career. Her history of feminist thought professor, Felice Lifshitz, assigned Sara and her classmates to improve Wikipedia's coverage of feminist advocates.
"I thought that Margaret Crang was an excellent person to write about because of the numerous women and gender studies themes in her story. She participated in war and openly challenged the societal expectations of women," Sara says. "I believe that our city has forgotten about this radical and progressive leader. Therefore, I thought that it was my responsibility to educate my community on this dynamic and important figure."
And Wikipedia was a great way to educate her community. Not only did Sara learn about Crang, but she also learned a valuable lesson about historical representation. Women participated in municipal politics, Sara says, but precisely because they were women, it's hard to find evidence of their work.
"Margaret Crang did not conform to the expectations of womanhood, in fact she openly defied it. She participated in war, shot a gun, and was a radical feminist activist. All things that do not get recorded in history because they are actions that are outside the realms of gender and expectation," Sara explains. "I learned that the act of recording people and events into history is intentional. This choice dictates who gets to be remembered and who doesn't. Therefore, if someone is a threat to the ruling powers, they will not get memorialized, valorized, and recorded into history."
Wikipedia presents one impactful way to correct that record. Sara was so inspired by the project she did for class that she's continuing to edit, adding information about women in Edmonton politics. She used the class assignment as a way to write something not just for her professor, but for the public.
"I am very grateful for this Wikipedia assignment because it gave me the opportunity to meet members of my local history community and form new friendships with like minded people," Sara says. "At the beginning of this project, I never would've expected this as an outcome. In the past, I have felt very lonely while in the pursuit of research and academia. However, I pleasantly discovered that local history is a topic that brings people together to celebrate our rich and vibrant past."
To learn more about Wikipedia assignments, visit teach.wikiedu.org.
Image credit: WinterE229 WinterforceMedia, Public domain, via Wikimedia Commons