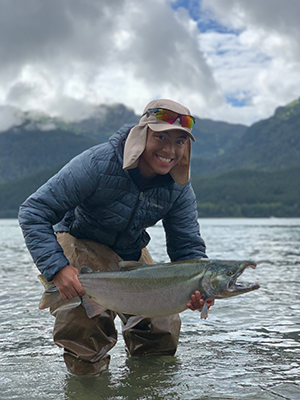 Koneal Laguidao was shocked when he enrolled in Professor Jonas Lamb's Writing Across Contexts course in his first term at the University of Alaska Southeast — and discovered he'd be editing Wikipedia as part of the class.
"I never knew students my age were able to write for Wikipedia; let alone write for Wikipedia as a college project," he says.
Koneal's knowledge of Wikipedia and how to edit it quickly grew, thanks to the resources provided by Wiki Education. He chose to expand the article on Douglas Island, a tidal island that's part of Juneau, where he grew up.
"When I first read the article, I instantly saw how underdeveloped the 'History' section of the article was and wanted to drastically improve it," Koneal says. "For someone who has lived in the Juneau area for years, I knew how immersive Douglas Island's history truly was and I wanted to display it in full form."
Koneal was one of many students in the class that selected Wikipedia articles that had some kind of personal meaning to them. Professor Lamb says an assignment with personal meaning helped him connect better with his students.
"Through his research and writing Koneal demonstrated a strong connection to place and a new awareness of the hidden history of his home town," Professor Lamb says. "I learned a lot from my students, about who they are and where they are coming from based on the articles they selected and the issues they hoped to tackle. Their perspectives helped me recognize just how under-represented Alaska is in Wikipedia, how important it was to have Alaska Native authors contributing to articles about their communities, their culture, their leaders."
Koneal says the Wikipedia assignment was a great opportunity for him to learn more about a place that was meaningful to him, and he encourages other students to approach the Wikipedia assignment with an open mind, as an "opportunity to learn more about where you came from, your people, your community, or something you love to do."
He says he prefers writing for Wikipedia to a traditional assignment because of the public nature of his work. He says he would love to keep editing Wikipedia.
"I thought that the Wikipedia assignment was a 'breath of fresh air', as throughout my whole educational career, I have never been able to fully emerge into the researching process and researching through my university's library finally allowed me to do that," he says. "My favorite part about writing for Wikipedia was knowing that my contributions were formed through the research that I did and the contributions that I published were also my work."
And, of course, he didn't just learn from the research he did on Douglas Island — he also learned about Wikipedia.
"While editing the article, I learned how important the editing process at Wikipedia truly was, which caused me to change my previous judgments toward the site," Koneal says. "Throughout my education, I have been constantly told that Wikipedia was not a reliable source to use in papers or projects. But, after completing this project, I have now seen how much Wikipedia emphasizes citing sources, using credible sources, and preventing acts of plagiarism within their articles."
Hero image of Douglas Island: Gillfoto, CC BY-SA 2.5, via Wikimedia Commons