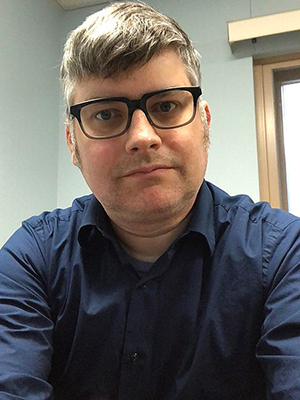 As the Digital Initiatives Librarian at Rochester Regional Library Council, Ryan Hughes supports member library contributions to various online repositories, including identifying relevant collections, supporting creation of metadata, advising on copyright issues, and recommending best practices for digitization. As a fellow at the New York Data Carpentries Library Consortium (NYDCLC), Ryan recently had the opportunity to take our NYDCLC Wikidata Institute, a six-session crash course on everything Wikidata.
"Wikidata, and open data in general, are being incorporated in the platforms we use to share our collections," Ryan says. "Going into the course I had a general sense of what Wikidata is, but wanted to gain a better understanding of its application and overall utility."
In the course, other NYDCLC participants met twice a week for six weeks over Zoom, led by Wiki Education's Will Kent. The curriculum focused on how Wikidata works, how to contribute to Wikidata, and how to query Wikidata using the SPARQL language.
"The class gave me a foundation to start working with Wikidata," Ryan says. "We learned about the structure of entries and how to add statements and citations. Learning about tools, like SPARQL, that search and find relationships between data reinforced the value of adding statements to entries. Working with a great instructor and really engaged classmates made for a fantastic learning experience."
The classmates, in fact, were one of Ryan's favorite parts of the class. He enjoyed seeing participants from all over New York's libraries, but especially from the Rochester region, taking part in the course.
"For library professionals Wikidata is an extension of the work that we do in our institutions," he says "As a librarian, I see Wikidata as a powerful tool for searching and finding relationships between data items. Coming from a public librarian background, contributing to Wikidata is an opportunity to make sure that the community I serve is accurately represented and is another way to enhance connections between people, places, and ideas."
Ryan says he looks forward to collaborating with others in the Rochester region to continue engaging with Wikidata in the future. Whatever that may end up looking like, the possibilities are endless.
"I like that I can take a few moments and add value to an existing item. Conversely, I can dedicate a significant amount of time working with a community of volunteers and contribute to a subject that interests me. The micro and macro ways in which individuals are able to contribute to Wikidata is really special," Ryan says. "I'd recommend this course to anyone wanting to become a Wikidata editor, or just wanting to know more about Wikidata."
To take our Wikidata Institute course, visit wikiedu.org/wikidata.
Image credits: Evilarry at English Wikipedia, CC BY-SA 3.0, via Wikimedia Commons; HardCrowd, CC BY-SA 4.0, via Wikimedia Commons