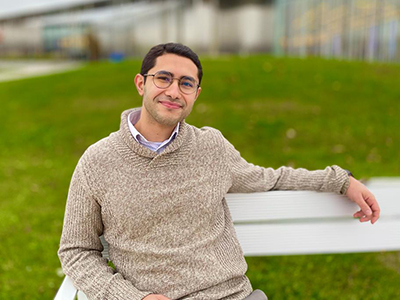 Joseph Wahba's interest in health sciences was sparked in high school — but it wasn't until he was in his third year of his Health Sciences program at McMaster University that he began to question how we know and understand topics of health. That line of inquiry was prompted by a course he took, taught by Denise Smith, called Health Information — a class that had a Wikipedia assignment.
"My eyes had been open to the crucial importance of effective dissemination of health information. We dealt with various topics in health discussed publicly, including vaccination, diseases that carry stigma, etc.," he says. "Our final project in the course was to utilize Wikipedia as a platform to share health information that had been gathered from critically appraised academic literature on the topics we chose. Although I had brought my preconceived notions of Wikipedia to the course, I learned to truly appreciate it for what it is: accessible. It is the most accessible platform out there to share information that I have seen up to this day."
Joseph had long known about Canada's Food Guide; his mother, a physician, even came to his elementary school class to teach about it. Denise's class was the first time he considered it as a topic of study, however. In Denise's class, he learned about how the Food Guide failed to represent people of marginalized communities, including exploiting First Nations groups. As part of his deep dive into the topic, he found reference on Wikipedia to "First Nations nutrition experiments", in which the Canadian government ran purposeful malnourishment experiments on First Nations people, including children in residential schools. Before he started working on it, the article on the First Nations nutrition experiments was what Wikipedians call a "stub" — in this case, a three-sentence article. Joseph set out to improve the information available on Wikipedia.
"I learned that I knew very little about the experiences of First Nations Peoples in this country. I could never say I truly understand having my language, way of life or cultural identity forcibly stripped in the same fashion as many First Nations Peoples have," he says. "There are many gruesome accounts documented of the nutritional experiments between the 1940s and 1950s in Canada, led by prominent researchers in the fields of medicine and nutrition, where autonomy, consent, and care of the First Nations participants were disregarded in a blatant and quite frankly, cavalier manner."
Joseph documented all of these in the now-expanded article on Wikipedia, which today has more than 20 paragraphs and citations to 23 sources.
"Although I dove deep into the historical context and events that had transpired during some of these experiments, what struck me more were the transcribed accounts from survivors," he says. "A personal account that I covered in the article was that of Alvin Dixon, a former residential school survivor who was among many children subjected to a nutrition experiment conducted in Alberni Residential School, on the CBC Radio One series As It Happens. By listening to his recollection of the experience, the suffering borne by him and his fellow survivors was all but evident to me in his solemn voice."
Denise, he says, was critical in helping him find articles, providing tips on the best literature to cite and working with archivists who helped dig up items from library catalogs to help Joseph expand the article. Another editor, User:SonOfTheHoundOfTheSea, saw Joseph's work and started collaborating with him, adding a section on the James Bay Survey. Joseph found this interaction with another contributor a really interesting part of his project. He also enjoyed the ability to see page views of his work, to understand its impact.
Joseph hopes more faculty like Denise assign students to edit Wikipedia as a class assignment. He says learning to address feedback from the instructors as well as other contributors is a critical skill to develop. He also learned how to share complex information using simpler language, making more knowledge accessible to the general public. And, he says, it's motivating to contribute to something bigger than yourself.
"Wikipedia projects serve a purpose outside of class: to serve the platform, and in turn, the community of people who use it for learning," he says. "I think a major factor to whether I get excited about assignments is if I can find a purpose for putting in the effort. It feels good to serve a community with work you do as a student since it provides you with motivation to continue to learn and develop the skills necessary to improve."
Joseph graduated this year and is working full-time at one hospital and volunteering at another, while he applies for medical school. These have kept him busy recently, but he intends to continue editing Wikipedia, likely in the health care topic area. And he particularly appreciated the opportunity Wikipedia brings to raise awareness about Indigenous health topics like the First Nations nutrition experiments.
"I believe that the First Nations and Inuit peoples have endured and still do endure injustices that render it difficult to access healthcare facilities and resources," he says. "I also think that the First Nations nutrition experiments were only one of many instances throughout history during which Canada did not uphold the needs, beliefs and wants of Canada's Indigenous Peoples, as a collective. I hope that more and more is done in terms of reparations as well as educating Canada's youth about the Indigenous perspective of this country's history."
To learn more about teaching with Wikipedia, visit teach.wikiedu.org.
Image credit: Captain108, CC BY-SA 4.0, via Wikimedia Commons