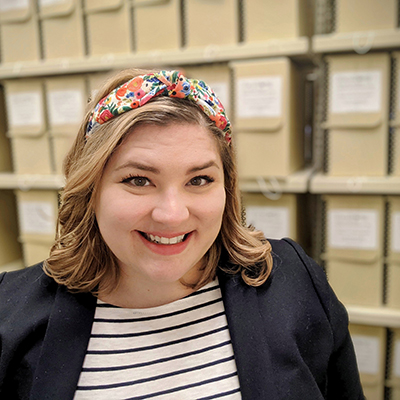 At a conference a few years ago, Julia Novakovic got inspired by the idea of linked data. As an Archivist for the Strong National Museum of Play in Rochester, New York, Julia is responsible for the preservation of, and providing access to, primary source documentation relating to the study of play, artifacts of play, and video and electronic game history. So when an opportunity came her way to join one of Wiki Education's Wikidata Institute courses through the New York Data Carpentries Library Consortium (NYDCLC), Julia remembered her earlier dreams of linked data — and set out making them a reality.
"The Women in Games Initiative at The Strong shares the ever-evolving story of women's contributions to the video game industry, and I thought that using linked data to map this initiative would be a very useful resource," she says. "If we could create a visualization showing that this woman worked for X company, which also employed this woman, who collaborated with this other woman, and so on, it could really show impact on, and growth of, the video game industry. We could then also link people to related collections materials—whether museum objects (like games or hardware), or archival collections (like primary source documentation or oral history interviews). While I've since been preoccupied with other duties and projects at The Strong, I realized that getting involved with Wikidata might just be the boost I need to learn more and be able to see this idea come to fruition."
Wiki Education's Wikidata Institute course provided that boost for Julia. Through twice-weekly Zoom sessions for three weeks led by Will Kent, out of class online tutorials, and a plethora of tools and visualizations to explore, Julia quickly became immersed in the world of Wikidata. And because she was part of a cohort of fellow NYDCLC participants, Julia got even more out of the course.
"It was actually pretty useful for me to have classmates in the same region because we had a lot of topics and questions in common," she says. "I had also met a handful of them in person at previous events or conferences too, and it was nice to see familiar faces!"
As part of the course, she added references to items in Wikidata related to her areas of expertise at the museum. This led her down the Wikidata wormhole of creating items for publications, then linking those items as a reference for another item. She spent some time on the Monopoly article, as The Strong's archives have lots of materials related to the Parker Brothers games.
"My favorite part is the satisfaction that accompanies a new item going out into the ether," Julia says. "Fly, little item, and be useful to someone!"
Since the class wrapped up, she has connected with colleagues at the museum to do more work on Wikidata items related to an upcoming Women in Games celebration. And she's planning to incorporate Wikidata into a new website her museum recently launched, the Sid Sackson Portal.
Julia encourages more librarians and archivists to contribute to Wikidata
"As information professionals, it should be second nature for us to want to help make data out there better," she says, "whether that's by creating items, making edits when needed, or providing references for users."
The New York Data Carpentries Library Consortium sponsored this course for librarians in Western and Central New York, thanks to financial support from the Institute of Museum and Library Services. To bring together librarians, data professionals, and others at your institution for a similar learning experience, contact partner@wikiedu.org.
Image credits: עדירל, CC BY-SA 4.0, via Wikimedia Commons; Jnovakovic09, CC BY-SA 4.0, via Wikimedia Commons