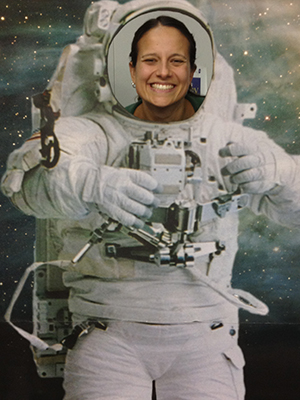 Roxanne Hughes uses Wikipedia all the time. So when Roxanne, the director of the Center for Integrating Research and Learning at the National High Magnetic Field Laboratory, saw a call from the American Physical Society to take one of our Wiki Scientists courses aimed at improving biographies of underrepresented physicists on Wikipedia, she signed right up.
"I realized that Wikipedia was such a valuable place to highlight biographies of STEM women who might not be known," she says. "I work in diversity, equity, and inclusion within STEM and Wikipedia's efforts to give voice to scientists and engineers who have been ignored is incredibly valuable."
In the six-week class, Roxanne met with our instructor, Will Kent, and her classmates once a week via Zoom, as well as taking our online trainings outside of class. Roxanne says she enjoyed both the trainings and the synchronous instruction.
Roxanne chose to work on Dorothy Toplitzky Blum's Wikipedia article. Blum was an American computer scientist and cryptanalyst.
"She worked for the National Security Agency and its predecessors from 1944 until her death in 1980," Roxanne explains. "I find the period during WWII to be such an interesting time period for women to gain opportunities in the workforce. So her story particularly intrigued me."
In addition to improving Blum's biography, Roxanne is also contemplating how she can engage more with Wikipedia. In her work, she runs or oversees programs for K-12 students/teachers, undergraduates, graduate students, and postdocs. She says she thinks a similar course for these age groups could have a profound impact on students and postdocs. Roxanne calls it an "empowering experience" to give credit to an underrepresented scientist on such a big platform like Wikipedia. And of course, she adds, it's not just Wikipedia's biographies that need expanding: physics topics themselves are important too.
"When people Google physicists or physics concepts, they will most likely be taken to a Wikipedia page," she says. "Physicists need to be part of the communication of their science, and that happens through Wikipedia."
To take a course like the one Roxanne took, visit learn.wikiedu.org.
Image credit: NationalMagLab, CC BY-SA 4.0, via Wikimedia Commons