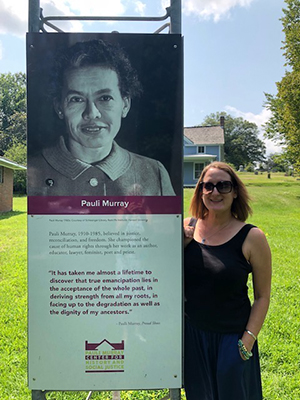 Serene Williams is a full-time high school teacher and an independent public historian who documents the women's suffrage movement. For 20 years, she has been teaching U.S. history, women's history, and political science courses at both the high school and college level.
Williams recently participated in Wiki Education's LGBTQ+ Wiki Scholars Course, making it the third course she has taken with Wiki Education. She found out about Wiki Education through attending the National Women's Studies Association (NWSA) conferences. Wiki Education has partnered with NWSA since 2014, working together with their members to expand Wikipedia's coverage of women's, gender, and sexuality studies, and the NWSA Wikipedia initiative has paved the way for dozens of their members to make information accessible to the public through Wikipedia.
Inspired by the documentary Pride on Hulu, Williams created a new page for Madeleine Tress, a government employee in the 1950s who lost her job because of the lavender scare. By creating a page on Wikipedia on Tress, this would educate both Williams and her students about Tress's story.
"My students are often curious to know more about the lavender scare and are always surprised it is not commonly taught in U.S. history classes so I decided to create a new page for Madeleine Tress so I could educate myself about her story and share it with my students," Williams says.
Williams also created a shorter page on Cleo Bonner of the Daughters of Bilitis and improved on the coverage of Rev. Dr. Pauli Murray, a women's rights legal scholar.
Accurate representation of information on Wikipedia is important to Williams because it provides substantial help for students doing research. In order to give students the most accurate information that's representative of history, it's crucial that we continue the work to reduce the many gaps in coverage on Wikipedia about historically excluded groups. Contributions like Williams and her peers in the LGBTQ+ Wiki Scholars course made are a big step toward making information on the internet more equitable and accessible to students and anyone with internet access.
"As a U.S. history and AP government teacher, I think it is so important that students have accurate and inclusive information when they are researching historic topics," Williams says. "After teaching for so many years I consistently see students consulting Wikipedia first when they are researching a new topic so I feel it is essential Wikipedia articles include significant coverage of LGBTQ+ activists and organizations. I have also been troubled to learn the vast majority of biographies on Wikipedia are about men so I try to consistently work on pages about women's history."
Throughout the course, Williams improved her Wikipedia editing skills thanks to the course instructor's guidance and the other help resources we provide to novice editors through our Wiki Scholars courses.
"Will Kent was an excellent instructor in my LGBTQ+ course and I learned a great deal from his weekly sessions," Williams says. "Although I already knew how to edit and create Wikipedia pages I was less familiar with Wikipedia standards when it comes to writing about gender identity. Will shared numerous helpful resources about this that will help me in the future when I create and edit new Wikipedia pages."
Currently, Williams continues to teach students and high school faculty on how to edit Wikipedia and has witnessed hundreds of them doing outstanding work. She strongly encourages other K-12 educators to teach their students about the benefits of using Wikipedia during the learning process.
"I love the feeling of contributing to the public's knowledge on important yet lesser-known topics in history. It is incredibly gratifying to write content and post images on Wikipedia and see them immediately get posted for public consumption," Williams says.
To take a course similar to this one, please visit learn.wikiedu.org. Image credits: Phil Roeder from Des Moines, IA, USA, CC BY 2.0, via Wikimedia Commons; Serenewilliams, CC BY-SA 4.0, via Wikimedia Commons.