Tony Pankuch works as an archivist for the Drs. Nicholas and Dorothy Cummings Center for the History of Psychology at the University of Akron in Ohio, where part of their work involves increasing the representation of diverse voices from the institution's collections in their programming, exhibitions, and social media. So when Tony saw an opportunity to learn how to improve biographies on Wikipedia through the Smithsonian American Women's History Initiative (AWHI)'s Wiki Scholars courses with Wiki Education, they jumped on it.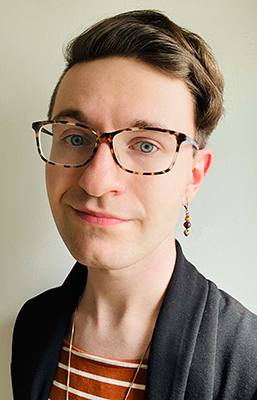 "The common narrative of psychology's history is generally centered around the work of white, cisgender, heterosexual men, despite the valuable and documented contributions of women, POC, and LGBTQ+ psychologists," they say. "This program seemed like an interesting way to expand our work to a broader audience than our social media and programming might reach on their own."
After discussing potential psychologists to write a Wikipedia biography of with their team, Tony created the article on Marie Skodak Crissey, a developmental psychologist who specialized in intelligence testing, school psychology service administration, and special education. Tony says they were particularly interested in writing about Crissey after researching intelligence testing and how her view of intelligence and child development diverged from that of her mentor, Henry H. Goddard.
Tony says they had previously edited some fandom popular culture wikis as a teenager, but Wikipedia always seemed too intimidating. But Wiki Education's course, available to Smithsonian Affiliates through the AWHI, gave them the tools they needed to make their first edits, building out a great biography article.
"The class helped to relieve my anxieties by teaching me how the whole process of review and editing works — that unless I'm making egregious changes to numerous articles, the worst-case scenario is having my edits reverted," Tony says. "The class also helped me to wrap my head around Wikipedia's sourcing standards, which, as someone who is used to conducting original research with primary sources, were initially somewhat strange to me!"
Wikipedia's prohibition on original research is a sticking point for many museum and archive professionals, which is why Tony and other course participants find the value in structured courses like this, tailored to their expertise. Tony says they recommend other cultural heritage staff to engage in Wikipedia writing, learning how through courses like Wiki Education's.
"Contributing to Wikipedia is a way to use your knowledge and experience to help inform and educate a global audience," they say. "Also, in a very practical sense, contributing information on individuals represented in your collections is a great way to generate interest in your institution. While Wikipedia definitely shouldn't be used for self-promotion, well-written Wikipedia articles can serve as a gateway to further reading in museums, archives, and libraries."
As for their involvement, Tony says they intend to keep updating the Marie Skodak Crissey article. They already have their eye on a book about Crissey's work coming out later this year as another source for information on the article.
"I got into museum and archival work because I'm interested in the accessibility of information, particularly in relation to diverse and historically underrepresented groups," they say. "Editing an open resource like Wikipedia is an excellent way to further contribute to the accessibility of information, while also developing my skills as a historian, archivist, and writer."
Image credits: Erik Drost, CC BY 2.0, via Wikimedia Commons; Tpankuc, CC BY-SA 4.0, via Wikimedia Commons