Sarah Emma Edmonds was a veteran of the 2nd Michigan Infantry during the American Civil War — in which she served as a man named Frank Thompson. Or did she? Until earlier this year, Wikipedia's article on her had a warning banner indicating the article contained disputed information.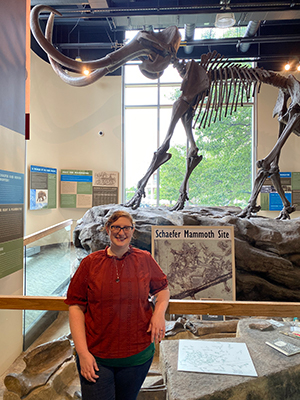 That made the article on Edmonds ripe for improvement from a subject matter expert. Enter Samantha Machalik, a registrar with the Kenosha Museum Campus in Wisconsin, a group of museums including the Dinosaur Discovery Museum, the Kenosha Public Museum, and, relevant for this story, the Civil War Museum.
"We talk a bit about Edmonds/Thompson at The Civil War Museum in the context of women soldiers, and so I wanted to edit and add to her article in order to get that banner removed," Samantha says. "It's unknown exactly how many women served in the Civil War, so, to me, it is important that we are able to share the stories of the veterans we do know."
Samantha's passion for and graduate school work on U.S. women's history made her a perfect fit for Wiki Education's Wiki Scholars course held in conjunction with the Smithsonian's American Women's History Initiative (AWHI). She already runs a monthly education program called "I've Heard of Her" highlighting different women; when she heard about the opportunity to share the story of U.S. women's history with Wikipedia's global audience, she jumped at the chance.
"Wikipedia is the most read information source in English. This could be another way to reach out to the public and share the information that we hold. As educational institutions, sharing this should be our primary goal," she says. "Plus, as you are able to link your institution to the article through talking about where an archive or artworks are held, there is the potential that it will direct people to your other online or in person content."
Thanks to Wiki Education's instruction in the class, Samantha learned how to write for Wikipedia, learning about its sourcing requirements, tone, and just how much work goes into creating each article. She also found course sessions, held via Zoom, engaging, especially listening to other Smithsonian Affiliates present in the course sharing their experiences and asking interesting questions.
All her hard work paid off: Samantha more than doubled the article length, adding enough relevant citations to remove the warning banner. She intends to use the skills she gained in the course to continue contributing to Wikipedia, adding articles relevant to her museums' collections.
"We want to use Wikipedia as another source for sharing the information we hold with the public," she says. "Although we can't directly promote the museums, being able to link the articles to us by mentioning that we hold their archive or collection will hopefully direct those that want to know more back to us. Plus, it will be exciting to see the research that I do during my cataloging process have an immediate use, not just linked to the record or put in the accession folder for use in future exhibition opportunities."
Image credits: Kenneth C. Zirkel, CC BY-SA 4.0, via Wikimedia Commons; Samantha Machalik, CC BY-SA 4.0, via Wikimedia Commons