This spring, the Smithsonian American Women's History Initiative (AWHI) hosted a series of Wiki Scholars courses with Wiki Education, focused on training Smithsonian Affiliates in how to create biographies of American women relevant to their local communities and collections. One such Smithsonian Affiliate is Grinnell College in Iowa; public librarian Monique Shore often collaborates with the college to research notable women in history related to the community of Grinnell. So when she saw the opportunity, Monique eagerly signed up. Through the course, she learned the ins and outs of editing Wikipedia.
"Creating articles from scratch took a lot more time than I thought it would," she says. "And I even had the benefit of others doing a lot of the research. I gained a lot of respect for the process and what it takes to keep this resource going."
The first article she tackled was the biography of Cornelia Clarke, a nature photographer from the early 1900s who lived and worked in the Grinnell area.
"The extent of her work had been lost and her story overlooked until a few years ago when members of the Grinnell Historical Museum unearthed a bunch of her work. It had been misattributed to a male professor who used her photographs in his biology classes," she explains. "The research done by the museum volunteers, and subsequent publicizing and celebration of her story, created some solid resources I could link to in the Wikipedia article."
Misattribution of women's accomplishments to male colleagues is a common theme in American history. The Smithsonian AWHI is aimed at correcting this record, amplifying the accomplishments of American women throughout history. Adding Wikipedia biographies depicting the accomplishments of women like Cornelia Clarke is the goal of the Wiki Scholars course Monique took.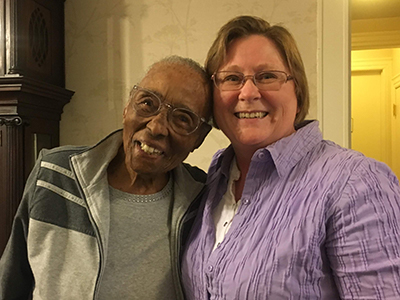 She didn't stop there: Monique also created the biography of Edith Renfrow Smith, the first African American woman to graduate from Grinnell College in 1937. At age 104 in 2019, Edith received an honorary degree from Grinnell; Monique was able to participate in the celebrations, including getting her picture taken with Edith (see the image at right).
While Monique was inspired by the mission of adding biographies of women to Wikipedia, now that she has the knowledge about editing, she wants to contribute more, to improve the historical record on Wikipedia about Grinnell and the surrounding area.
"I certainly plan to continue to update articles related to our community as I am able. As I find content that I think should be included I hope to write additional articles. Our community is blessed to have a large number of people who are enthusiastic about local history. I hope to encourage them to explore editing or creating articles as well," she says. "I also would like some photos of some of the historic sites that need updated images. For example, the Spaulding Manufacturing entry still shows the building before renovation. It is now a beautiful building housing the city offices and an apartment complex. And because of the class I know if I take new pictures myself I can upload them and add them to the article."
It's not just her Grinnell community that Monique thinks should do more editing; she also hopes other librarians embrace Wikipedia as a platform to disseminate knowledge, too.
"I know Wikipedia as an easy, go-to resource used by almost anyone who goes online to learn about almost any topic," she says "As a librarian, I know this is a double-edged sword. Like anything, it's only as good as the people who write the articles. One should never assume that the information presented is accurate and up to date without doing additional research. In the library world we often remind people that this is true for all resources — print and online. Helping to make sure what is on Wikipedia related to the topics that our library has a lot of expertise in, such as local history, means the information on Wikipedia about this area will be more accurate."
And, more importantly, Monique says, the collaborative nature of Wikipedia makes it an even more powerful way to disseminate information.
"The number of people who know a little about something is so much greater than the number of people who know everything about something," she says. " To bring the power of the many — in knowledge, in experience, in perspective — together helps build something greater than any one person could do on their own."
Image credits: Ron Cogswell from Arlington, Virginia, USA, CC BY 2.0, via Wikimedia Commons; Grincitygal, CC BY-SA 4.0, via Wikimedia Commons