Quinton Quagliano is an undergraduate student at Calvin University, pursuing a Bachelor of Science degree in Psychology. As a student affiliate of the American Psychological Association  (APA), the Association for Psychological Science, Society for Clinical Psychology (APA Division 12), and the Society for Clinical Child and Adolescent Psychology (SCCAP; APA Division 53), Quagliano is extensively involved in psychological research and the effective communication of knowledge within the field.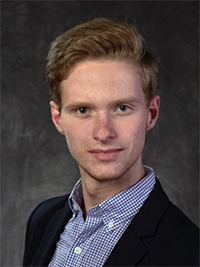 Quagliano first heard about Wiki Education through an email from the Association for Psychological Science's (APS) Campus Representatives program. His volunteer work with APS afforded him the opportunity to participate in Wiki Education's Black History Wiki Scholars course, where he explored his interest in editing Wikipedia. 
"I have always had an interest in learning how to responsibly edit on Wikipedia and contribute to the open knowledge on there. Additionally, I am aware that Black psychologists (especially women) are very poorly represented on Wikipedia, and I want to positively contribute to change, even if in a small way," Quagliano said. 
While taking the course, Quagliano focused most of his editing on the Wikipedia article for Dr. Hope Landrine, a Black psychologist and professor. 
"I figured a small way to honor her legacy would be to explore her life and record her accomplishments and career on Wikipedia. Not only was she a psychologist, but an activist in her community and a continuous member in numerous organizations," Quagliano says. 
Quagliano's Wikipedia experience was underpinned by his desire to promote fair representation on the platform. He views his work editing Dr. Landrine's article as a small, yet significant, contribution. 
"Though my contribution is small relative to the vast articles on Wikipedia, I hope that this article will help inform future people who are curious about Dr. Landrine. Also, I think it is just one small step in making sure Black individuals and culture are better represented on Wikipedia in the future," Quagliano says. 
Considering the broader significance of his contributions to Wikipedia, Quagliano encourages others to learn how to edit Wikipedia as well. 
"Wikipedia promotes knowledge for the sake of learning, not for money or incentives. In a sense, by contributing positively to the articles on Wikipedia, we can teach others about all sorts of things, from all subject areas," Quagliano says. 
With a variety of course options centered around specific research interests, representation, and visibility, Wiki Education convenes Wiki Scholars across disciplines to engage in a collaborative open-knowledge effort. 
Quagliano's course experience was critical in helping him learn the editing process to refine his contributions to Wikipedia. 
"We were taught how to consider different evidence and how to determine whether certain people or things were significant enough to be on Wikipedia, and we were also educated on the numerous ways to write a cohesive and meaningful article," Quagliano. 
To take a course like the one Quinton took, visit learn.wikiedu.org.
Image of Quinton Credit: Quinton.Quagliano, CC BY-SA 4.0, via Wikimedia Commons
Hero Image Credit: 칼빈500, CC BY-SA 3.0, via Wikimedia Commons