This fall, we're celebrating the 10th anniversary of the Wikipedia Student Program with a series of blog posts telling the story of the program in the United States and Canada.
Tighe Flanagan was just starting his master's degree in Arab Studies at Georgetown University when he took a class in fall 2010 that gave him an assignment to research and improve a Wikipedia article.
"This was my first Wikipedia assignment, and I remember being a little terrified," Tighe reflects now. He was one of the very first students to participate in the pilot of what's now known as the Wikipedia Student Program, but he's one of the only ones that participated three times: He also took two more classes with Wikipedia assignments in spring 2011. Tighe had a mix of expanding articles and adding more incremental changes to a series of articles across his three courses that participated in the program.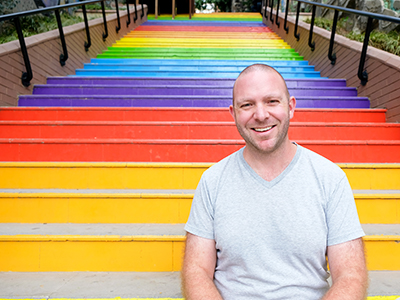 With a number of edits to his name and a deep knowledge of the Arab world, Tighe was a natural choice to join the Wikimedia Foundation in 2013 to support the growth of a similar program in the Arab World. Over the next five years, Tighe worked directly with student leaders and professors, with the aim of growing the Arabic Wikipedia through student contributions. He worked to support classes in Algeria, Tunisia, Egypt, Jordan, Saudi Arabia, Oman, Palestine, and Israel.
"Wikipedia and academia are a natural fit," Tighe says. "The skills you need to be a successful student are the same skills you need to contribute to an open-source encyclopedia: writing skills, research skills, as well as sourcing/citation. When conducting research you have to think critically, whether it's for a term paper or for a Wikipedia article."
Tighe notes many of the courses he worked with were foreign language faculties, and these assignments are a great way for students to practice translation skills in an almost endless variety of topics. For Tighe, it also gave him the opportunity to grow as a storyteller, sharing insights both qualitatively and quantitatively. Tools like the Programs & Events Dashboard, he says, open up a world of data that you can draw insights, and coupling those with student and faculty experiences, tell a compelling story about Wikipedia and academia.
"Programs like this also change the dynamic around gatekeeping and knowledge production. Wikipedia is the encyclopedia that anyone can edit. And yet, most people don't," he says. "Bringing in new editors, even if just for a semester, changes the demographics of the editing community. When you include students of all genders, of diverse backgrounds and lived experiences, and you arm them with access to books, journal articles, and subject matter experts, they can definitely leave a positive mark on free public knowledge."
Tighe spent five years at the Wikimedia Foundation, and he points to the people he worked with as the most inspiring part of his role. Between the program leaders he supported (the hero image of this blog post shows Tighe, second from left, with Egyptian leaders Reem Al-Kashif, Walaa Abdel Manaem, May Hachem, and Ahmed Hamdi) both in the Arab World and around the globe with a group that became the Wikipedia & Education User Group and the students, Tighe was daily inspired by his collaborators.
"I was blown away by the contributions many of our students made as part of the course. There was a friendly, competitive, atmosphere, with students not just satisfying the assignment criteria, but wanting to contribute the most content," he says. "Some of those same students are core members of the Arabic Wikipedia community and top contributors to this day."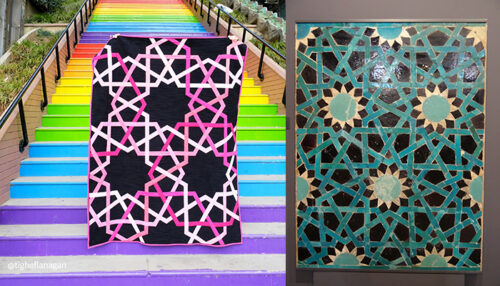 A few years ago, Tighe shifted careers to pursue his passion for quilt and garment making. His Instagram (@tigheflanagan) shows off his incredible creations, and he acknowledges his prior work with Wikipedia has influenced his sewing.
"In my patchwork and quilting, I like exploring traditional Islamic geometry and translating those complex grids and shapes into fabric," he says. "Before I start sewing I learn everything I can about each design, from the geometric construction to where you can find examples in situ. I take a deep dive into a variety of sources so I have all of my citations in order."
Although he laughingly acknowledges "citation needed", he attributes the Wikimedian mindset he acquired from his work with the program, his academic training, and his detail-oriented personality as being helpful when he sews.
"In garment sewing, there are often many adjustments or 'edits' you may do to a base pattern to get the right fit or have the right style. I document all of the changes I make, so I can revert back where necessary or see what common modifications I might need to make in the future. In my mind, this kind of functions like the edit history on Wikipedia, with my alteration notes as the edit summary. I can always see what happened, when, and why," he says.
Hero image: لا روسا, CC BY-SA 4.0, via Wikimedia Commons