Dr. Bridget Marshall is an Associate Professor at the University of Massachusetts Lowell and recently completed one of our Wiki Scholar courses with faculty at her institution. The Wikipedia training course is part of an initiative at UMass Lowell to build digital literacy teaching capacity and address the gender gap on campus and in Wikipedia.
I joined the Women in Red initiative at UMass Lowell because I had repeatedly experienced searching for biographies of women writers on Wikipedia and found them to be lacking, limited, or in some cases, non-existent. When I started as a Wiki Scholar in Wiki Education's Women in Red training course sponsored by the University of Massachusetts, Lowell, only 18.04% of Wikipedia's biographies were about women. And if students – and the wider world – don't see stories about the lives and work of women, they will assume that women haven't made substantial contributions to knowledge, or assume they don't belong in certain industries, and continue to perpetuate systems that exclude women or keep them at the margins.
While I'm a regular user of Wikipedia, I had never considered becoming a contributor of content. But knowing that there were several Wikipedia experts as well as my own colleagues at the University working together really helped me feel comfortable to dive into this new realm. The class helped me to feel more confident in jumping into this platform, and the fact that there was a due date and weekly meetings helped me to keep on track. There's always a lot to do, so it's easy to say "oh, it would be great to fix that entry…someday" but having the class helped me focus on learning the necessary skills to make – and then complete – the additions and updates that I thought were important.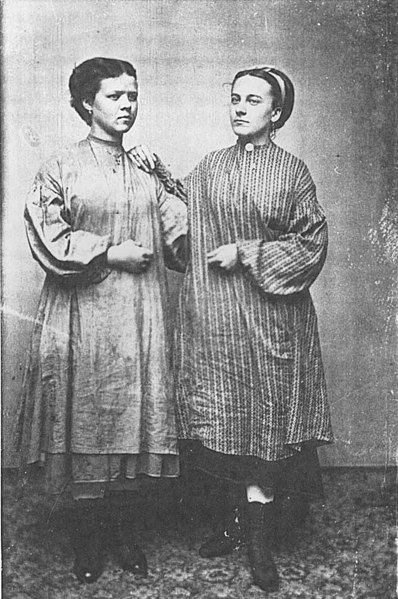 I've been working for a while now on a project about the "mill girls" of Lowell. There is actually a wonderfully well-developed page about them, and it's a great resource, but I was disappointed that there weren't more biographies of the individual women. I was able to improve and update several of the individual biographies of "mill girls" and also add a biography for a mill girl who did not previously have her own page. Very often, these writers are just referred to as "mill girls" as a collective, when in fact there were so many different individuals involved. They published stories, poems, and non-fiction, a lot of which is really interesting, and was well known at the time they were writing. Yet in the time since then, their writing – like a lot of popular writing by women – has all too often been ignored.
Nineteenth-century literature is filled with big names that you probably read in high school: Nathaniel Hawthorne, Herman Melville, Henry David Thoreau, Ralph Waldo Emerson. The ones that are taught over and over again are mostly men (and also white men). When I run workshops for K-12 teachers about the writing by mill girls, they are shocked to find that it existed, or that it's something they could consider teaching.
Right now, if you go to the Wikipedia page for American literature, which has a quality assessment of "B," you will see that while there are only four women (Emily Dickinson, Harriet Beecher Stowe, Edith Wharton, and Harper Lee) that make it into the first section (the overview), in that same section there are thirty-seven men included. Four women out of forty one total authors mentioned: that is less than 10%, a number even worse than the percentage of women's biographies across Wikipedia. The rest of the article does include more women, but it's just one of many, many examples of how despite the fact that large numbers of women were writing and publishing – and popular during their lives! – they simply are not represented in Wikipedia. Teachers and students need to see these people as important in order to want to teach them and read them, and one way of demonstrating that an author is important is to have a robust appearance on Wikipedia.
In addition to my work in nineteenth-century literature, I teach a course on "Disability in Literature," so I was also particularly interested in the overlap of women writers with disabilities. For the writers I discuss in this class, very few of them have Wikipedia pages. In some cases, I was very surprised by this, because these were authors with multiple books. I created a new page for one of these writers, and I was so pleased to find that several other people then added to it with more information and citations. Seeing your article has been improved – by other people you'll never meet or know! – is a really joyful experience. Knowing that you've contributed to something that will grow and be improved by others (and that you can come back to it and improve it yourself) really makes writing for Wikipedia feel worthwhile. This is one reason why I'm planning to include a Wikipedia writing assignment in one of my future courses, so that my students can think about audiences beyond just our classroom.
As of 6 January 2020, 18.19% of English Wikipedia's biographies are of women. The needle is moving, but slowly, and we can use more Wiki Scholars to increase the number and improve the quality and variety of women represented on this important source.
---
Interested in taking a course like this? Sign up for our upcoming course and write Wikipedia biographies for women across disciplines and professions. To see all courses with open registration, visit learn.wikiedu.org.
---
Learn more about our partnership with UMass Lowell and this particular course by reading our blog post. For inquiries about partnering with Wiki Education, contact Director of Partnerships Jami Mathewson at jami@wikiedu.org or visit partner.wikiedu.org.
---
Hero/thumbnail image in the public domain.