Fiscal year 2018–19 has been a time of change for Wiki Education. After completing our year-long strategic planning process in June 2018, the organization started executing against its new three-year strategy.
Overall, we're extremely proud of what we've achieved only one year into carrying out this plan. We've laid the foundation for the work ahead of us and we're confidently looking forward to the next two years. Yet, all of this would not have been possible without the continuing trust of our funders, the power of our board and staff working hand in hand, our healthy relationship with the community of Wikimedia volunteers, and the many people engaged in our programs. Thank you all. We're excited to build on this work together.
As we begin the new fiscal year, we'd like to take the opportunity to look back on some of our proudest moments since July 2018.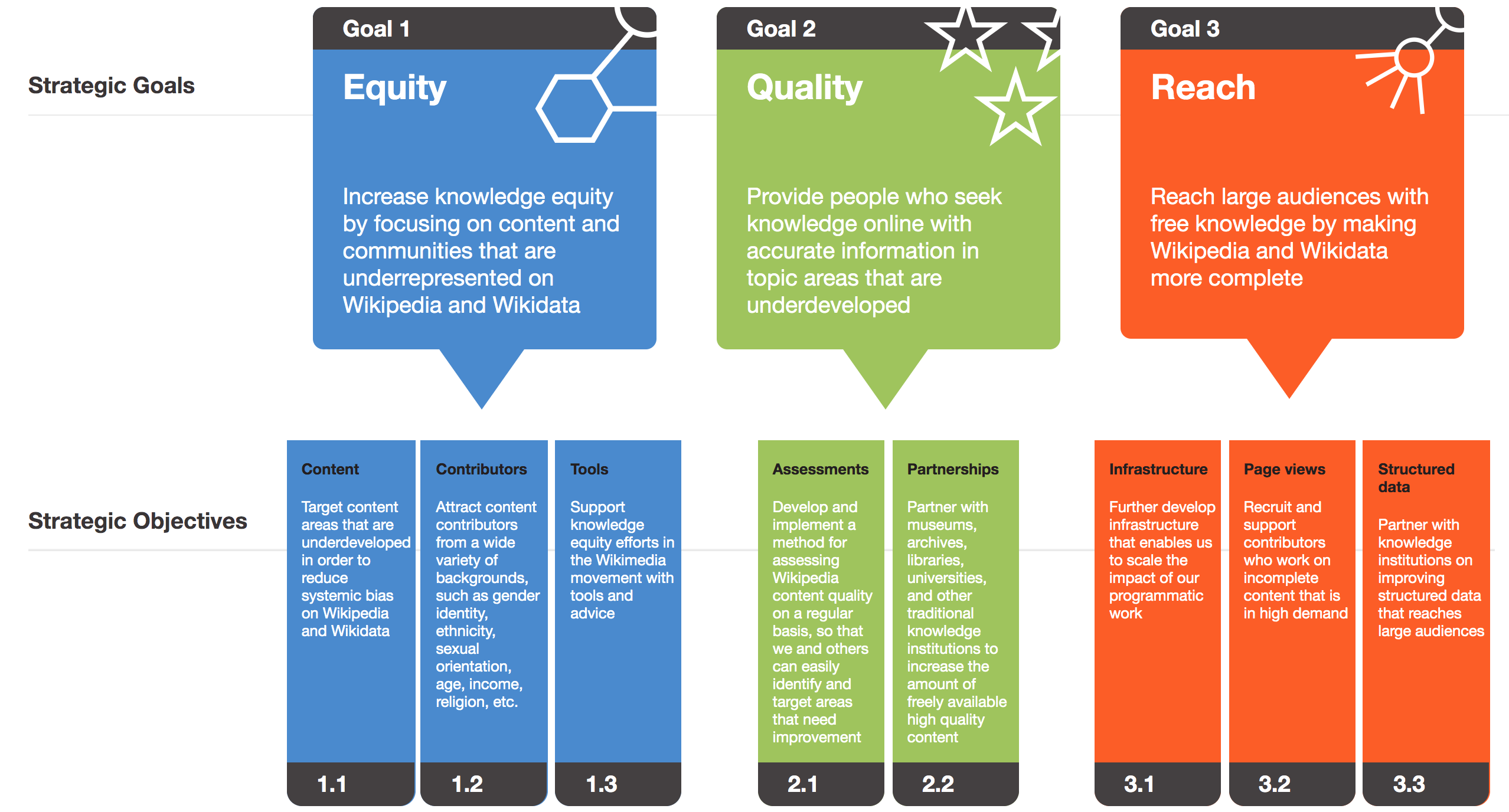 With Wiki Education bringing 19% of new contributors to the English Wikipedia (or 9% of all new contributors in all Wikimedia projects globally), our organization has become the world-leader in empowering people to share their knowledge with others. In one month alone, we introduced more new editors to Wikipedia than every other source combined (see figure 2 below). Our work in this area has provided millions of people in the United States and beyond with access to information that is more representative, accurate, and complete.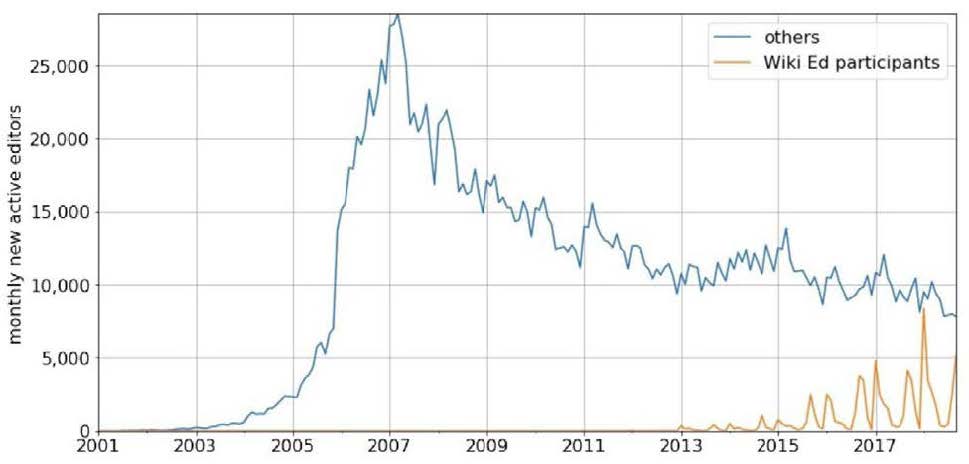 Our new Scholars & Scientists Program fulfills a long-standing dream: it took more than a decade from the first dialogue between Wikipedia and the academic world in 2006 until last year to find a scalable and effective way of empowering academics to contribute to Wikipedia. In our Scholars & Scientists Program, established academics participate in an online course that enables them to systematically assess Wikipedia's shortcomings and then significantly improve high-profile articles for the benefit of millions of readers in the United States, Canada, and other English-speaking parts of the world.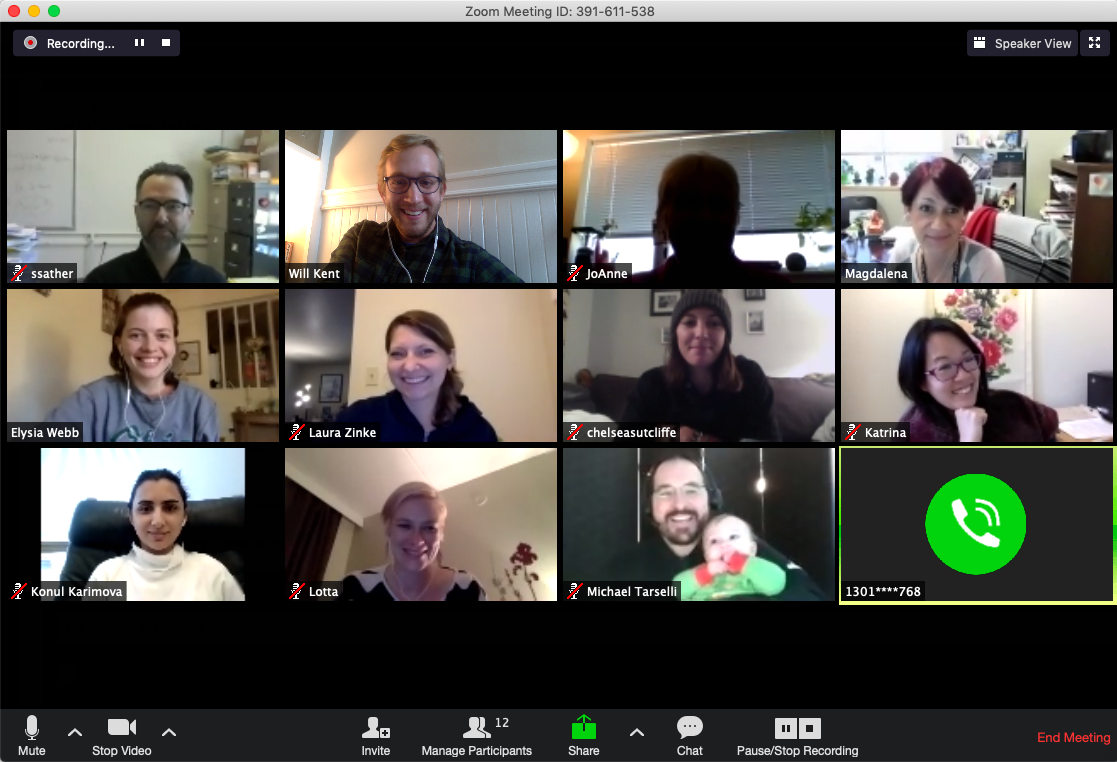 The cooperation with the U.S. National Archives we started in November 2018 is a prime example of how our Scholars & Scientists Program can change Wikipedia for the better, while also bringing more women as contributors to the world's biggest encyclopedia. In preparation for the 2019 exhibit Rightfully Hers: American Women and the Vote, which celebrates the 100th anniversary of women voting rights in the United States, five cohorts of renowned scholars, most of them women, critically analyzed Wikipedia's content in the topic area of the women's suffrage movement, revised key articles, and created missing ones. Expressing his support for this project, David Ferriero, Archivist of the United States, wrote: "For scholars with a passion for American history, this presents a chance to improve the content of Wikipedia and make it more representative, accurate, and complete […]." Today, we're looking forward to creating more collaborations of this kind in order to cultivate academic participation in Wikipedia for the benefit of all.
Our Communicating Science initiative has been one of the pillars of Wiki Education's programmatic work since we made 2016 the "Wikipedia Year of Science". Generous support from the Moore Foundation and the Heising-Simons Foundation allowed us to expand our work in this area in the last year. Despite Wiki Education's past successes in improving the coverage and quality of science-related articles on Wikipedia, the encyclopedia's STEM content still lags behind content in other topic areas. Yet, our established Student Program succeeded in bringing several thousands of highly motivated new content contributors to Wikipedia in 2018–19 alone. These students improved an astonishing number of science-related articles, while also learning how to educate a broad public audience about complex scientific topics in a clear and easy to understand way.
Analysis of our workflows and the search for potential efficiency gains has been paving the way for Wiki Education's dramatic increase in impact over the past couple of years. In order to make our programs scale even further, in early 2019, we conducted another deep-dive into how we execute programs and created an updated version of our process map for different programmatic activities. As a result, we came up with a list of improvements that will enable us to grow our impact without hiring new staff.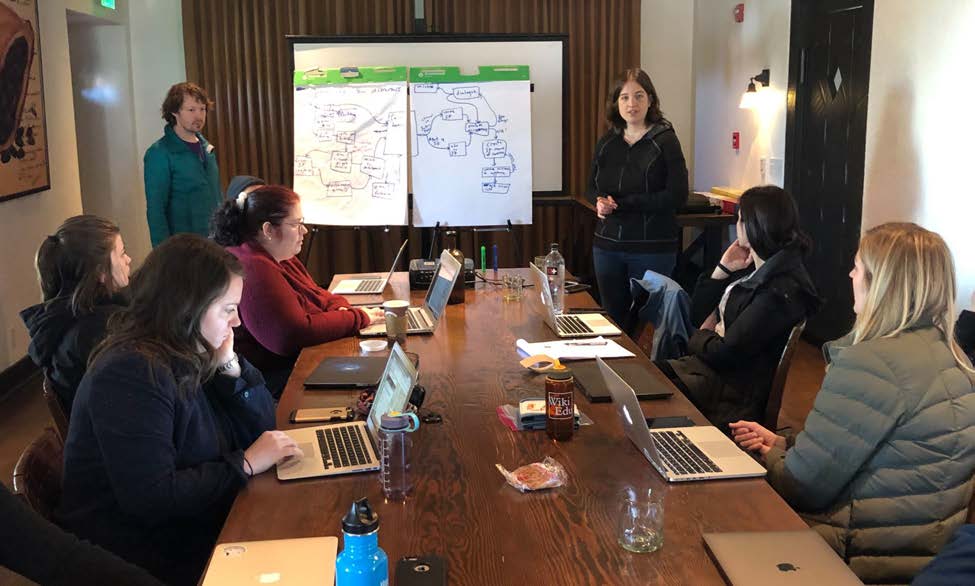 While our Dashboard is a centerpiece of how we manage tens of thousands of participants in our own programs, our strategic plan also called for increasing support for the "Programs & Events Dashboard", a pro-bono version of our software supporting volunteer-led programmatic activities around the world. Over the last year, the Programs & Events Dashboard was used by more than 15,000 editors, tracking more than 2,000 courses, edit-a-thons, and other projects – powering editing campaigns like Art+Feminism, #1lib1ref, and much more. In fiscal year 2018–19, Wiki Education staff attended the Wikimedia+Education conference in Donostia and the Wikimedia Hackathon 2019 (which featured our software as one of its focus areas) in Prague. Both events allowed us to get a better picture of the needs of Wikimedians who use the Programs and Events Dashboard for running programs that increase knowledge equity in different parts of the globe. The insights we gained at these events will help inform our tech team's work in the coming year.
The high level of staff commitment to our strategy is reflected in our daily work and confirms that we're on a very good path into the future. We're looking forward to what our community can accomplish in the coming year.