Paul Thomas is an experienced Wikipedia editor and the University of Pennsylvania's Visiting Scholar. Through UPenn's Department of Classical Studies, Paul has access to academic sources to improve Classics topics on Wikipedia. Here, he reflects on what the Visiting Scholars program has meant for his editing work.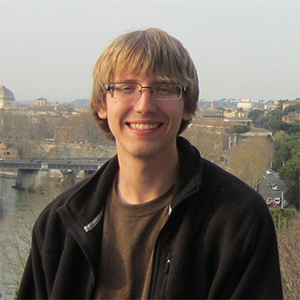 During my undergraduate years, I spent much of my free time working on random Wikipedia articles that I found interesting. At first, it was just a hobby—something to do when my homework was done and I had a few minutes or so to kill before going to class or heading off to work. But soon, I began to devote more and more of my time to creating, expanding, and promoting articles. I used to joke with my friends that the maxim "Do what you love" would do me in, because as far as I knew, there was no opening out there for a "professional Wikipedia editor." Imagine my surprise, then, when in the fall of 2016, I stumbled upon the Visiting Scholars page on Wikipedia. It turns out that such a position did indeed exist (albeit unpaid)! Without hesitation, I submitted an application that explained my interest in classical antiquity and Latin, waiting with bated breath to hear back from the program.
Soon thereafter, I was contacted by Ryan McGrady (the Community Engagement Manager for Wiki Education), who told me that the Visiting Scholars program was reaching out to schools to see if any of them wanted to sponsor my interests in the classics. After a few months of nervous anticipation, I was informed that the University of Pennsylvania had agreed to work with me; needless to say, I was elated to have been selected by such a prestigious institution. Soon, I was in contact with Rebecca Stuhr, the classics librarian at UPenn, who explained to me the strengths of her school and what resources their collections included. One thing led to another, and by August 2017, I was officially a Wikipedia Visiting Scholar, working with UPenn's vast library to produce high-quality articles about classical topics.
I immediately got to work. My first order of business was to improve the article about the odd Latin poem Astronomica by the Roman poet Manilius. Poor Manilius—who embraced a Stoic understanding of astrology and wrote his magnum opus c. AD 10—had hoped that by penning such a poem, he would go down in the annals of history. This did not come to pass; in fact, the Astronomica very nearly was lost during the Middle Ages (it was only transmitted via a couple shoddy copies) and today is not known outside of certain classical circles. Prior to becoming a Visiting Scholar, I had been struck by the near-tragedy of Manilius, and so, to right a wrong, I created a page for this underappreciated work. Unfortunately, I had been unable to get it to Featured status, but once I was accepted into the Visiting Scholars program, UPenn's library provided me the resources needed to retool the article and take it to the next level. After about a month of intense, hard work, I overcame the issues that had plagued my previous nomination efforts, and Astronomica finally became a Featured Article on September 13, 2017.
I then turned my attention to Cento Vergilianus de laudibus Christi. Much like the Astronomica, this poem has escaped wider dissemination, despite being a very important work. A patchwork poem woven entirely from re-arranged snippets taken from the corpus of the Roman poet Virgil, Cento Vergilianus de laudibus Christi was the genius of a wealthy Roman named Faltonia Betitia Proba, and over hundreds of mish-mashed lines, it retells several Biblical stories, with the focus being on the life of Jesus. In addition to its stylistic uniqueness, though, the poem is also notable for having been crafted by an aristocratic woman; this is important, as Wikipedia has often been criticized for unduly focusing on articles about men or male-centric activities. As someone who takes pride in "turning women from red to blue," it was my hope that by writing and promoting this article, I could help reduce Wikipedia's gender imbalance. I am happy to say that with the resources provided to me by UPenn, the article was successfully promoted to Featured Article status on November 17, 2017.
After working on both Astronomica and Cento Vergilianus de laudibus Christi, I turned my attention to a wide variety of articles and projects: among other things, I created pages for Orientius's Commonitorium and Lactantius's The Divine Institutes (the former of which is a poem about how to get to Heaven, and the latter is a theological work that attempts to shield Christianity from pagan critiques); I began to expand and re-arrange the articles on the Latin poems De rerum natura by Lucretius and Pharsalia by Lucan; and I started to overhaul the article on Ennius's fragmentary epic Annales. While I do not have a concrete "attack plan" in place at the moment, of the articles I have just now named, I would like to promote them all to at least Good Article status at some point in the near future.
Having access to the UPenn library has provided me with a number of high-quality sources with which I have been able to improve countless Wikipedia articles, but perhaps the most invaluable resource UPenn has provided me access to is the Loeb Classics Library. I have a special place in my heart for this series, as I associated its red-covers with my perusing of the classics library at my undergraduate institution, looking for just the right monograph to help me finish a term paper or get started on a tricky translation for Latin class. While there is a part of me that still yearns to hold a physical copy in my hand, I cannot help but admit the expediency of having not just one book but rather the entirety of the Loeb collection online, all accessible with just a few clicks of a mouse. Now, thanks to this online treasure trove of information, I am able to quickly pull up a select poem, consult its commentary or introduction, and add solid research from eminent classicists into articles that I am working on.
While I've only been a Visiting Scholar for less than a year, my experience has been wonderful. I've been able to work some of the kindest folks on the site, access the newest scholarship, and—most importantly—improve dozens of classics-related articles. I look forward to what the future holds.
---
For more information about Visiting Scholars, visit our informational page. To follow along with Paul's progress, click here. To read more about Paul's work, check out our roundup.
---