At Rice University, students pursuing a minor in Poverty, Justice, and Human Capabilities (PJHC) are required to take two core classes—each of which now has a Wikipedia component. Julika Kaplan, who just graduated with the minor alongside her major in Philosophy, thus had the opportunity to create two new Wikipedia articles as part of her undergraduate coursework.
In early 2012, the PJHC department at Rice granted Julika a $5,000 scholarship to support an 8-week service-learning internship in Cape Town, South Africa for the coming summer. When she learned about the Wikipedia component of Dr. Kimberly Hoang's spring 2012 course, Julika created a new article about HIV/AIDS in South African townships.
"I planned to participate in a home-based care project in the Imizamo Yethu township with the TB/HIV Care Association, assisting local health workers during their visits to patients' homes," Julika says. "I hoped that writing a Wikipedia article about HIV/AIDS in South African townships would prepare me for my internship experience." She was also excited for the opportunity to spread awareness about the social, political, and economic impacts of the disease, though she was originally disappointed that Wikipedia's neutrality requirements eliminate the potential for advocacy.
"I think creating articles about marginalized populations can serve as a form of advocacy in itself," Julika said after her editing experience. "I wanted to write about the impact of HIV/AIDS on people living in South Africa's townships because, although direct racial discrimination is no longer legal in South Africa, the effects of apartheid have left non-white South Africans in a disadvantaged position. In my opinion, simply creating this article draws attention to the impact of HIV/AIDS on populations with limited social and economic resources, even though the article itself is neutral in tone."
When Julika enrolled in Dr. Anne Chao's spring 2014 course to complete her minor, she continued researching the disease's impact on sub-Saharan Africa and decided to expand the stub about HIV/AIDS in Malawi. Since this was Julika's second Wikipedia assignment, she spent less time learning about Wikipedia's policies and more time improving the article—so much that the stub achieved Good Article status.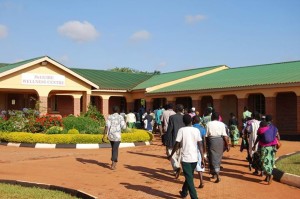 This summer, after completing this assignment and graduating from Rice, Julika returned to Africa to conduct research at a rural clinic in Malawi. Her project did not involve HIV/AIDS directly, but she says her knowledge about its history provided invaluable context for her experience there.
"I enjoyed writing for Wikipedia because I support Wikipedia's core premise: Wikipedia is accessible to anybody with an Internet connection, both for reading and editing," Julika says. "It has the potential to reach an extremely broad base of viewers." Since starting her first article, HIV/AIDS in South African townships has been viewed 50,483 times, and 6,567 readers have already viewed her recent contributions to HIV/AIDS in Malawi. Julika's coursework truly is helping people learn more about the disease's impact in sub-Saharan Africa.
Jami Mathewson
Program Manager