As one of Wiki Education's Wikipedia Experts, my interactions with students in our Student Program are usually limited to the talk pages of Wikipedia. However, a couple of weeks ago, I had the wonderful opportunity to visit the class of Alma López, a visual artist and lecturer with the César E. Chávez Department of Chicana/o and Central American Studies at UCLA, currently teaching a course on the development of contemporary Queer visual arts. Alma's classes are responsible for the creation of over 70+ biographies on Queer and/or Chicana/o artists.
That day's adventure began with a visit to a local paleteria shop, where Alma and I spoke about the motivations behind the Queer Arts Wikipedia Research Project and the challenges students shared throughout the process. Queer artists face many of the same barriers to recognition off of Wikipedia as they do on it. Alma presents the Queer Arts Wikipedia Research Project as a way students can actively change the public record. She sees it as a form of information activism.
Creating the biographies of historically marginalized groups of people such as queer identifying folks and Chicana/os is no easy task, as the students in the Queer Arts course shared later in the day. The biggest challenge? Finding reliable, secondary sources to satisfy the notability requirements of the topic.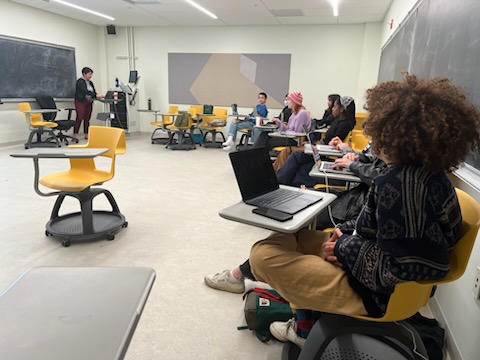 Once in the classroom, we engaged in an interesting conversation around the Wikipedia policies of notability and reliable sources. For a topic to be included in Wikipedia, it must be "notable" and have significant coverage in independent, secondary reliable sources to support the topic's notability. The idea is if it's important enough to the community to cover said topic, then it's probably important enough to be on Wikipedia. Although that policy is in place to 'avoid indiscriminate inclusion of topics,"(1) it also unintentionally excludes topics that haven't been covered by mainstream media like the focus in this class, queer artists.
The challenge is then to find enough sources out there that are independent and reliable. My conversation with the students turned to the question of "then what is a reliable source?" For that, we explored the reference section of a draft contribution and took a crash course on information literacy and investigating sources. I clicked through references asking out loud, "what kind of podcast is this – does it have an editorial team or is it one person? Is this magazine well known for fact checking? Is it an opinion piece or is it a neutrally written editorial contribution? How easy can I find the 'About me' page to know more about this source? At the end of that exercise, Alma pointed out annotated bibliographies are projects usually done in graduate studies. With that, we all agreed this is not easy work, especially when it comes to finding sources about queer artists.
As part of the project, though, students also created a presentation to give in front of their peers, where they could show images and other medium that could not be included in their Wikipedia article. Any images used in articles or housed in Wikipedia's sister site, Wikimedia Commons require a free license to be used in Wikipedia, something that cannot be easily obtained. There are many ways to weave a Wikipedia assignment into existing curriculum, even with these kinds of constraints.
As the class wound down, we talked about the unique position they are in as students in higher education. For them a walk to the campus library opens a multitude of doors to peer-reviewed, academic research and knowledge that sits behind subscription based databases or newspapers. Equipped with these tools, they stand a better chance at gathering information that might otherwise not be available to the average reader or Wikipedia editor. In this position, who better to shine the spotlight and tell the narratives of queer artists that, as mentioned by Alma, "despite their decades of experience such as Joey Terrill and Gary Floyd as well as art activists such as Homo Riot" were not yet included in Wikipedia.
Thanks to Alma and the students of the Queer Arts course for the welcoming experience and interesting conversations!
To read more about the class, visit Alma's website.