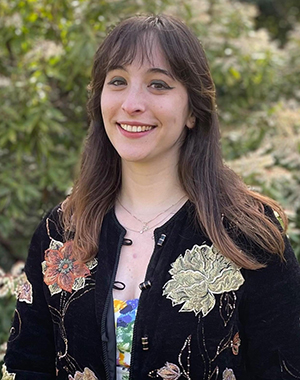 As the Exhibit & Program Coordinator for the Museum of Work & Culture in Woonsocket, Rhode Island, Deborah Krieger organizes the museum's changing exhibitions, develops programming to accompany those exhibitions, and works on the museum's permanent exhibits. She also has a master's degree in Public Humanities from Brown University. In both her academic and professional careers, Deborah had used Wikipedia — a lot.
The Museum of Work & Culture is a division of the Rhode Island Historical Society that tells the story of French-Canadian immigration to the Blackstone Valley and their lives as workers in the area's textile mills — and it's also a member of the Smithsonian Affiliates. As part of the Smithsonian's American Women's History Initiative, Wiki Education ran a series of Wiki Scholars courses, teaching Affiliates staff how to improve Wikipedia biographies of American women related to their collection. Deborah, as an avid Wikipedia reader, signed up to also become an editor.
"I have used Wikipedia many, many, many times over the years, and have observed as it became a more and more useful and reliable resource and jumping-off point for research and information, so I like to think I brought a Wikipedia user's enthusiasm as well as professional and academic expertise to the course," she says.
Perhaps that deep reader experience gave Deborah a better grasp of how to create a well-developed biography article than many new editors come to Wikipedia with — because she brought her first article, on Anne Burlak, from a short article of three or four total paragraphs all the way up to Good Article status on Wikipedia. A Good Article designation is given after an extensive peer review process; fewer than 1% of all articles on Wikipedia reach this status, and it's extremely rare for a newcomer to achieve it with their first article, as Deborah did.
"The Wiki Education class really helped me learn about the process of editing Wikipedia — most important, how to take an underpopulated article to a Good Article, as my article on Anne Burlak was recently deemed!" she says. "Using the sandbox, responding to editorial comments and suggestions from other Wikipedians… all very helpful as I decide which article to work on next."
Deborah chose Anne Burlak as the focus of her work as she is featured in the Museum of Work & Culture's history of local unions. A union organizer and activist, Burlak even inspired a poem by Muriel Rukeyser.
"I thought it would be a great opportunity to study Burlak and collect the disparate sources of information about her on the internet into a place where people interested in labor history could learn about the 'Red Flame,' as she was known," Deborah says.
Since taking the course, Deborah was inspired to host an edit-a-thon, where she and fellow participants helped improve articles related to five women featured in the museum's recent exhibit, Rhode Island Women Create. Next up for Deborah is to get more involved in Wikipedia, potentially as an article reviewer for other Good Article nominations, since she had such a great experience working with the editor who reviewed her work.
"Since Wikipedia is based on collaboration and reciprocity, I think I could help pay it forward by helping another Wikipedian take their work to the next level," she says.
Image credit: Swampyank at English Wikipedia, CC BY-SA 3.0, via Wikimedia Commons