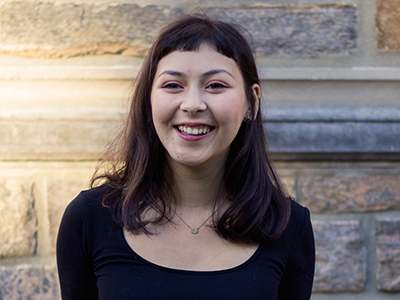 As a fourth generation Japanese American, Nina Nakao says she was drawn to study more about the history of her family and community. As a college student, she studied intergenerational trauma within the Japanese American community, and upon graduation, began to work at the Japanese American National Museum. The COVID-19 pandemic shifted her role to focus on a national virtual visits program for the museum, creating opportunities for students to engage virtually with the Japanese American experience highlighted at the museum. Wikipedia is one such opportunity.
"As a museum educator I think it's vital to think critically about how knowledge is created, distributed, and used – especially by students – and Wikipedia is a huge part of that!" Nina says.
As part of the Smithsonian's American Women's History Initiative, they worked with Wiki Education to host a series of Wiki Scholars courses for staff of museums like Nina's, Affiliates of the Smithsonian. Nina joined the course to help improve biographies of American women related to her museum's collection.
"I wanted to take the class to understand the processes and standards that go into published Wikipedia articles – particularly in an era of 'fake news'," she says. "As a young millennial, I've always grown up in a world with Wikipedia as a classroom resource (whether or not my teachers allowed it!), so now, as an educator, I find it crucial to understand the methods that Wikipedia writers and editors use to guide their work, cite their sources, and ground published knowledge in truth and facts."
With other Smithsonian Affiliate staff members, Nina learned to edit Wikipedia through Wiki Education's course. Weekly Zoom sessions were supplemented with online tutorials and out of class activities. She loved learning about the community behind Wikipedia, and fun elements like WikiLove and barnstars.
"The class was incredibly formative and well structured. Without the guidance of Zoom classes, I would not have known where to begin in my research, or how to evoke the tone and structure of a high quality Wikipedia article," Nina says. "Wiki Education also gave me insight into how articles gain readership, are internally linked to each other, and evaluated. The class gave me an insider's perspective on all of the complex details that make Wikipedia so great!"
Nina chose to improve the article for artist Estelle Peck Ishigo, one of a few people who was not ethnically Japanese but was incarcerated during World War II because she was married to a Japanese American man.
"I chose her because I've always been drawn to her emotional charcoal drawings of camp life," Nina says. "As I learned more about her, I understood the deep struggles she faced throughout every stage of her life, and how her art became a form of resistance and resilience."
Nina enjoyed her experience in the course and hopes more museum staff have an opportunity to participate in similar courses.
"I hope that these courses continue to be offered as means to creating pathways of access for a more diverse body of editors to learn how to use Wikipedia," she says. "In a funny way, both museums and Wikipedia function to serve the public and provide trustworthy knowledge and information. Understanding Wikipedia as a daily resource that is used by visitors is vital as the museum field thinks critically about accessibility, engagement, and education and moves toward a more equitable future."
She looks forward to continuing to edit articles related to upcoming exhibits at the Japanese American National Museum.
"I see Wikipedia as a great tool for those who are just beginning to learn about the Japanese American WWII incarceration," Nina says. "I'm especially passionate about building up archives on the involvement of Japanese American women in post-war activism – not only within their own community during the fight for redress and reparations in the 1970s and 80s, but also working in solidarity with other women of color during the Civil Rights Movement."
Image credit: Justefrain, CC BY 3.0, via Wikimedia Commons