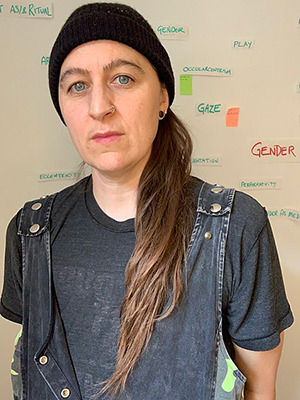 Cara Tierney is an artist, PhD candidate in Cultural Mediations, and a part-time professor who teaches History and Theory of Art and studio art courses. Wiki Education recently hosted an LGBTQ+ Wiki Scholars course to increase coverage of LGBTQ+ figures. Tierney participated in the course after learning about it from their academic supervisor.
Tierney created articles on a variety of notable trans artists such as Thirza Cuthand, Kama La Mackerel, Joshua Vettivelu, and Beck Gilmer-Osborne. Because the work they did on Wikipedia had significant connections to their PhD dissertation, they were gratified after stepping out of their comfort zone.
"I found that writing Wikipedia articles about topics that fall within my own writing and research helped me push my own work forward a little. And in so doing, it gave me a small sense of accomplishment, while also providing me with a sense that I am actively contributing to something outside of the, often isolated, process of research and writing," says Tierney. 
Tierney appreciated how well-structured, well-resourced, and organized the Wiki Scholars course was. They met synchronously each week for an hour via Zoom, supplemented with asynchronous online tutorials. 
"While we followed the tutorials and worked on our articles individually, and on our own time, the educators were available to us through Slack and were great at quickly responding to questions and offering helpful feedback," says Tierney. 
When reflecting on why they took the LGBTQ+ Wiki Scholars course, Tierney recalled how they could freely express their own identity with other Wiki Scholars and engage in rich conversations to help each other improve their work.
"Taking a course that was geared specifically at educating queer and trans* folks meant that everyone involved shared a particular cultural context that allowed us to communicate and work more effectively," says Tierney. "As many of our cultural touchpoints are the same, I didn't have to worry about being misgendered, explaining my pronoun or what a specific cultural term like 'deadnaming' is. It meant that I could freely ask questions and not overly worry that other participants might have homophobic or transphobic reactions. It also allowed us, as a group, to identify some of the ways that the current policy and structure of the platform are biased towards dominant culture. While I didn't necessarily need a group to notice the ways systemic oppression has been baked into certain elements of Wikipedia, discussing it as a group showed us the potential for collective action in this digital space and provided us with an initial, immediate community of peers with whom we might work to advocate for meaningful changes."
The LGBTQ+ Wiki Scholars Course gave Tierney a new outlook on how they can integrate Wikipedia into their classrooms and help cultivate their students' Wikipedia skills.
"Learning about the policies and the structure of Wikipedia has allowed me to better understand the value, as well as the limits, of the platform with regard to teaching academic research and writing," Tierney says. "Having seen many undergraduate students uncritically rely too heavily on Wikipedia, I can better guide them in understanding how to be more discerning with regards to how to navigate the platform and maximize its use-value."
Tierney is currently creating more articles for contemporary trans artists to publish on Wikipedia.
Image credits: Ted Eytan from Washington, DC, USA, CC BY-SA 2.0, via Wikimedia Commons; Cara Tierney, CC BY-SA 4.0, via Wikimedia Commons.